It's about the time to get out and enjoy the fresh air. You want to put your personal stamp on your outdoor living area. You also want to make it a place to welcome visitors for a nice time.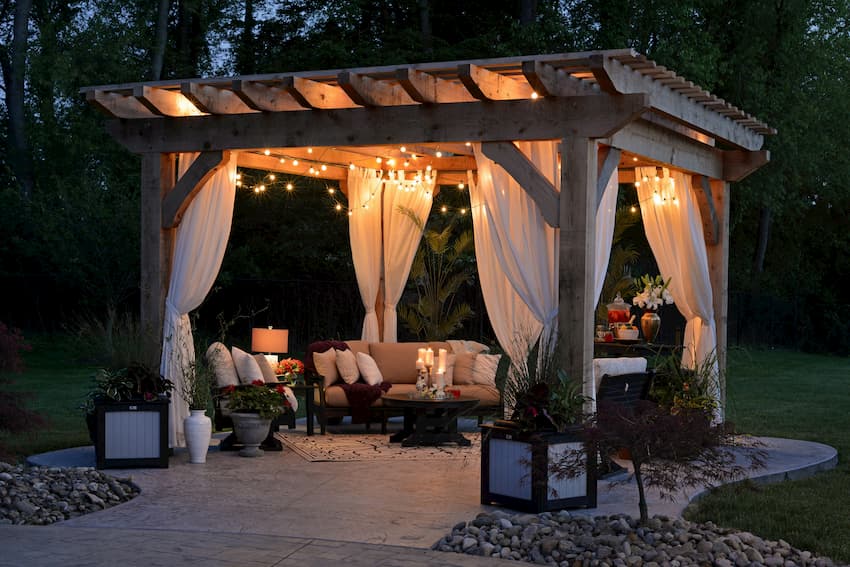 Outdoor Living Tends
1. Create An Outdoor Room
An outdoor living area should have comfort and function together in one area. You don't need to build on to your home when your outdoor area can function as another room. Take your interior design elements outdoors. Create a space that is functional, yet unique. This means creating an area with beautiful seating with a mix of outdoor furniture and accessories. You can install a ceiling fan, bar and even a wood burner to have an outdoor zen area.
2. The Colour Trend
This year's Pantone Color Of The Year is Classic Blue. You'll see it in all of the outdoor designs. This colour is naturally peaceful and calm. It creates a universal, classic look. You can go with Classic Blue cushions and furniture. You can pair it easily with yellows and greys. This gives your outdoor area a contemporary, yet stylish look.
3. Outdoor Bar
Outdoor kitchens now have a new friend with the trend of the outdoor bar area. The patio bar is a huge trend this year. You don't have to build a bar either. You can buy a free-standing bar area. Most of these have storage and even prep space. You can turn it up a notch with a fun themed bar area to serve drinks and food.
4. Sofa Swings
A sofa swing brings new life to your outdoor area. Pair it with a hammock for the ultimate time of peace outdoors. You can swing along in the breeze or just sit and enjoy time with friends on your swing. Sofa swings are great because they come in all different types of fabrics as well as styles. They look great, and they're functional. You may have neighbours fighting over a seat on your sofa swing.
5. Everyday Luxury
Affordable luxury is a fun trend this year in outdoor living. It's all about buying less, but enjoying more. Outdoor luxury living combines casual with modern technology. You can buy high quality garden furniture that's actually affordable and sustainable to get this look and feel. The best thing about everyday luxury is it never goes out of style.
6. Organic Materials
Wicker and rattan are great organic materials with a natural aesthetic. Going with organic will help you sustain your furniture as well as have a great look. It's laid back with a luxurious look.
7. Vertical Gardening
Vertical gardening is making a name for itself. It's been around a long time, but it's blown up this year. It's a perfect way to add plants in a smaller area. This method of gardening is a way to grow flowers, plants and vegetables in an upward way instead of outward. This means you can grow these things up walls, railing and fences. It's easy to maintain and looks great.
8. Crazy Accessories
Design is popping in 2020. Show off your style with bright, fun accents for your accessories. You can go for poufs, wild cushions, lanterns, and performance pillows. Performance fabrics are one of the top trends in design. Whether it rains or the sun shines down on them, these fabrics stay fresh. Whether you love a classic or crazy look, show off your personality this summer.
9. Lighting Upgrade
Take your outdoor entertainment from day to night with a lighting upgrade. Illuminate your outdoor area with fun lighting. You can install pendant lighting, lamps and/or a chandelier. Some lighting combines with resin wicker or marble for a boost of style. You get function and style together in this year's lighting trends.
10. Bistro Corner
Who doesn't love a little bistro feel? Create a space where you enjoy morning coffee while reading the latest news. Set up some bistro chairs and a little bistro table for your feel. This creates a tiny space full of opportunity. These types of tables come in all sorts of styles and colours.
11. Mixed Materials
One of the biggest trends this year outdoor is using mixed materials. This means you design a hardscape with a mixed look. You can go with patio pavers that combine with wooden benches or bricks. This creates an artistic, yet classic look. You get to mix and match with a landscape design that works for you.
12. Go For It
The outdoor area is a space that is now booming. In the past, many people just used it as a place to drink coffee. Now, it's where most of life happens. Staying indoors is boring. Go all out with your outdoor area. Decorate it the way you want. Put out planter walls, furniture, lighting, and even a television. Make sure to make it your own area of relaxation and fun. Make the kids a play area. Think of it as another living area where you actually live.
13. Patio Fire Bowl
The chiminea is just one cool thing that's been found on patios in the last few years. Step it up with a patio fire bowl. These are simple, yet beautiful. They're above ground fire pits. You can go with a detailed one or a classic look. It's so much fun to sit outside roasting marshmallows, warming up on a cooler night or just sitting around the patio fire bowl.
14. Patterned Tile
The details of design are found in patterned tile in your outdoor area. Patio tiles made with bright colours and geometric shapes are a fun trend this year. You don't need to go overboard with the patterns either. Pair it with neutral, classic furniture settings. Go with solid colours for your cushions and decorations as well. You want the tile to be your main attraction outdoors.
This year the main thing to remember is that your outdoor space is your oasis. You'll spend a lot of time out there relaxing and socialising with friends. Make it your own. Have fun with it. This is your space to enjoy during the warmer months.
Related Articles