Cafe owners know that having a range of seating options available to customers increases their capacity as well as providing attractive options for attracting customers, one of which is outdoor seating especially in summer months. The problem with outdoor seating though is that certain areas have different rules about outdoor seating. If a cafe owner wants to add this option, you will have to check with your respective county council if your cafe is eligible to put tables and chairs outside the cafe.
One of the main things that will play into whether a cafe can add outdoor seating options or not is who owns the property outside the cafe, which is typically the county council. This means the cafe owner has to get permission from the county council and meet all of their pavement seating requirements.
Depending on the country council and the business licence, some cafe owners may need to apply for additional licencing to serve customers outside of the current business premises. Also, some licenses have a limit to how many customers can be served at one time and how many seating options can be offered within the business, which plays into how many can be served at one time.
Checking your country council pavement seating regulations by searching your country councils website for: pavement seating, cafe street licences and some sites also have information in the highways licence section. When in doubt call them direct.
So, while many cafe owners want to put chairs and tables outside their cafe in order to expand the amount of seating they offer, there are a lot of things that could play into them being able to do it or not. A cafe owners needs to be prepared for everything that comes with offering outdoor seating, but they also need to be prepared for everything that they might have to do in order to have the outdoor seating options for their customers, such as additional licenses and permits.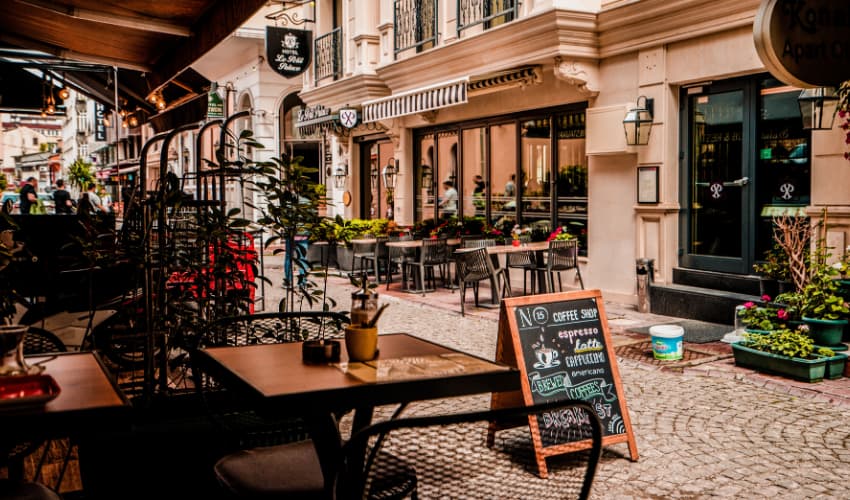 Cafe Pavement Seating Options
BE Furniture Sales stock and supply a range of commercial cafe chairs:
Cafe Pavement Table Options
BE Furniture Sales stock and supply a range of cafe tables including:
Pavement Seating Sets
BE Furniture Sales offer nationwide delivery. Please contact us if you cant find the chairs and tables you are looking for.
Related Articles