If you own a cafe, you have seen customers from different professions and cultures walk through the door. There are ways to make certain your customers continue to return while targeting the customers you really want. This includes your decor, furniture, service and menu.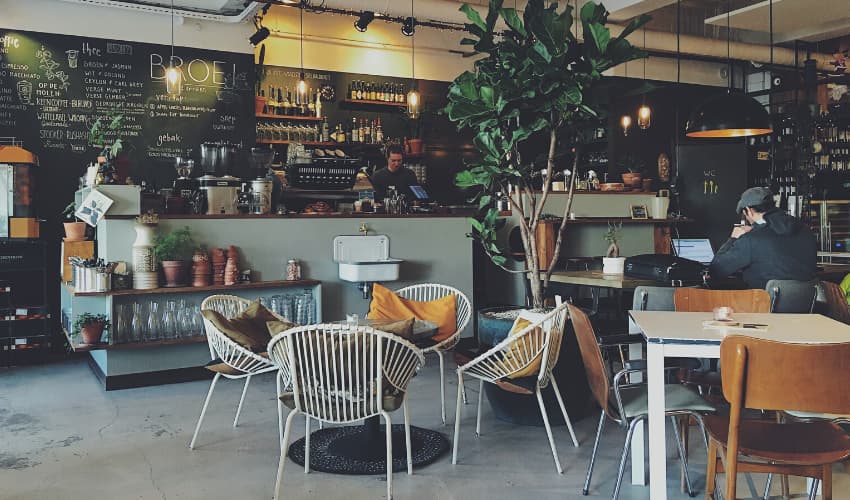 Types of Cafe Customers
1. Families
Your cafe is an excellent place for friends to meet, families wanting to treat their kids to a meal or a piece of cake or for people wanting to escape from their home for something special. If your regular customers fit into any of these categories, caring for them is important. You should provide comfortable cafe furniture for both children and their parents to relax on. This includes tub chairs, sofas and low coffee tables to help parents feed their babies easier. Offering high chairs ensures parents and toddlers will be able to relax. You can simply stack them when not in use.
A play corner with activities for kids such as pens and colouring paper and books will help draw in and retain family business. If you have enough space, you can offer a comfy reading corner with a selection of toys. Make families feel welcome by listening to them and providing the foods and portion sizes necessary for children. Offering to heat up pre-prepared food or a baby bottle is an excellent way to build ties with your customers and keep them coming back.
2. Flexible Workers
The majority of workers no longer punch in from nine to five. An enormous 63 percent of the population works flexible hours. Many of these professionals prefer working from a cafe or their homes. Once your rush is over, you can easily accommodate these professionals for both work and leisure. You need to provide outlets for phones and computers as well as powerful and reliable WiFi. Offer healthy options for food and drinks to fuel these professionals.
You want to consider providing the patrons who have been with you for the longest with loyalty cards. Nobody will continue to return if they have to sit on uncomfortable cafe chairs. Contract tables and chairs are beneficial for professionals performing work on a laptop. Make certain they have sufficient table space for technology items and papers. The most important element is comfortable seating so your customers can relax.
3. The Regulars
The majority of individuals follow the same routine when they go to work. They will most likely pass by several coffee shops and cafes. Chances are they have tried every single one. You can stand out by providing the best possible service, products and decor. They are looking for some peace and quiet and their ideal cup of coffee prior to heading for the office. Make them feel special by learning how they prefer their coffee or drinks. Knowing your regular customers puts you a step ahead.
The speed of your service is extremely important. Professionals on their way to the office require fast and efficient service. This will enable them to make the most of the time they have. Provide them with peace and quiet, an inviting atmosphere and comfortable furniture and they will come back.
4. The Passers-By
You will see new customers every day. They may simply be passing by, interested in a piece of cake or a nice lunch. You can stand out from your competition and keep them coming back. Ensure the front of your cafe is special. This includes clean windows, signage, feature boards displaying what you offer and any outdoor seating. When your furniture is clean and in good condition you will attract more customers. Consider your online presence. Social media pages and a clear, updated website will attract online customers and strengthen your brand.
Attracting More Customers
There are a lot of ways to attract new customers to your cafe.
1. Referrals
One of the most effective types of advertising is referrals. When a customer enjoys your cafe, they will recommend you to their friends. You can provide an effective incentive by offering a free cup of coffee for recommendations.
2. Sensational Photographs
The main reason people frequent your cafe is for the food and beverages. They usually come because they are hungry. Take fantastic pictures of your food and post them on your website, advertisements and social media. This will make potential and regular customers crave your food. Sharing photos of food online is one of the best ways to attract new customers to your cafe.
3. The Importance of Reviews
Great reviews will expose your cafe to a tremendous number of potential customers. Set up your business with the most popular sites for online reviews. Once your cafe starts receiving excellent reviews, your business will improve and your customer numbers will increase. Many of them will become regulars. A lot of people check out business reviews online before they ever walk through the door. If you do not have any reviews, you are wasting the proverbial golden opportunity.
4. The Possibilities of Live Music
You can add entertainment for your lunch or dinner customers by scheduling live music. This will bring new customers to your cafe, provide the ability to promote events and make your cafe the place everyone wants to be.
5. The Power of Loyalty Programs
One of your best options for bringing people into your cafe is a loyalty program. One thing almost everyone has in common is they all love getting something for free. This is an excellent option for improving your customer retention while bringing in new customers. You do not have to offer something big. A free cup of coffee or slice of cake after a predetermined number of purchases will provide you with good results.
6. Email Marketing and Birthday Gifts
Offer your customers special gifts for their birthdays when they receive your newsletter through email. Simply email all of your customers a special coupon for a free dessert or appetiser on their birthday. Not only will you build loyalty by making your customers feel special but they may also choose to celebrate their birthday with a large group of people at your cafe. When you provide your customers with an incentive to choose your cafe, you can increase your sales while new people are being introduced to everything your cafe has to offer.
7. Social Media
You need to be current with all of the most popular platforms for social media. This is an amazing opportunity to build awareness of your cafe. You can offer special dishes, coupons valid during your slow days or times of the day, advertise your most popular dishes or coffees. There are a lot of people who are unaware your cafe even exists. This is your chance to not only make them aware but provide them with a reason to come. You can provide daily updates on your Google My Business page.
8. Offering Gift Cards
The reason gift cards have been around for so long is because they are effective. A lot of people will come to your cafe because someone they know gave them a gift card. Once the new customer has come to your cafe, you can ensure they become a regular. Provide them with excellent service and food.
9. Collaboration
Establish a relationship with a local business that is not one of your competitors. A good example is a print shop right across the street. You can offer a discount on coffee for everyone who makes a purchase at the printing shop. They will do the same thing in reverse. This is an excellent opportunity to strengthen not only your own business but your local community as well.
10. Freebies
Have someone stand in front of your cafe offering free samples of small coffees and cakes. Make certain this person is comfortable chatting with strangers. This will enable the people walking by your shop to sample what you have to offer and become acquainted with the friendliness of your business. Tell them about your specials, favourite dishes and everything your cafe has to offer. You will be amazed by how many of them will return.
11. Cooking Classes
The majority of people do not dine out every single night. Start a cooking class and share some of your recipes. Every time someone prepares one at home it will remind them how much they enjoy your food. There will always be people who are unable to prepare your recipes as well as your cafe. This will ensure they crave your food even more. One of the secrets of success is customer loyalty. You can achieve this by remaining in your customer's minds so they continue to come back over and over again.
12. Pop-Up Events
Join one of the pop-up events to ensure your cafe is featured. These events are both quirky and fun. You can showcase your coffee, menu, service and brand. This will increase awareness of your cafe and bring in new customers.
Related Articles