Excellent customer services and delicious food are topped up by a great environment. The overall atmosphere of the establishment plays a key role in establishing a loyal clientele base. Restaurants and cafes are places where we share memories of first dates, valentines' dates, catching up with a loved one, or sharing meals with loved ones. These experiences are either a make or break deal depending on the quality of décor and cleanliness of the venue. Maintaining and cleaning restaurant furniture goes a long way in enhancing the reputation of your establishment.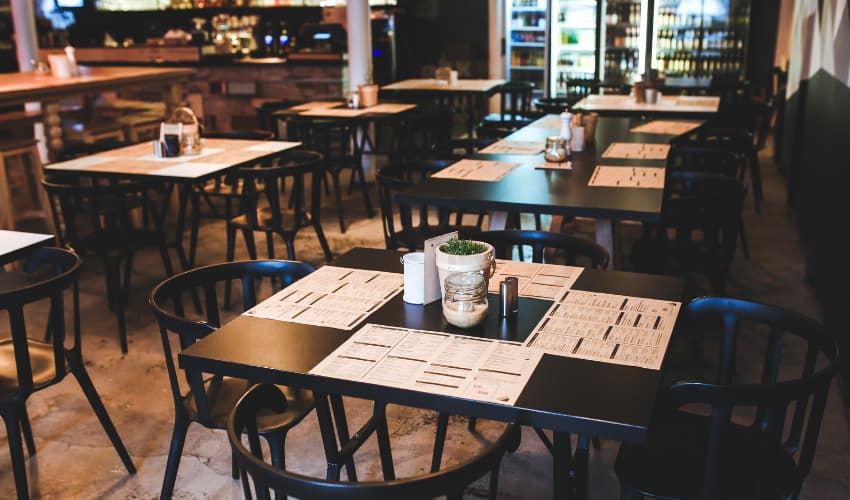 Restaurant & Cafe Furniture Maintenance
Durability and safety are two key elements to consider when buying a restaurant or café furniture and it makes the job of maintaining your furniture easier. Furniture made from durable and commercial material ensures that it stands the test of time. Most of these pieces require little cleaning and maintenance practices to retain its original spark. You also want furniture that have the highest safety standards and require little additions or maintenance.
Cleaning Indoor Restaurant Furniture
Most furniture designed and built for indoor typically suffers from direct sunlight, near heat sources and near radiators and moisture.
Laminate table tops – use warm water and mild detergent to make a cleaning solution. Clean the tops before and after use. Stubborn stains are better eradicated with a milder cleaning solution. We recommend spot testing on stubborn stains, to ensure the material isn't damaged.
Resin table tops – similarly to laminate tops, you will mix a cleaning solution of detergent and warm water. Masking scratches requires an all-purpose cleaner and later wipe with a furniture polish.
Granite table tops – use warm water and detergent for regular cleaning.
Fabric – if you didn't purchase your café upholstered furniture with a stain guard product, you might want to consider installing it. Light vacuum to blow away the dust from the fabric furniture. Any blotting spills could quickly be eradicated by dabbing with a wet rag then with a dry clean cloth or towel. Clean all spills immediately to prevent stubborn stains from settling permanently.
Wood finish – dust frequently with a soft rag and wipe with a dry rag. Depending on the manufacturer's guideline and recommendations, you might want to stick to one polishing agent for the finishing. Changing polishing products could change your wood's spark into a cloudy appearance. Scratches are bound to pop over time. For the scratches, coat with wax every four months. Clean up spills quickly with a dry cloth to prevent staining. Eliminating burn spots requires a quick dab of cotton bud dipped in ammonia, followed by light waxing, and never use kitchen sanitiser on table tops.
Leather – use a soft and lightly dampened cloth to wipe off the dust. Crumbs and dirt could be eradicated by brushing off with a special manufacturer's brush or dry towel. For grease stains, sprinkle corn starch onto the affected area and let it sit overnight before vacuuming and wiping.
Metal finish – metal parts aren't complicated and will do fine with a little patting with a dampened cloth to eliminate dust. For grease and other stubborn stains, mix a cleaning solution of water and mild soap and scrub gently.
Cleaning Outdoor Restaurant Furniture
Outdoor furniture is designed and constructed to withstand outdoor weather, however during extreme weather conditions such as winter or heavy rainfall, consider storing the furniture under shelters to avoid damage and depreciation.
Umbrella shades – most commercial parasols have guard products applied to prevent mildew growth and stains. Check to see if they have protection. If not, consider using the guard product. Dust the shades regularly to avoid accumulation that may reduce its aesthetic appeal. Clean the poles with water and soap to prevent stains and remove dirt. Metal joints could use a little lubricant to prolong its lifespan.
Cast iron – use a dry cloth regularly to remove dust and debris. Use detergent and water accompanied by a scrubber or brush to remove dirt, followed by drying the area to prevent rust. In the case of rust marks, sanding the affected area and using a touch of paint will do the job.
Polywood – power wash once in a while to remove dirt and dust. Their hardy nature makes it hard to notice scratches and nicks hence minimal maintenance and cleaning.
Stainless steel or aluminium – these materials usually are rust-free and only require mild soap and water to retain its spark. If the piece of furniture isn't rust free, consider using wax to protect the surfaces.
General Maintenance Tips
Rather than dragging, sliding or pushing the furniture, use trolleys. It lowers the chances of scratching the furniture or breaking the legs and other delicate parts. Exposure of your café restaurant furniture to harsh climate conditions is likely to take a toll on your commercial furniture over time. It reduces the life of the pieces significantly. You might want to invest in an additional shelter for the outdoor furniture and design your interior décor in a way that protects your indoor furniture from overexposure. You could consider choosing UV resistant furniture for both outdoor and indoor use.
Inspection practices
We suggest that you check all the nuts and bolts on a regular / seasonal basis. Check for rust, broken and loose parts and have them fixed, lubricated or replaced before the damages grow into a disaster. Inspect the condition of fabric for any wear and tear. Replace the overly damaged fabric and mend the small rips. In the case where some furniture is damaged beyond restoration, discard them to maintain safety measures in your restaurant or cafe.
Basic cleaning and maintenance will increase the longevity of your restaurant or café furniture. They also help in cutting replacement and repair costs in the long-run.
Related Articles: