With the start of 2019 we take a look at fish and chip shop trends throughout the UK. Although the December 2018 median price for a bag of spuds was approximately £13, due to lower potato crop yields during the summer, projected prices for March 2019 are for as much as a 30 percent increase. Based on the current worldwide rise in the demand for white fish, normal supply sources will decrease.
This decrease is partially because of quota restrictions in the Barents Sea and the Alaskan Sea regions. Another major factor in supply reductions is the large decrease in US quotas since the U.S. is now focusing on use of North Atlantic white fish suppliers to meet current-day demands. When considering the additional effect of a strong dollar in comparison to the British pound sterling, it is clear that every white fish caught commercially in North American waters is bringing in top dollars.
FAS cod prices are expected to be most highly impacted during 2019. This strong effect on pricing is largely due to the fact that the supply chain from North America has experienced a reduction of cod quotas equalling approximately 15 to 20 percent during 2017 and 2018. However, the outlook for haddock is definitely brighter.
Even with a global fall of about 9 percent in haddock supplies, prices are predicted to ease and then stabilise toward the end of the first quarter of 2019 after levelling off enough to allow for fulfilment of global demands. As the favourite fish for friers across Great Britain today, haddock may gain additional popularity with the current rise in cod prices. Other types of white fish may also gain increased popular use among friers.
Subsequently, fishing enterprises must now reconsider supply, demand and viable sources. European buyers of cod, haddock and other white fish are also affected by this shift in supply production and sourcing. Of course, there is the alternative of buying fresh fish. In fact, the new Peterhead's daily market auction hall is selling relatively good volumes of freshly caught fish supplied by the home fleet and offered for sale in sterling.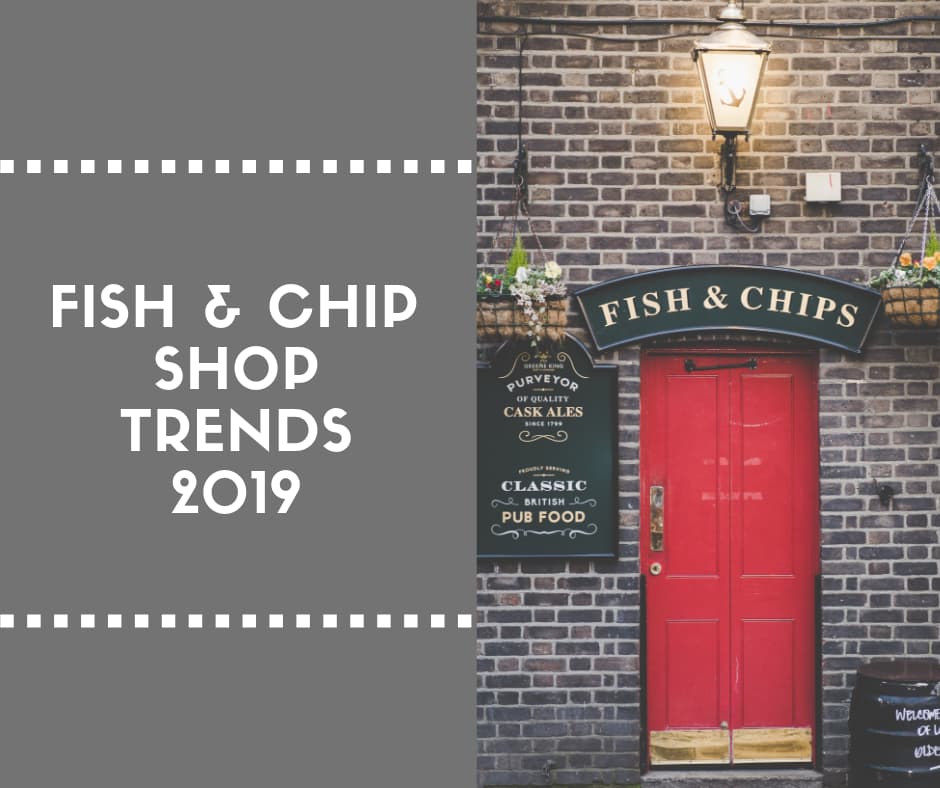 Other Factors Affecting 2019 Features for UK Fish and Chip Shops
More notable factors that will continue to affect the features, trends and operations of fish and chip shops throughout the UK this year include the following:
Smaller Portions Served by Fish and Chip Shops
Some owners and operators of fish and chip shops throughout Britain have been successful at promoting smaller food servings for a healthier diet while balancing escalating fish prices. Although the initial reaction of come customers was some degree of displeasure, they have since become aware of the significant rise in white fish pricing. These customers are now coming to terms with the need to pay more for smaller portions in their favourite fish and chip shops.
Expected Increase in Food Delivery Orders
Customer food delivery orders from UK fish and chip shops are predicted to increase by as much as 10 percent during 2019, equalling £5 billion in total revenues from food deliveries. In order to ensure continuing orders from loyal customers, shop owners and operators must maintain high food quality and excellent food delivery services.
Other helpful initiatives for keeping customers happy and ordering fish and chips regularly include innovative offers like one free order after every 7 paid meal orders delivered or discounted prices on extra-large orders. Young customers and others will also be attracted to the option to order and pay in advance rather than waiting in the queue at their local fish and chip shops.
For those loyal walk-in customers who still frequent their favourite fish and chip shops, other conveniences will be attractive. For example, providing good access to fish and chip shops for customers with disabilities will increase business, and printing menus in larger font sizes will also be appreciated by many shop patrons, both newcomers and the regular clientele.
Pricing Changes for Cooking Oils and Fats
Since production levels of rapeseed in Europe have plummeted to a low point caused by extreme weather conditions during the 2018 summer months, prices for rapeseed oil are expected to rise. With the recent introduction of a high-oleic rapeseed oil that can be produced from crops grown in the UK, this reduction in European rapeseed production may not create a lasting serious issue.
Also, yields for soybean and palm seed crops are currently good, which will result in plentiful supplies of both soybean oil and palm oil for cooking this year. Although there is commonly a drop in the generation of palm oil yearly from January to June, the upswing in crops during last summer should compensate for this expected seasonal decrease in palm oil production.
There is now growing interest in completely sustainable and traceable palm oil as well as in the use of high-oleic oils such as sunflower seed oil. Because sunflower seed oil is a very suitable, full-bodied frying oil, it continues to increase in popularity with fish and chip shops using less liquid fats and oils for food preparation. Since the latest sunflower seed crop was lower in yield than usual, current supplies of sunflower seed oil are also less than normal, making prices higher than usual. Nonetheless, pricing should balance out during 2019.
Gluten-Free and Vegan Foods Popularity
The popular demand for both gluten-free and vegan foods today is very likely to continue throughout 2019 and beyond. Based on current market research data from Mintel, 13 percent of the population in the UK now refrain from consumption of foods containing gluten. According to Foodable Labs, approximately 51 percent of chefs across the UK included vegan choices on their menus during 2018, which is a significant increase from 31 percent during 2017. The year 2018 also can boast the opening of two vegan fish and chip shops, one in London and another in Kent.
Virtual Restaurants and Modern Takeaways
With the prevalence of virtual restaurants today, some people are predicting an opening of the first virtual fish and chip shop in the near future. Typically operated with food orders via the internet and kitchens located wherever available facilities exist, these modern versions of the traditional takeaway eateries are relatively inexpensive to establish, maintain and operate. Deliveroo and Uber Eats are already quite popular delivery services, and Just Eat is entering the arena via digital pop-ups.
It is very clear today that physical restaurant and shop settings are no longer necessary to establish a successful eatery with a large and loyal customer base. With use of mobile vans and pop-ups, fish and chip shops have an ideal opportunity to move into the virtual domain without the need for extensive startup funding. Another option is the food hall, a successful mode of contemporary foodie hubs.
Recyclable Food Packaging
With today's focus on eco-friendly packaging for all food items, savvy fish and chip shop owners are searching for a safe alternative to single-use plastic food containers and wraps. Until a more advanced, environmentally safe type of packaging is available, these shop owners will package and deliver their food orders in recyclable materials. They will also promote safe reuse or disposal of this packaging to prevent it from being dumped in landfill as non-biodegradable waste.
Summertime Heat Beaters
During the hot months of summer, some fish and chip shops can experience a downswing in customer numbers of from 10 to 30 percent. To lighten the impact of this reduction in shop patrons during extremely hot weather, attentive shop owners will offer such inviting items on the menu as grilled fish, salads and light bites. These foods will actually be popular with some customers throughout the year, and top quality food delivery service is a plus during both the sweltering days of summer and the frigid winter weather.
How and Where UK People Enjoy Their Ever-Popular Fish and Chips
A survey sponsored by YouGov revealed that approximately two-thirds of fish and chip enthusiasts in the UK season their meal with salt (65 percent) and with vinegar (68 percent). More than one-third (37 percent) add mushy peas to their favourite meal. In addition, over one-half of the survey participants like to eat their fish and chips straight from the box or paper it comes in.
About 20 percent of survey takers prefer adding curry sauce to their fish and chips, and 19 percent of the youthful customers like to add mayonnaise. The most favoured location in which to indulge in a delightful serving of this traditional fish meal, according to this survey, is at the seashore, with the second favourite spot said to be sitting on the comfortable sofa at home.
Carefully Calculated UK Fish and Chip Condiment Use
Across Great Britain, males eat more portions of this popular meal than women. About 41 percent of men eat this popular crisp, battered fish and fresh, hot chips dish no less than once a month, while 30 percent of women do so. Among 12 cities surveyed, residents in nine cities revealed their favoured condiment for this famous meal, after the popular salt and vinegar, as tomato ketchup. In fact, one in every four people surveyed admitted to adding a generous topping to their meal of this tangy, bright red sauce.
Fish and chip consumption habits in major cities throughout the UK, according to survey results, include the following:
Belfast – The population of this city consumes the largest amount of cod (81 percent) with a splash of vinegar on top (80 percent). More than half of the Belfast population eats this delightful meal no less than once every month.
Birmingham – Forty-three percent of this city's inhabitants add savory curry sauce to their crispy fish and chips.
Cardiff – These city residents season their favourite fish and spud dish with salt (89 percent) and favour eating this popular meal on their route home from the pub, as do residents of Glasgow.
Edinburgh – Nearly one-half of this city's surveyed residents (45 percent) enjoy their meal of fresh fish and chips with salt and sauce while relaxing on the couch at home and watching TV.
Manchester – Residents of this city rank highest for enhancing their fish and chips with mushy peas (66 percent) and with gravy (29 percent).
Newcastle – This city's residents (70 percent) are the most indulgent in consuming this common delicacy straight from its paper or box, often topped with a generous dollop of ketchup (40 percent) and enjoyed by the sea (37 percent).

Economic Factors that Threaten our National Dish

Across the UK, fish and chip shop owners and operators are facing a list of essential issues that may send the price of a traditional fish and spuds meal skyrocketing. The rates of shop rent, upkeep and labour are increasing steadily. The onset of Brexit, the growing use of online delivery options, weather extremes and eco-friendly concerns about the use of plastic packaging that can pollute the environment are all seriously affecting the fish and chip industry and each individual shop.

The decrease in the value of the British pound following the Brexit referendum has resulted in a 15 to 20 percent rise in the cost of importing frozen white fish for use in the UK fish and chip industry during the past 12 months. In addition, higher demand for white fish in the U.S., China and the Middle East and drops in fishing quotas in the North Sea have also impacted fish and chip enterprises. The UK's 10,500 fish and chip shops continue to be affected by these major factors in supply, demand and the inevitable resulting price increases for this very popular and traditional meal.

During the 1920's, there were approximately 35,000 fish and chip shops throughout Britain. Since then, the number of shops has dropped by at least two-thirds due to the arrival of myriad different types of restaurants, eateries and cuisine choices on the high street. Fast food establishments stand side-by-side with a wide variety of ethnic food shops, cafes and eateries. However, regardless of the resulting higher prices and smaller portions of fresh, crispy fish and chips, this treasured national meal prevails as a favourite among the UK population.

Whether the traditional fish and chip shops survive their current financial crunch and evolve into the ultimate contemporary foodie hub or become part of the latest virtual eatery trend is yet to be known. However, it seem quite obvious that the ever-popular meal of fish and chips will endure to delight and nourish countless UK residents and visitors for many future years (and delicious, savory meals) to come.

Fish & Chip Shop Furniture Suppliers

BE Furniture Sales located in Melton Mowbray, Leicestershire, UK, have been supplying a wide array of commercial furniture to restaurants, cafe's, event venues and shops of all types since the company's founding in 1972 by Bob Evans. This unique and innovative team of fine quality furniture experts has supplied diverse items and sets of furniture to the Queen at Buckingham Palace, prime ministers, events at Sandringham and worldwide events in such locations as Moscow and The Hague.

These experienced furniture experts have also fulfilled the furniture needs of countless restaurants, food shops and food service establishments across the UK, including many attractive and successful fish and chip shops. Contact a member of the team today concerning all your top quality commercial furniture needs.