Fast food in the UK is growing with no sign of slowing down, we just love a takeaway. If you are planning on opening a fast food restaurant, getting your tables, chairs and furnishings right will help your business grow (assuming your food is great too!)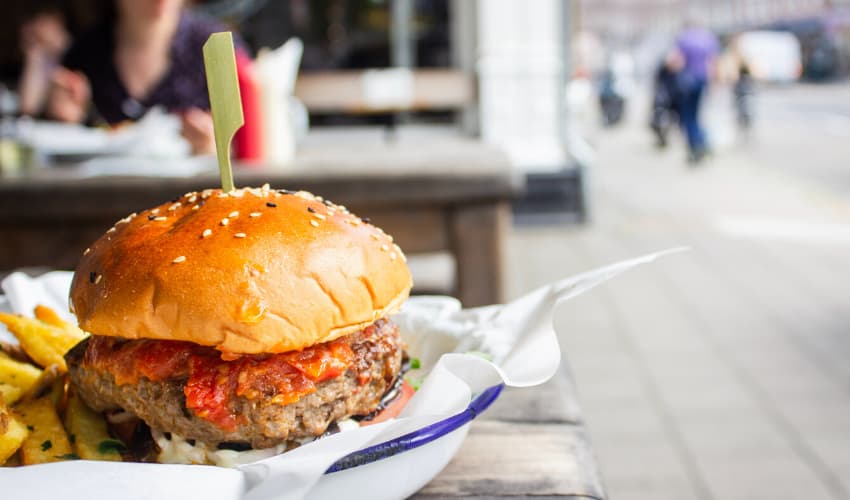 Your Restaurant's Purpose Will Dictate its Furnishings
What are you trying to accomplish with your takeaway restaurant? Are you just trying to give people a quick meal or are you trying to give them a good family experience? Do you want your restaurant to be a hangout spot for the locals? Or, do you want it to be a place for people to eat while they surf the web?
The purpose for your restaurant will dictate how you will use your establishment. Do not make the mistake of thinking that you can throw any type of furniture inside of your place and then do anything with it. Taking this approach will create some serious design flaws. This will eventually create problems with people eating inside of your location.
Decide on the Colour Scheme Before Adding Furniture
Your fast food restaurant should have a colour scheme that represents your brand. The top chain fast food restaurants have colour schemes. Regardless of the colours that represent your business, your eatery should have the right hues that matches your theme. For example, if you want your restaurant to be a fast food place that caters to families then furnish it accordingly. We'll go more into the type of furniture that you should use for your restaurant environment momentarily. Just remember that the colours you use should reflect the theme of our restaurant.
Think about your Customers Perspective
Honestly, most customers who at a fast food place will not make a big deal about the furniture unless it is extremely uncomfortable or very unattractive. If you brought standard furniture pieces and arrange them inside of your establishment in a neat way; people won't think too much of how your place looks. However if you are trying to attract or appeal to a particular set of customers, then you do need to furnish appropriately.
How long do you expect your customers to eat in the restaurant?
You must also consider the amount of time that a customer is expected to eat within your establishment. Remember, you're serving fast food and most of these meals can be eaten rather quickly. So, you can expect customers to dine-in for up to 30 minutes. You should think about furniture that will be perfect for this type of time frame for eating.
Your Menu will also Dictate your Furniture Style
When you have restaurant furniture, you are going to have to clean it. The type of fast foods that you plan on serving to punters will dictate how you will clean and care for your fixtures. If you serve burgers, fries and chicken nuggets; then wooden or vinyl covered furniture will be okay. If you serve a lot of soups, salads or pizza items you might not want to get cloth styled furniture since sauce stains will be harder to clean. The bottom line is you should set up fixtures in your location that can withstand repetitive use and food stains.
The Comfort Factor
The furniture for your fast food shop should be comfortable enough for punters to enjoy their time there. However, it should not be so comfortable where customers are lingering around for too long. Again, you want to find a balance that will make a punter comfortable enough to enjoy their experience. Still, they should not be so relaxed that they want spend hours at your restaurant taking up space.
Get Furniture that is Easy to Rearrange
You should also think about furniture pieces that you can easily rearrange. You might want to frequently change the look of your establishment and the furniture you purchase should be relatively easy to move. If you use furniture pieces that will be permanently fixed within your location, you should really think about how you want it to be placed inside of dining area.
Type of Furniture for your Fast Food Restaurant
Okay, now we are going to take the above factors and show you how to use them when selecting furniture for your restaurant. Our focus will mainly be on a restaurant's size, shape and use. We'll also include the other factors as well.
Standard Fast Food Restaurant
A standard fast food restaurant will be a structure capable of sitting between 75 and 125 people comfortably. This type of restaurant building is commonly used by many brand-name chains. Wooden furniture and booths are commonly used within these establishments. The furniture is usually treated with a heavy-duty protective coating to withstand stains, tears, rips, punctures and scratches.
Standard fast food restaurant dine-in areas typically have fixed furniture. Booths are usually situated along the perimeter of the establishment and the chairs are often welded in place to the floor with metal fixtures. The chairs might be able to rotate but customers can't move them around.
Don't forget that furniture inside of a fast food shop can also have movable chairs. Some restaurant owners will use 6 seat tables with chairs that can be re positioned throughout the dine-in area. This type of seating offers flexibility to families and large parties. This is also suited for restaurants where families or large groups of people tend to frequently eat inside of the establishment.
Small Dine-In Areas
If you have a fast food shop with a limited dine-in area, you shouldn't go overboard with furniture. You should get enough chairs and a few tables to temporarily seat punters. They should not eat for more than 15 minutes. This means that they shouldn't spend a lot of time in your place. Small dine-in areas are not made for a great dine experience. So, get your patrons their food and get them out as quickly as possible. Basic wooden or metal chairs and/or tables is best suited for small fast food dine-in areas.
Large Fast Food Establishments
If you plan on opening a larger sized restaurant space, you should use upgraded furniture. Your fixtures should be durable, extremely stain resistant, flexible and very comfortable. Large tables that can accommodate between 6 to 12 people should be considered. You should also include multiple booths and breakfast nook styled seating. You might even want to have a bar somewhere located within the establishment if you have the room.
The furniture you get should be thick, very sturdy and can withstand multiple use. It should also be easy to clean and maintain. This type of furniture should have a neutral or dark hue depending on the type of interior colours your establishment will have. You should avoid metal top tables in a large eating establishment.
Internet Café or Coffee Shop Furniture
If you plan on opening an internet café or coffee shop get stylish furniture for the establishment. These types of eateries typically seat up to 30 people. They are not designed for families or large parties and usually have limited dine-in space. However, patrons will spend more time than average eating inside. Since patrons in café and coffee shops spend at least 45 minutes or more in the dine-in area, the furniture pieces should be comfortable.
You might consider using stylish booths, padded chairs and comfortable free-standing tables and chairs. Make sure that the pieces are decorative but sturdy enough to handle laptop and mobile device usage. Remember, young adults will use these places to study. So, your tables should be able to withstand lots of use in terms of supporting backpacks, books and lots of students leaning on the fixtures.
Metal Furniture for your Fast Food Restaurant
Stylish metal furniture shouldn't be used in a regular fast food location. This type of furniture design is best suited for locations that are in upscale areas or that want to have a modern and trendy look. Many bars or establishments for upper class punters will have this type of look. Stylish metal furniture pieces are perfect for the fast food environment where will have time to enjoy the atmosphere. If
Your Furniture Colours Must Reflect the Interior of your Establishment
You are going to have to blend your furniture colours within the scheme of your establishment. Many fast food restaurants make it a point to mix their furniture pieces with the décor of their place. If you have white and green walls then you should mix it with colours such as yellow, orange or red. You should also consider other shades of green as well.
Remember, there isn't any standard rules for using colours. The key thing to remember is that your furniture should merge with the rest of your interior. Once you can get your furniture to seamlessly blend into its surroundings, your takeaway location will be someplace that people remember and want to visit. By the way, you should always try to incorporate some shade of red into your restaurant colour scheme. Red is an energetic hue that makes people hungry for food.
Using a Franchise Décor Standard
A franchised restaurant that is a part of national usually won't make their interior too different from other store locations with the same name. The identity of one fast food chain restaurant is usually similar to that of another. The reason why the similarities are so strong has to do with brand identification.
For example, you might own a famous hamburger joint with golden arches but that doesn't mean that you get to decorate it however you want. The logo of this famous hamburger joint must be displayed and there has to be some type of features within your establishment that resembles other franchise locations with the same name. This continuity is important for maintaining consistency regardless of location. If you are franchising a fast food chain, you will have to keep this mind when you set up your shop. The furniture you select will also have to reflect this quality.
Ultimately, the furniture you select for your takeaway shop will help make a difference with your overall success. Choose your furniture wisely so that you can create an environment that will give people a good experience.
Fast Food Restaurant Furniture Options
BE Furniture Sales offer nationwide delivery. Please contact us if you cant find the chairs and tables you are looking for.
Related Articles