You have finally realised your dream of buying your own restaurant, cafe or bistro. You cannot wait to get up and running; however, there are still some choices to be made before opening the doors. From writing the menu to setting up the bar, every decision is critical to your success. That includes your furnishings and decor. Keep in mind the type of establishment that you are opening when choosing how you will decorate. Are you creating a more relaxed or trendier ambience? You want every feature of your new business to flow together, from the food to the atmosphere, as if telling a story. Proper design can invite your guests into your world and create an environment that stirs up the emotion you want them to feel.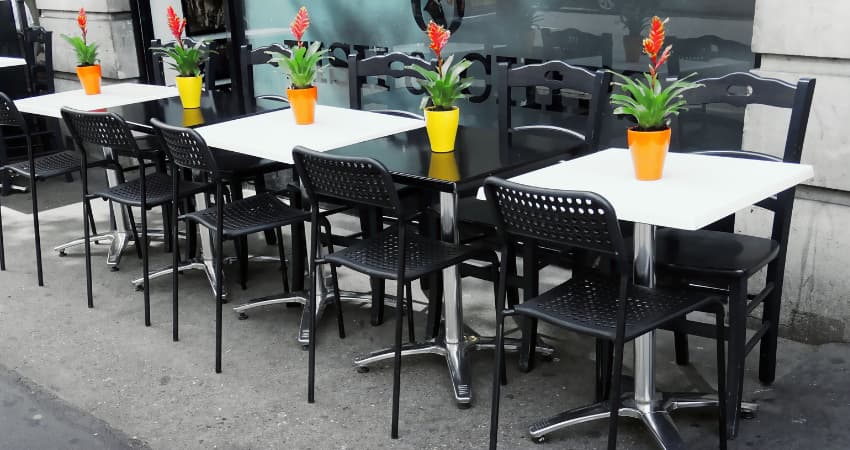 Your Concept
The type of establishment you are opening should be your first consideration when deciding on furniture. For example, if you are specialising in takeaway orders with the option to sit and have a quick bite, you could have a more minimal approach to furnishing. Comfort would not necessarily be as high a priority in a setting such as this. Conversely, if you are opening a restaurant where people come and stay a while, your restaurant furniture should be inviting and designed for long periods of comfortable sitting. Size and style are also important. If your establishment will be hosting a lot of banquets or larger parties, consider buying larger tables to accommodate them. Maybe you want to set a more romantic tone and cater to couples coming in for date night. In this case, you will want to purchase plenty of tables that seat two. Be certain to match the style of your furniture with the theme of your restaurant. If the style is rustic farmhouse, mid-century modern furnishings with a high-gloss finish will definitely look out of place.
Table shape can also help determine the mood that is set in your dining area. Large, round tables lend themselves to a more intimate feel while long, narrow tables have a more elegant and refined tone. Tall, round bar tables encourage people to mingle. Think about the message you want to convey with your theme and let that help you choose your furnishings.
Quality, Durability and Maintenance
As a budding restaurateur, your greatest hope is that every seat will be filled for every service. Of course, you will want furniture that can withstand that type of wear. Be sure to purchase furnishings that are sturdy and well-made. Always buy commercial-grade furnishings as they are better built to handle the wear and tear that a busy restaurant will bring. Consider that a chair in a restaurant will see more use in two years than a chair in your home might see in 20. Also, think about future maintenance requirements and how difficult your furniture might be to care for. If you are not going to have a lot of time to spend maintaining tables and chairs, you may want to purchase high-quality, low-maintenance options such as anodised aluminium or powder-coated steel. Wood is a material that will require more care so you will need to ensure that your staff knows how to best take care of it. When choosing coverings for your chairs, booths, etc. always go for a waterproof material as spills are an inevitable occurrence in a restaurant. Take into account that tables and chairs are moved around quite often in restaurants to accommodate the needs of the guests. You will want to make certain that the furniture you purchase can stand up to these needs.
As an aside, if your restaurant has wooden or tile floors, strongly consider placing pads on the bottoms of your tables and chairs. Not only will it save your floors from being scratched up but it also helps to buffer the noise when moving the furniture around. Sliders will help move furniture easily across carpeted surfaces and also help save your carpet from damage.
Make It Multipurpose
Will your restaurant offer outdoor seating? If so, this will also have some bearing on the type of furniture you purchase. Are you in a location where guests can sit outside all year long? Will guests use the space in the winter? There are furniture options available that offer dual functionality as they look equally as impressive indoors as they door outdoors. If this is your preference, choose a material such as aluminium furniture or a high-quality polypropylene.
Consider Your Space – Materials Matter
When choosing your furniture, consider the tone of your design. Are you creating a space with a classic, natural feel? If so, wood and MDF (medium-density fibreboard) are excellent choices. ABS (acrylonitrile-butadiene-styrene) is also a very good material to consider for a brighter, more colourful design that has some pop. It is a plastic that is scratch-resistant, heat-resistant and lightfast. ABS is also impact-resistant, making it an ideal choice for restaurant use. Perhaps you are creating a more elegant atmosphere for your guests, in which case glass always fits the bill.
No matter what material you ultimately decide on, make sure that it is something that you will be able to maintain and replace as often as needed. You want to ensure that the look and feel of your establishment stays current and not weathered. Tattered and worn furnishings will turn guests away almost as quickly as bad food!
What's Your Budget?
You can have the loftiest of dreams for your new restaurant's furniture design but if you do not have the cash, they are going to remain dreams. It should go without saying that you need to be very much in touch with your budget for every aspect of your business, including the furnishings and decor. Of course, you can be budget-conscious and stylish at the same time. There is no need to compromise quality for savings.
One very simple measure you can take to ensure you are getting the most bang for your decorating buck is to do a little research. The number one way to keep your cost down is to cut out the middleman. A very common practice in the hospitality furniture industry is for a company to buy furniture from the manufacturer, mark it up and then resell it to restaurant owners. What they hope you never find out is that it is not at all necessary to pay their inflated prices. With just a little bit of due diligence and the help of the internet, you can pretty quickly track down the manufacturer and deal with them directly. Minimal effort for maximum savings is a win for any entrepreneur, especially when they're just getting started! You can take those savings and funnel them back into your business or put them away for a rainy day.
If you are in a pinch, some general furniture stores do sell commercial-grade furnishings that could work for you. Just be alert and don't pay too much. It never hurts to ask a retailer if they will price match an internet price for the same item.
With so many things to take into account when opening your restaurant, furniture and decor choices can sometimes fall pretty far down the list. However, they are a vital component to your success so give your choices the proper consideration. No matter your concept, a dining space that invites your guests to return will create clientele for a lifetime!
Related Articles