Before Folding Chairs, Before Even Chairs
Take a trip back to the old days. No, further than that – I'm talking pre-historic old days.
We hunted, we foraged, we were endurance predators and at times we were prey. Obesity was not a thing, for every surviving human had to spend their waking hours working to simply stay alive. Life differed greatly to the relative safety and routine of modern civilisation.
In spite of these considerable differences, there was something that our primeval ancestors sought that is still coveted to this day:
A good old sit down!
And so they invented the chair and it was good. Humanity has basked in the comfortable glory of chairs ever since. A long walk, a tough hunt, a deadly spar or a gripping game of croquet – the cardiovascular challenges of human activity were always rewarded with a happy sit down afterwards.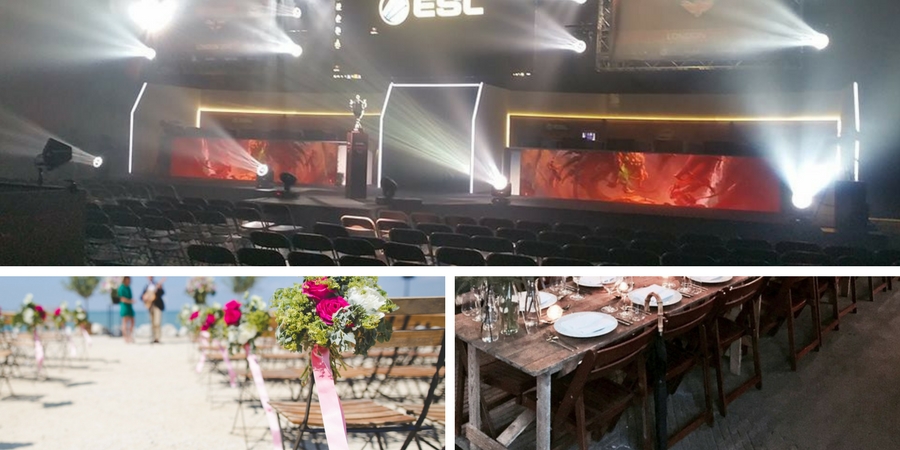 Why Need a Folding Chair?
For a long time though, something was missing. The chair, the mighty sit downer, whilst comforting us in our exhaustion and encouraging steady conversation, lacked mobility. Scholars were puzzled at how something with twice the amount of legs as humans was so impractical at travelling distances further than simply room to room.
Thankfully we're creative. Campers, hikers and other al fresco enthusiasts were all united by the fact that they couldn't simply return to their furniture-laden homes when they needed to sit down. Event organisers felt pangs of frustration every time their ideal location proved unsuitable for permanent furnishings. They needed a chair that couldn't remain there.
And so the folding chair was invented – by whom it is unknown, although we know that the Middle Ages saw a boom in folding chair popularity for religious worshipping purposes. Either way, it proved an answer to the furnishing woes of many.
The Joys of Folding Chairs
The folding chair's functional spirit captured a generation of outdoor lovers. Its collapsible structure meant that locations where permanent seating was previously impossible – outdoors, ceremonies, funerals, etc. – were able to be furnished when needed and then returned to their unfurnished state afterwards.
The opportunities for folding chairs are endless. Picture it, you're hosting an event in your wonderfully roomy back garden. It's more than a barbeque but not quite a festival, the guests number a few dozen and for conversation to really get moving later on, they're going to need seats.
Enter an army of stylish folding chairs to transform your handsome lawn into a garden of conversation and relaxation. Easily create a space for chatter, eating and unwinding with furniture that is just as easy to store as it is to sit on!
And for those inevitable days where the rain starts to fall, rest assured that folding chairs are designed to withstand the elements.
So we know that chairs have been a staple of human recreation for centuries. Folding chairs bring the virtue of seated enjoyment to terrain and environments that pre-folding-chair humans would never have dreamt of. Unlock your garden, ceremony or other unfurnished location with an array of folding chairs!