The coronavirus pandemic has changed- and still in the process of changing – the normalcy across the world. As a result, many sectors are scrambling to adapt to the changes, and the fast-food industry is not an exemption. Before the pandemic, the fast-food industry enjoyed the benefits of globalisation and had a CARG rate of approximately 5% from 2014 to 2019. However, due to the global pandemic, the sector has lost the benefits of globalization due to the regulations limiting the cross-border flow of people and commodities.
With the COVID-19 shuttering in-person dining experiences and limiting restaurants from offering sit-down services to encourage social-distancing, many businesses are struggling to keep afloat. Although these measures have reduced personal interactions and alleviated the spread of coronavirus, they have threatened the fast-food industry's survival because restaurants' daily traffic has significantly dropped across the globe. Data indicates that out of ten, four restaurants in the United States were forced to shut down due to financial constraints and loss of sit-down customers. However, establishments that offer delivery services and pickup options are experiencing a dramatic increase in order volumes.
Although some fast food outlets have tried to integrate technology and drive-through windows in their operations, many have not adapted to the new normal and experience a huge financial struggle. Thus, this article examines how the pandemic has impacted the fast food industry- what has changed, what has improved, and the fast-food industry's future.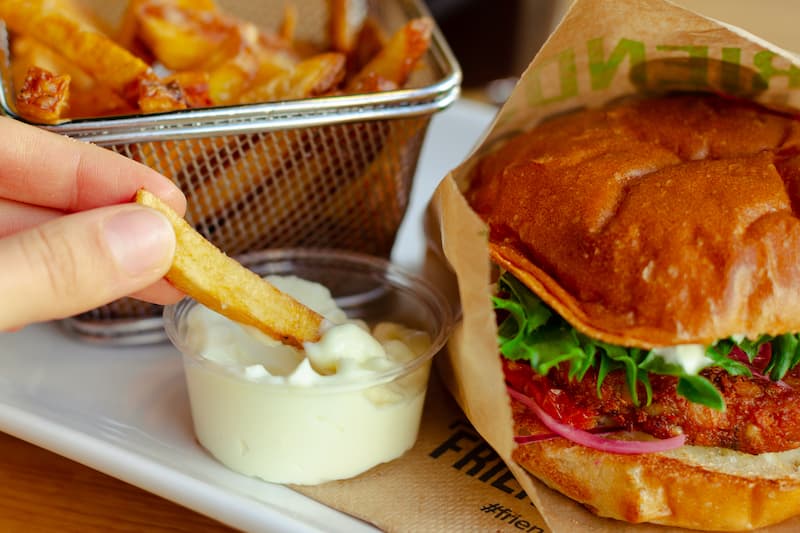 How the Pandemic Has Changed the Fast-Food Industry
Following the COVID-19 pandemic, the fast-food industry has changed in the following ways:
1. Customers are ordering online but staying near home
Fast food outlets in-person visits and online reservations have dropped, but online orders and delivery requests in countries like the U.S., the U.K., and Canada are booming. Although the orders have increased, the delivery versus carry-out options is reasonably consistent. However, people are traveling short distances to go to restaurants and pick up their orders.
2. Ordering times have changed
Although fast food establishments are receiving more orders, these orders come at different times. Initially, people used to order more over the weekends. However, these days, people order more during weekdays because the new normal is gradually making the "weekend notion" lose its meaning. Takeaway orders have become common over the weekends, while online orders occur during weekdays. Besides, lunch orders have increased to around 18% while dinner orders are only 3%.
3. Fast food's market demand has declined
In many countries, most economic sectors are suffering from the effects of the COVID-19 pandemic. The pandemic has impeded global investment, consumption, and trade, shrinking the international aggregate demand. The fast-food industry is no exception, as quarantine has affected household consumption. Those people who enjoyed dining in restaurants before the outbreak have to ensure their safety by staying home. Meanwhile, the COVID-19 impacts have made people pessimistic about their finances and job opportunities in the future. Consequently, consumer confidence is gradually declining, resulting in a reduced number of customers.
4. New customers purchase more
While in quarantine, people are using the opportunity to discover and try new restaurants. They are purchasing delivery or takeaway orders from fast-food outlets that initially were not part of their frequent rotations. These new clients place orders 8% more than average and go for high-value items. Internationally, new clients are 1.3× more likely to purchase from a new eatery on weekends than on weekdays.
5. Reasons for visiting restaurants
Before the outbreak, people used to visit restaurants to enjoy a good dining experience, meet with friends, have a good family time, and many more. However, today, these motives have changed. With the social distancing measures in place, individuals visit fast food outlets in-person to pick their online orders or order takeaway. Although many fast-food establishments have given pickup and takeaway options, the number of orders placed has dropped, and people rarely visit these businesses.
Besides, the increased online orders have resulted in longer waiting times. As a result, customers opt to look for options with shorter waiting periods and less-crowded places within their neighbourhoods. Consequently, foot traffic to fast-food eateries has dramatically reduced since the onset of lockdown and quarantine measures.
6. Reducing customers' confidence
Following the COVID-19 outbreak, customers of fast-food eateries have become concerned about the future. Many of them are worried about the future as they fear losing their jobs or contracting the virus. As a result, these concerns have impacted their consuming patterns because they have started to save more.
Due to the governments' lockdown regulations, many people working in restaurants, malls, and other crowded places are losing their job. Subsequently, their income expectations and trust in the economy are demonstrating a descending trend. This phenomenon has become detrimental to fast-food businesses because their clients have become more concerned about the future and have started saving their disposable income. Besides, fast-food outlets are crowded venues where people sit close to each other as they enjoy their meals, making the outlets risky hotspots where people can quickly spread or get infected with the virus.
7. Home cooking has increased
With people working remotely and discouraged from going out, interest in home cooking has increased. Websites that offer cooking guidelines and tutorials have experienced increased traffic because many people are searching for ways to enhance their home cooking skills. Besides, lockdown chefs are looking for simple healthy, and one-pot meals that require little time and expertise, and perhaps, easily repeatable dishes. As a result, the need to order food from fast-food restaurants has reduced, resulting in lower fast-food demands.
8. Increased drive-through times
Many consumers have ditched in-person visits to their favourite fast-food outlets to order from their cars. As a result, the average drive-through time has increased by around 30 seconds across many fast-food joints. Consequently, the extra wait time has forced many customers to look for outlets with shorter waiting periods or refuse to make any purchases. In return, the fast-food industry has lost approximately $64 million in revenue.
Improved Areas of the Fast Food Industry
As the food and beverage sector continues to confront new daily challenges as a result of the ongoing pandemic, the following aspects of the fast-food segment have improved:
1. Restaurant Layouts
Following the pandemic outbreak, fast food outlets changed their front layouts to observe social distancing measures. Although social distancing measures are continually evolving, they are likely to remain in place for quite some time. Consequently, fast food businesses have introduced more permanent layouts models to accommodate changing guidelines, save time, and avoid business disruption.
The outlets are creating practical seating arrangements that ensure the right distance between customers. They are introducing temporary plastic protective barriers to counters which can be easily removed to reduce disruptions to daily activities. They also use visual prompts, including warning tapes on the floors, to mark the right distance between dinners. Consequently, these changes have resulted in better and safer exchanges between customers and products.
2. General Hygiene
Initially, the food segment had to adhere to safety and health measures for obvious reasons. However, amid the COVID-19 pandemic, fast-food outlets have emphasised hygiene in and out of the kitchen to curtail the spread of the coronavirus. Many joints have had to adjust their cleaning schedules to include regular deep cleans and spot cleans of frequently touched surfaces and busy sections. Although these practices appeared to be a short-term process during the initial stages, hygiene will continue to be a top priority for fast-food eateries during the new normal and even after the end of the pandemic.
While intense cleaning habits are time-consuming and cost-ineffective, the establishments should view it as a long-term investment. They should reassess their current cleaning routines to identify areas that would improve or save costs.
3. Personal Hygiene
Personal hygiene has always been a primary focus point across the fast-food industry, even before the outbreak, and it is not changing any time soon. To reduce the COVID-19 transmission rates, fast food establishments have prioritized acceptable personal hygiene practices with their employees.
They have invested in hand sanitizer stations and stocking sanitizers, ensuring their accessibility throughout the kitchen, restaurant spaces, and washrooms. With the spotlight on hygiene, fast food businesses have taken more permanent measures to provide sustainable hand sanitizing facilities that will keep them well-prepared if the need to disinfect regularly becomes a permanent requirement.
Beyond handwashing, the fast-food industry has taken other measures to protect employees and diners. They have prohibited customers from visiting the premises without face masks. Additionally, they are providing their workers with face masks and protective gloves to ensure they have the right equipment to maintain exceptional personal hygiene levels at all times despite the changes new guidelines can bring.
4. Employee Training
Following the coronavirus outbreak, fast food joints offered their employees comprehensive training concerning the specific COVID-19 risk controls beyond the typical workplace recommendations. They educated their workers about touchless payment options and reduced handling of cash and credit cards, placing money on the counter instead of taking it by hand, and frequently disinfecting regularly touched surfaces, including cash registers, workstations, door handles, payment terminals, tables, and counters. Additionally, the industry educated the employees about the COVID-19 symptoms and encouraged any worker exhibiting respiratory infection symptoms not to participate in food preparation and isolate themselves.
The Future of the Fast-Food Industry
Innovations in the fast-food sector have taken over a century since the founding of the first quick-service restaurant (QSR), White Castle, in 1921. With the ongoing pandemic, QSR businesses lead the restaurant segment into a digitally improved and automated tomorrow.
Amid the global pandemic, fast-food outlets have to change their strategies to cope with zero-contact food demand. Many food giants have expanded their drive-through, increased the number of workers, digitized transformation, and streamlined menus. But will these changes continue? What does the future hold?
Drive-through innovation has not experienced drastic changes. However, before the pandemic, American eateries with only 20% of drive-through businesses have started to increase the services up to 90%. In response to the COVID-19 pandemic and attempts to improve their businesses, many fast food outlets have installed express lanes for customers with small orders, such as one drink or a snack, to ensure convenience for everyone, including clients with several orders.
Soon, fast food establishments will integrate technology with store designs and mobile technology to improve efficiency and save costs. Many upcoming restaurant models will incorporate the latest quick-service innovations in their operations, starting from Taco Bell and its Go Mobile design to various McDonald's techniques. The innovations will enable fast-food joints to detect when customers arrive and suggest the fastest route for an excellent experience. This advancement will work alongside mobile applications, which will assist in collecting consumer data through loyalty.
Besides, fast food outlets will have two drive-through lanes, one for getting to the facility and the other for online order pickup. Many outlets have embraced the drive-through business in response to the pandemic, although Taco Bell is the fast joint to publicise a "Chipotlane"-like online ordering and collection system. Additionally, fast food outlets will have digital transformations, including several drive-through lanes, dedicated parking slots for special orders, pickup lockers, and external walk-up windows to fight the pandemic. They will also install machine learning systems in their external digital menu boards, which enable them to learn consumer behaviours and communicate with them effectively.
While the pandemic has altered the face of the fast-food industry and the new normal is likely to last for a relatively long time, the technological transformation can become permanent. Today, many individuals prefer digital interactions and using digital payment methods instead of cash. As a result, fast food joints will have to explore more ways to sell takeaway and encourage their clients to buy online through various channels, including social media platforms and chat tools. Additionally, they will have to maintain stringent sanitation measures and cleanliness levels. Consequently, by having the right safety measures in place, fast food businesses will easily handle any future changes that may come their way and secure their businesses' future during these unprecedented times.
Fast Food Furniture Options
Where furniture is provided, furniture needs to be easy to wipe clean and durable. Aluminium or plastic furniture makes the perfect antimicrobial surface.
Related Articles