The outdoor dining trend is alive and well in the UK, and it's not going anywhere anytime soon. Restaurants and cafes that have the space to offer outdoor seating are reaping the rewards of this growing trend. We'll take a look at why the outdoor dining trend is so popular in the UK, and we'll also explore some ways that businesses can take advantage even if they don't have the space to offer outdoor seating themselves.
Reasons why outdoor dining is preferable
Food and the great outdoors go hand-in-hand. Whether it's a family picnic, birthday party or romantic dinner for two, there is nothing more satisfying than enjoying your meal while surrounded by nature.
1. The weather in the UK is getting better and better
The average temperature in the UK has risen by around 0.60C since 1960, according to the Met Office. This means that people are spending more time outdoors and are therefore more likely to want to eat outdoors too.
2. Outdoor dining is the perfect way to socialize
In a world that's increasingly digital, we're craving opportunities to socialize face-to-face. Outdoor dining provides the perfect opportunity to catch up with friends and family while enjoying some delicious food.
3. Fresh air
People have become very conscious of indoor spaces after covid and like it or not some people will remain outdoor diners wherever possible.
4. It easy to combine outdoor dining with active lifestylers
Outdoor dining and the active lifestyler goes hand in hand. Offering some health alternatives on the menu can create a wider customer base.
5. Nature soothes
Being outdoors soothes the soul naturally – unless its a #HeatWave, then we are all in a mood, no matter how outdoors we are.
6. It boosts happiness
According to one study, time spent in nature can increase levels of serotonin, which is a chemical associated with happiness and well-being. So if you're looking for a mood boost, outdoor dining is the perfect solution.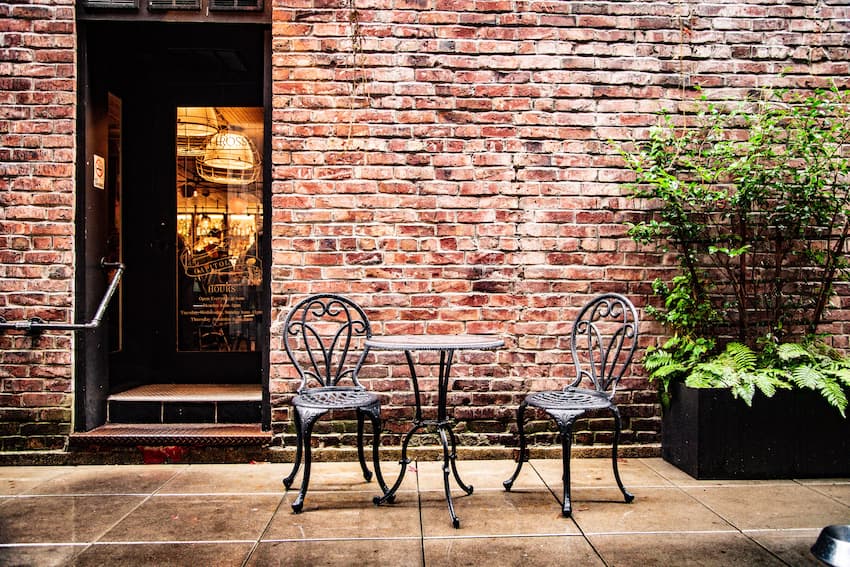 Take Advantage of outdoor dining trend
If you have the space, there are plenty of ways to make your business more appealing to customers who want to enjoy their food or pint outside.
1. Add outdoor seating
This is the most obvious way, if you have the space, add a few tables and chairs so customers can enjoy their meal in the fresh air. If you don't have the space for outdoor seating, consider taking your business on the road.
Food trucks are becoming increasingly popular in the UK, and this could be an opportunity to take your menu on the road. Street Food is also becoming extremely popular in the UK with festivals, events and caterers at the moment.
2. Get creative with your menu
As the weather gets warmer, people want lighter, fresher food. Adjust your menu to your outdoor customers. City workers typically want something fast and light, whilst a longer lunch crowd prefer inventive salads and low carb content.
3. Make use of technology
There are plenty of ways to use technology to make your outdoor dining experience more enjoyable for customers. Adding a QR code to your menu so customers can order directly from their phone, or setting up a wireless charging station can also be an incentive to dine with you.
It's worth noting that if you do go down the QR route, make sure the menu loads quickly on a mobile device especially if they are relying on 4 or 5G if you don't offer WiFi.
4. Use a complete business management solution
A management solution offers features like online ordering, table reservations, and point of sale integration, which depending on the size and staffing can make operating easier to manage.
5. Staff
Outdoor dining can be a great way to attract new customers and boost business, but it's important to make sure your staff is up for the challenge.
6. Furniture
Furniture needs to be suitable for outdoor dining, especially if the furniture will need to be stacked and stored indoors at night. Commercial outdoor furniture needs to be easy to clean, durable, "relatively" maintenance free and easy to store.
And don't forget umbrellas or something similar for shade and those summer showers.
7. Create a relaxed atmosphere
The great thing about outdoor dining is that it offers a more relaxed atmosphere than indoor dining. Outdoor dining is all about taking in the sights and sounds of the area (and people watching), so make sure your business is prepared to provide an enjoyable experience for customers who chose to site outdoors.
With the right preparation, your business can take advantage of the outdoor dining trend and provide a great experience for your customers. By offering summertime menu items, using technology to enhance their experience, and having a well-prepared staff, you can make sure your business is ready to capitalize on this growing trend.
Related Articles