An essential aspect of creating a successful café atmosphere is the seating arrangements. Without proper seating and dining arrangements, customers will feel less inclined to come enjoy a cup of coffee or two at your shop. There is a large range of furniture options available, and they can all be used to fit the individual needs of the café in question!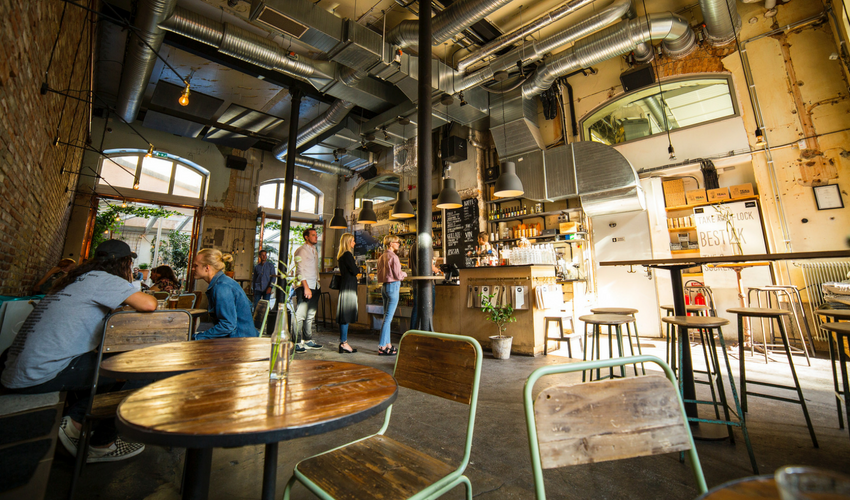 Since seating is key to accommodating customers, it is important to have seats that meet three basic requirements. They should be durable, comfortable, and aesthetically pleasing. With aluminium chairs, bar stools, benches, couches it is a cinch to easily accommodate the needs of your customers while remaining flexible. Since there are plenty of options to choose from, you can decide to go with one type of arrangement or mix and match these options for even more resilience. This would also add to your customers being comfortable as not everyone has the same types of seating preferences when enjoying a coffee. Providing a flexible arrangement of seating allows for singles, couples and groups, so think about your space and how to use it to your advantage. Aluminium chairs are a popular outdoor choice because they look flawless and are extremely durable and tolix chairs have become the new trendy interior choice. High traffic outlets like Subway prefer the aluminium finish but if that doesn't match the particular aesthetic of the café, there is also rattan, durawood, and other colourations. The different colours would look particularly appealing against an accent wall of an opposing colour!
Tables are inevitably needed to compliment the seating arrangements. Without them, the customers won't have anywhere for their food or coffee to sit! It is important to note that the type of tables chosen should appropriately match the seating, or not if you are looking for an eclectic style.
While the interior is definitely an important aspect of the café, the exterior can be equally as important. If you have the luxury of pavement seating or patio seating, then outdoor furniture is a must have! Not only does it look nice, but it opens up more room for customers to be able to dine at the café and gives them the opportunity to enjoy the outdoors. Bistro garden sets are a fantastic option as they include four chairs and a table all intended for outdoor use. Supplementary to this, parasols can also be purchased in order to keep your customers from getting caught out in the rain and even keeping the sun at bay. Additionally, landscaping and exterior decor would make for a dynamic duo!
There are several other types of furniture that can be added to give your café the flair it needs. Most people who go to cafés are looking for a quiet, enjoyable environment that they can relax in. Some work, while others read for their own leisure. With this being the case, places to store books would be an interesting approach. All you would need would be a book case or two, lined with a few books. Not only would this be perfect for those who love to read at the café, but it may also give way to new potential customers. Coat racks and places for temporarily storing customers' umbrellas are also other functional furniture options that can aid in your café's success.
High traffic coffee shops should think about creating clear distinction for traffic flow and where the line begins and ends. There are a variety of crowd control systems available to deal with this, stretch barriers are the norm for interior traffic flow from ordering to collection. Whilst cafe barriers can be used to designate your outdoor seating areas, especially if its pavement seating.
As practical as all the furniture listed above is, it is also good to have other means of decorations to help keep the atmosphere alive. Some ideas for this could be anything from plants to paintings. You could either create bespoke artwork or have local artists display their work.
It is important to remember that first and foremost, furniture is essential to owning a café. Not only are they needed for their practical uses, but they should also be pleasing to the eye and comfortable enough for your customers to enjoy. Get creative, mix and match and good luck!
Related Articles