We've celebrated some glorious weather recently. Spring and summer tend to put a bounce in our step and a smile on our face, two things we have so desperately needed over the past year and a half. We start to spend more time outdoors, the combination of natural Vitamin D and fresh air elevating our mood thermometer and adding a rose-coloured tinge to our environment.
This annual phase of spending more time outside has been hastened by the scourge of Covid-19, and embraced by restaurants and cafes longing to get up and running again. Cue al fresco dining.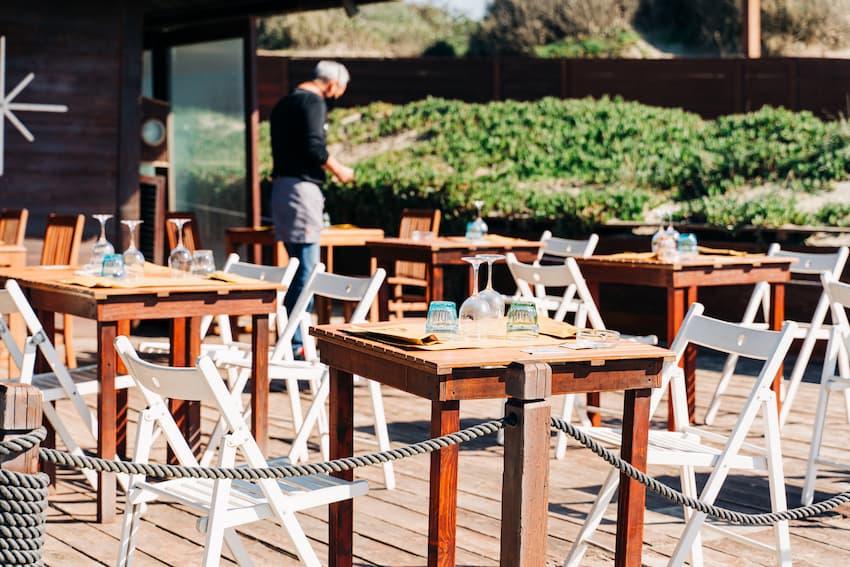 What is Al Fresco Dining?
In English, we understand the term "al fresco dining" to mean eating outdoors. It's an Italian term that means "in the cool", so you can understand why we use it the way we do, but the Italians use it in a completely different context. In Italy, the word fresco does indeed mean cool, or cold, but the phrase actually means "in prison"! Luckily, the vast majority of non-Italians are more familiar with the universally-accepted meaning. So you can be reasonably confident that, when a customer requests an al fresco table, your staff will lead them outside and not down to the local nick!
Making the Most of Your Al Fresco Dining Area
An al fresco dining area can add value to your restaurant or café, particularly when you consider that some customers may still be very cautious about being in enclosed spaces. By having the option of indoor or outdoor seating, your clientele will feel that you've taken their concerns into account, and will be more inclined to continue supporting your eatery.
If you're setting up an al fresco dining area for the first time, or have decided to make your temporary setup more permanent, you should give some thought to the following elements.
First Impressions
These count; they really do. First impressions are powerful tools and creating the right ones can have an enormously positive impact on your business. If your al fresco dining area is in front of your restaurant or café, it can certainly lure customers in, but can just as easily push them away.
Regardless of where your customers prefer to be seated, a front-facing al fresco dining area will be the first thing they see when they approach your establishment. An attractive area that is clean and tidy with friendly, welcoming staff will exert a stronger pull on people weighing up your restaurant as a viable option for refreshments.
Outside is an Extension of Inside
Customers choosing to dine outside are as essential to your business as those seated inside, and expect the same standards. Even if your al fresco area is small with just a few tables, it's vital that your staff provide the same level of service as they deliver to indoor diners.
Your outside area should be seen an extension of your indoor dining space. Whether it's been part of your establishment from the beginning, or is something you've added recently to maintain trade through the COvid-19 pandemic, your al fresco area is an undeniable part of your business. You can choose to theme it differently, with décor and outdoor furniture creating a different ambiance to the inside area, but always ensure that you maintain the same service and catering standards throughout your restaurant or cafe.
Spacing
Although social distancing is no longer a requirement, you should still consider having sufficient space between your tables so that hesitant guests feel more at ease. Additionally, that little bit of extra room will reduce the possibility of people bumping into you when navigating the seating area.
Your Target Market
Consider the type of person who will choose to sit outside rather than indoors. By knowing your target market, you can design your space accordingly. A "backyard" outside area will appeal to families with young children. In this case, it's advisable to design a child-friendly, safe space where parents can relax and enjoy their refreshments. Opt for furniture that you can clean easily so that you can reset your tables quickly, ready for the next influx of customers.
A front-facing al fresco area gives off a Paris in the spring, pavement café vibe, and will attract couples, friends, or corporate types catching a quick specialty coffee during their lunch break. It's a great place to people-watch or linger over a first-date meal. While you can't do much about the noise factor from traffic or passers-by, you can create a classy or trendy atmosphere with your choice of décor and bistro tables and chairs.
The Weather
Ah, the weather; the famous, British, unpredictable weather. While you can plan everything about your al fresco dining area down to the last fork, there isn't much you can do about the weather. Or is there?
Wet weather is definitely not conducive to outdoor dining, but most sane people won't expect to sit outside in a rain storm. Cold weather on the other hand, although not everyone's cup of tea, can still make for a pleasant al fresco experience, provided you have the right measures in place. Patio heaters are a welcome addition to your outdoor space, and will definitely make your customers more comfortable. So too a stash of warm, cosy blankets. You can either artfully drape one over each chair, or have them in a central spot for guests to help themselves. Once wrapped in a snug blanket, diners will be more inclined to indulge in another drink or coffee.
Although undeniably suited to al fresco dining, warm weather has its own perils. Enemy number one is the sun, but including large outdoor umbrellas in your décor goes a long way to enhancing your customers' comfort. When it comes to battling the heat, some restaurants use outdoor misting systems that spray a fine mist, providing intermittent relief for diners.
An al fresco dining area is a worthwhile addition to your restaurant or café. Not only does it add to the wellbeing and happiness of your valued customers, it also increases your revenue. These are things that we really can't underestimate. If you keep your customers' needs in mind when planning your outdoor space, you'll soon wonder why it took you so long to embrace al fresco dining.
Related Articles