Trending now are bistro tables and chairs in remodels. Restaurants with courtyards, homes with decks and gardens, and even hospitals and schools with courtyards offer bistro furniture for seating. We've all passed by a restaurant with sidewalk seating, wishing we were sipping tea and gossiping with a friend.
Bistro furniture is timeless, classic, as well as historic. It's made of varying types of materials, beautifully painted in vibrant colours, in addition to being comfortable. It's elegant, plus it adds cache to any home or garden in which it appears. What are its origins? We're glad you asked.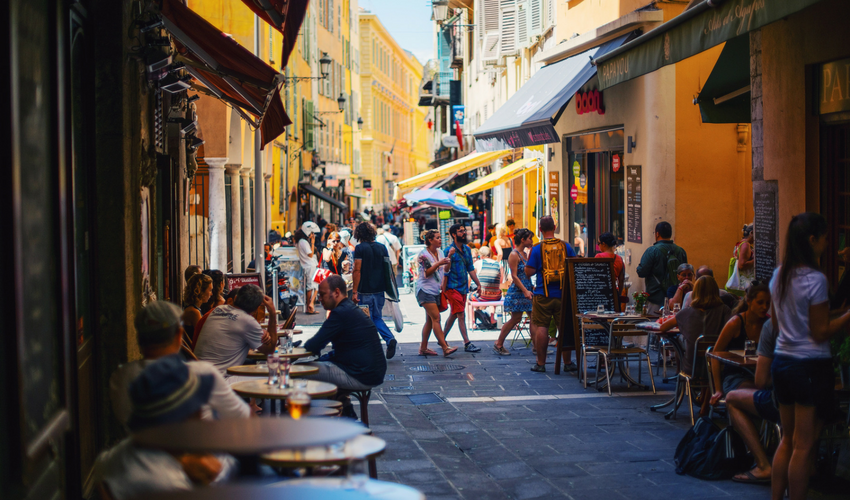 A Brief History of Bistros
Bistro furniture wouldn't exist without bistros. If we want to examine the history of the furniture, then we should understand why it was invented in the first place.
Paris sidewalks crammed with tables and chairs beneath pink streetlights come to mind when the word bistro is mentioned. Wine glasses clinking, sugar-dusted pastries, accompanied by laughter and conversation fill the mind. You aren't far off the mark.
Bistros began with French families offering food and wine to strangers in order to supplement their income. The food was served outside on small tables on the sidewalks. The food was whatever the family had to spare. The ingredients were usually locally sourced.
Menus consisted of whatever could be made quickly. Soups, sandwiches, omelettes, salads, crepes, in addition to the occasional steak or seafood platter were the norm. Add in coffee and wine, and you have the classic bistro. Things haven't changed much to this day.
It is thought that Russian soldiers after the Napoleonic war shouting "bystra" or "bring my food quickly" was the origin of the word bistro. Others think it began almost 100 years later with the French word for innkeeper "bistreau".
Bistros were a European phenomenon. They didn't make it to America until after the Civil War. Northern cities like New York with a heavy complement of European visitors as well as settlers saw the first bistros. They caught on after a while, spreading across the country by the early 20th century.
Fun Fact: Wildly popular Parisian cafe La Closerie des Lilas named its tables for former regular attendees such as Oscar Wilde, Emile Zola, as well as Paul Cezanne.
The History of Bistro Tables
The first bistro was Paris' Cafe Procope in the early 1600s. They differed from other taverns or common houses, as they were called then, because they used small tables with marble tops. They hung paintings on the walls as well.
In the early 1800s following the wars, cafes and taverns began placing seating in their courtyards in addition to the sidewalks. This was the perfect vantage point from which to "people watch." The bistro caught on like wildfire.
Its tables were usually small with no lip. People could cross legs beneath the tables in perfect comfort. By this time, the Industrial Revolution had brought decorative iron bases to bistro tables. Some bases were scrolled, while other bases were pedestal bases.
As sidewalk cafes and bistros became more popular, the tables often got larger. It wasn't unusual to see larger tables with an X-stretcher to facilitate breaking down and stacking at the end of the day. Table tops now became wood, decorative concrete, stone, or scrolled iron.
Fun Fact: Today, bistro tables are used in a variety of settings. They make excellent front hallway tables. You could put your keys or the mail on them, or just place a vase of pretty flowers on them. They make wonderful desks, occasional tables, or even dining tables.
Bistro tables make wonderful tables for the front porch, the deck and smaller gardens. Have your coffee or tea there each morning. Have your wine there after work in the evening. Place the tables in a pretty patch of yard or your garden beneath shading trees. The original idea was for them to be outdoors, so get creative!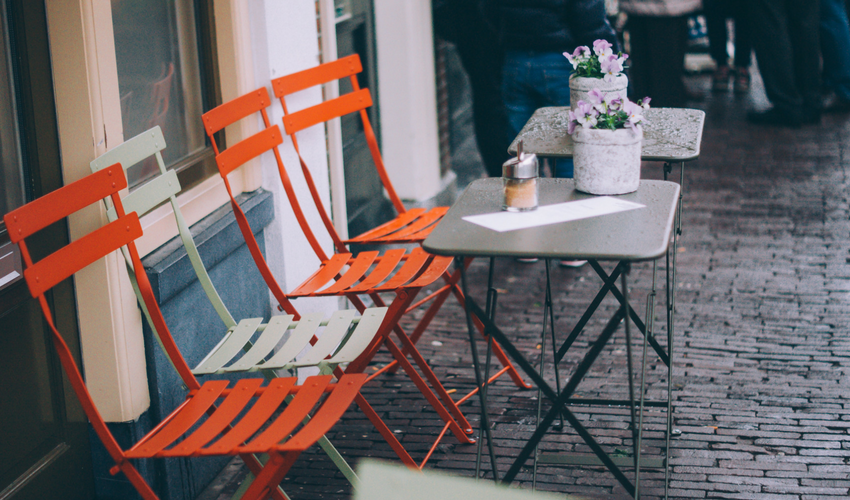 The History of Bistro Chairs
Following apprenticeship and his own cabinetmaking career, German-Austrian Michael Thonet began his own furniture-making business. In the mid-1800s, he turned out his first chair made of bentwood. It was called simply Chair No. 1. It even won the bronze prize at the London World Exposition the next year.
Thonet never stopped improving his wares, nor did he remain in one place. In the years that followed, he had offices in almost 20 countries. He kept winning prizes at World Expositions for his wares. He became a household name, however, when in 1859 he developed Bistro Chair Number 14.
The classic round shape only used six pieces of wood. Two nuts and ten screws held it together. It could be collapsed at the end of the day and stacked to store. The popular chair won the gold prize at the Paris Exposition in 1869.
Today, bistro furniture comes in a wide selection of materials from decorative wrought iron to plastic, and from wood to aluminium. Some are made with small round table tops of marble. They are short or tall, like bistro sets you would see in a bar.
Bistro Tables
Bistro Chairs
Bistro Sets
Bistro furniture was designed to be extremely lightweight. It was designed to remain outdoors in the weather. It was meant to not outlast its usefulness. We think bistro furniture is an amazing invention. We thank the French for their contribution to outstanding furniture.
Related Articles