Outdoor accessories and garden furniture could transform your garden into an additional room that can be utilised all summer. Whether you are planning a al fresco, a garden party or are just looking for some serenity; you can design an outdoor haven that you will fall in love with.
Choosing the best outdoor furniture for your patio or garden requires a bit of thought and to help we put together this guide to help you choose the best outdoor furniture.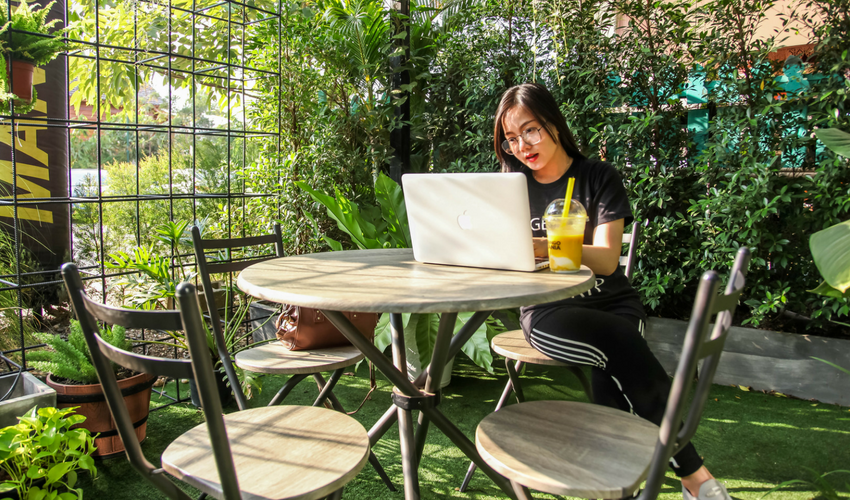 Choosing Your Outdoor Furniture
Garden furniture is available in many designs, materials and colours; the options are seemingly endless. Some of the most important factors to consider when choosing your furniture include durability and ease of maintenance. Other factors that might impact the kind of garden furniture to go for include:
Space
Measure your garden space the same way you would your indoors when looking for indoor furniture. The significance of this is to let you know what kind of outdoor furniture would best fit that space while allowing room to walk around.
Storage
It is recommended that you store your outdoor furniture inside during the winter months in a garden shed or garage. If you do not have sufficient space, having garden furniture that be folded would be of great help. Nevertheless, if you have no problem letting it stay outdoors all year round, make sure you invest in heavy tarpaulin to protect the furniture.
Decking
If the furniture shall be placed directly on the patio rather than on grass or concrete base, make sure that it is robust and sturdy enough to withstand the furniture being dragged or moved all over it.
Use
Think about how you are planning on using this space. Will it be an outdoor dining room, or somewhere you go to soak in the sun? The answer to this question should influence the design you opt for.
Some of the pieces you can consider incorporating into your garden setup:
Dining Tables
Chairs and tables should allow you to share a meal with your friends and family. If you have the space, then large 6 – 8 seater's would be ideal or think about bistro garden sets for 2 – 4 guests.
Loungers, Sofas, and Armchairs
These pieces can really come in handy especially during those sunny days. However, you will have to consider your garden's size to ensure that you only use pieces that do not overwhelm the space, and remember storage during winter.
Benches
When you are short on space, picnic tables and benches present a good option for communal seating. They are durable and are not overly expensive.
Swings and Hammocks
When the sun is out, a swing or hammock represents the ultimate luxury.
Outdoor Furniture Materials
Once you are aware of what you need, the next most important consideration is deciding what your furniture will be made of. The material you settle for will not only determine the design and overall look of the piece but will also impact how well the furniture performs against the elements. Here are some of the materials to consider:
1. Teak
This is a tropical hardwood that has a beautiful rich colour and is very averse to the elements making it ideal for the outdoors. This hardwood is full of natural oils that make its furniture pieces very durable. You can leave them outside if you are short on storage space. Nevertheless, regardless of whether you leave teak pieces outside all year or only during summer, teak will eventually change colour. This is not a bad thing in itself as it is just part of the ageing process. Besides, it will leave your furniture with a gorgeous rustic look.
2. Rattan
Traditionally, rattan furniture used to be made out of woven palm. However, today it is crafted out of synthetic material that is much more durable while maintaining the exact look of the palm. Additionally, rattan can withstand a lot of punishment from the elements all year long while still exuding that chic and laid-back style. It also comes in a range of colours. This allows you to choose pieces that match the tone present in your patio or home.
3. Woven
Resin and poly-rattan weave furniture is able to give off that relaxed style that is exuded by the natural materials but with added benefits. And due to their weather-resistant nature, these pieces can be left outside all year round. This means that you do not need extra storage space to store them during winter.
4. Metal
Metal furniture often has a powder-coated aluminium that is scratch resistant, weatherproof, and lightweight. Powder-coated aluminium does not require a lot of maintenance. Nevertheless, it might need some sprucing up after every few years to keep it pristine and shiny.
5. Bistro
Bistro furniture is used to refer to furnishings such as café tables, and other kinds of furniture used in 19th Century France. Bistro was originally designed to be used in small cafes across Europe. Since then, many replicas have been made and sold all over the globe.
Even though bistro tables and chairs were originally meant for restaurants and cafes, it is becoming very popular as a garden furniture option. A bistro set typically consists of a small oval or round table with matching chairs designed out of steel. It makes for good garden furniture and typically seats two people.
Nevertheless, bistro furniture may also come in the form of folding tables that are usually bar height. However, the most common type of bistro furniture is an opera table. It is typically 90 cm in diameter and is made out of steel that has an aluminium powder coating. Resin is also another material that makes bistro pieces for the outdoors.
Bar stools or folding chairs can be made to accompany these tables. Today's bistro furniture is available in a wide variety of colours even though white is the most popular choice.
Bistro umbrellas are also commonly designed to go with the bistro table. Mesh armchairs are another design that go with bistro furnishings. The materials used in this kind of chair is synthetic. This makes the mesh armchairs resistant to weather damage.
As the weather gets warmer, the outdoors presents an irresistible opportunity of lounging, having fun, or just goofing around. These experiences are only enhanced by the company of friends and family. This is what makes garden furniture a welcome addition to the homestead. Nevertheless, it is imperative that you choose the right outdoor furniture for your garden.
Bistro Garden Furniture Sets
BE Furniture Sales offers an extensive range of aluminium bistro garden furniture sets.
Our aluminium bistro sets include a huge range of outdoor bistro tables and chairs. Café owners can buy in bulk to give their outdoor dining areas a sense of uniformity and style. Those wanting a small set for picnics and other outdoor dining have a wealth of choice to fit their design.
Related Articles