Outdoor furniture designed for the garden or patio comes in a wide assortment of materials, ranging from inexpensive plastic all the way to very pricey wrought iron. Given the fact that your choice will be subjected to all the vagaries of weather, some of the most durable and maintenance-free garden furniture are made of metal. When properly cared for, outdoor furnishings constructed of steel, aluminium, or iron will outlast practically all other kinds of material.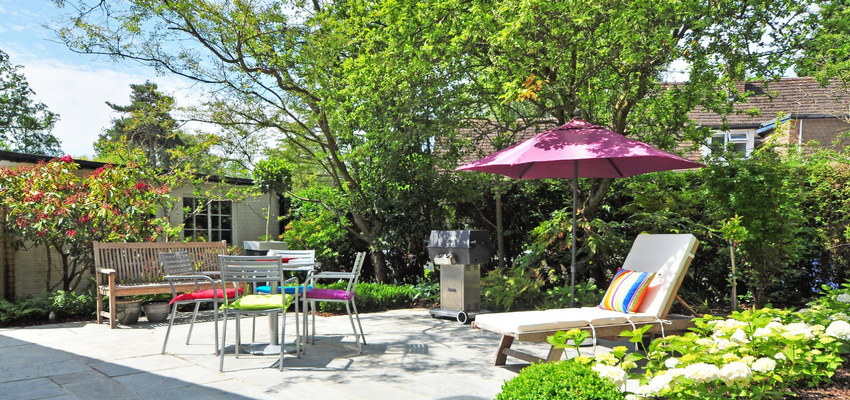 Types of Metal Garden Furniture
What follows is a list of 3 types of metal typically used to construct metal garden furniture, along with the pros and cons of each.
1. Wrought Iron: This metal is one of the heaviest and most wind-resistant on the market today. Other than an F4 tornado, you won't have to worry about anything made of wrought iron blowing around the yard!
Pros:
* The high degree of craftsmanship and intricate detail often seen in wrought iron pieces results in classically beautiful furniture that can be virtual works of art.
* Given it's strong and heavy nature, wrought iron is a durable material that can take a lifetime of abuse.
* Integrates perfectly with other garden features made of the same material, such as trellis' and entry ways.
Cons:
* Weight can be a problem when moving this furniture around the property. The very thing that make it so resilient can also be a major inconvenience if you need to frequently move your items around the yard.
* Wrought iron will certainly start to rust if exposed to the elements. All paint, wax or other finishes should be immediately touched-up to prevent any rust from spreading.
* The cost of brand-new wrought iron furniture is quite high compared to other metal types, but you can save a bundle buying used pieces at auctions and/or yard sales and restoring them yourself.
2. Steel: Furniture made of this metal is similar to wrought iron in that it tends to be on the heavy-side, and is prone to rust issues. Otherwise, steel is a strong and sturdy material that works great for items like tables that need to stand up to a lot of weight.
Pros:
* Very durable and wind resistant – a good choice for furniture that will be used frequently throughout the summer.
* One of the more affordable base metals on the market, unless you go with stainless steel, which can be very expensive. One of the distinct advantages of stainless is that it retains it's value long after the initial purchase.
Cons:
* Rust is a constant concern, which is why it is wise to choose either steel that has a powder coated finish or stainless construction, if you can afford it.
* Because of it's heat retentive qualities, steel furniture will need to be isolated from touch by use of fabrics and cushions.
3. Aluminium: Perfect for areas that have rainy and salty climates, aluminium garden furniture simply will not rust. There are two main types of this furniture: frame tubing and cast aluminium. Frame tubing construction costs less, but is still quite strong. Cast aluminium is extremely versatile and will last practically forever.
Pros:
* One of the best values for the money, aluminium furniture is currently very popular, and there are many contemporary styles to fit every budget.
* Maintenance and cleaning is a breeze, especially if you buy powder coated frame or cast aluminium. This finish is baked on, and outperforms basic sprayed-on coatings by years.
* Cast aluminium garden furniture is light enough to easily move around the yard, yet at the same time, tough enough to last a lifetime. The design details and level of craftsmanship often seen in higher quality cast aluminium furniture rival that of traditional wrought iron.
Cons:
* All aluminium outdoor furniture has the potential to blow around the yard in strong winds, but the hollow-frame type is particularly vulnerable. Any major bends or dents that result from this tossing around can render the furniture unsafe to use.
* Pay close attention to any welding present on outdoor furniture. Aluminium can be a very tricky material to bond together, and better quality pieces usually incorporate braces or gusseting for extra support.
* Aluminium outdoor furniture ideally should be stored inside or at the very least, covered up during the freezing winter months. Any moisture that seeps into a frame member or weld joint and subsequently freezes can crack this metal like an egg.
It should be noted that all the aforementioned metal furniture should either have some sort of fiber or fabric integrated in the design, or removable coverings and cushions on hand to protect the user from getting scorched by sun-heated surfaces.
When the warm breezes of summer finally start to blow, and the bbq beckons to be fired-up, make sure your garden furniture is ready for the busy season ahead. If it appears worse for wear and in need of replacement, or you've just built a patio and are buying furniture for the first time, cast aluminium is an excellent choice. It combines the best features of all the other metals, and while it can be somewhat pricey, you can take comfort in the fact that this type of garden furniture will last for decades!
Aluminium Garden Furniture Sets
BE Furniture Sales offers an extensive range of aluminium furniture sets.
Related Articles