As winter approaches across the UK, its time to start thinking about protecting and storing your garden furniture over winter. The best bet is to store your furniture indoors, whether it be in a garage or shed, but you should take precautions beforehand to ensure your furniture stays in prime condition during the coldest, harshest months of the year. Following these basic steps is a good start: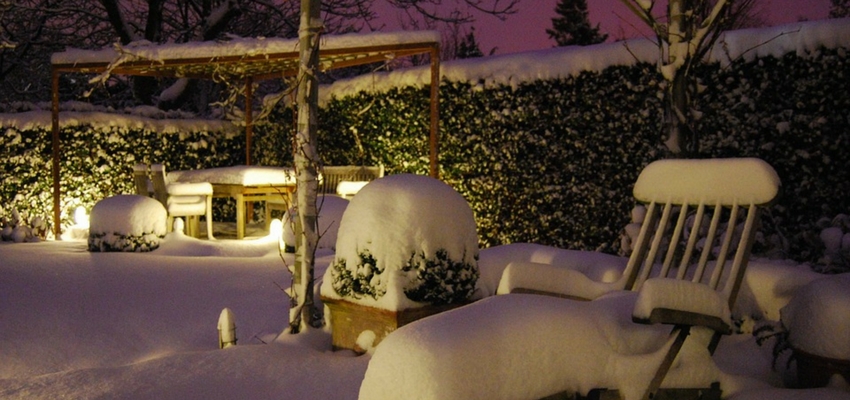 Clear off any grime or dirt
Use soapy water and a soft sponge to remove residue that has built up over time. Using cold water, rinse the pieces thoroughly and allow them to dry in the sun. Try to do this on a windy day to further help with the drying process.
Clean upholstery and remove if possible
Cushions or other upholstered additions to garden furniture should be removed and stored indoors during the winter months. Check the care instructions for each piece and follow the appropriate steps for washing the fabric. Pieces that can't be washed in a washing machine should be cleaning with a damp sponge.
Store your parasol
If you've got a garden parasol set up, it should be cleaned with a damp sponge and air-dried before storing it indoors.
Stack or fold chairs
Most garden furniture is collapsible to help with storage, but if you have a set of garden chairs that can't fold to decrease storage space, they should be stacked to minimise their footprint. If you don't have the space to keep them in a shed or garage, leave them in a relatively sheltered area of the garden and cover them with a tarp or other waterproof cover. Be sure to tie down the cover so it will stay put.
Fold and store patio tables
Most garden tables have the same design as any chairs that go with them, so if your chairs are collapsible, your table is most likely also collapsible. If your table isn't collapsible or there's not enough space to store it comfortably, you can leave it where it is as long as you cover it. Don't forget to secure the cover to each leg of the table for maximum coverage.
Keep an eye on stored furniture
If you are forced to keep your furniture in the garden due to lack of storage space, be sure to check on it consistently throughout the winter. You'll want to make sure snow or water hasn't collected beneath the furniture covers, which could easily damage furniture over time. Even furniture stored in a shed or garage should be checked for moisture issues.
There are several different materials from which garden furniture can be produced, and each requires slightly different techniques for cleaning and proper storage. Below is a brief summary of how to care for each of the most common types.
Wood
A soft brush and some wood cleaner are all you really need to maintain wooden garden furniture. When cleaning wood, make sure to rinse it well and dry it thoroughly before staining or refinishing the piece. Once you've removed all the surface dirt, rinse the piece with a garden hose. Avoid using pressure washers as they can strip the existing finish from the wood. Some people prefer to leave their wooden furniture exposed during the winter months so it can be naturally weathered, in which case a surface cleaning is all that's required. If you want to preserve your wooden furniture a bit more completely, you'll need to protect it with a new finishing layer or sealant.
Wrought Iron
Iron or steel furniture should be stored in a shed or garage if at all possible, and if that's not possible, a proper cover should be employed to prevent any damage or wear to the furniture. Once you've removed any cushions associated with your wrought iron furniture, it can be cleaned with soap, water, and a scrubbing brush or cloth of some sort. Rinse the piece with clean water from the hose, or fill a bucket if that's more convenient. If you see any rust spots starting to form, deal with them as soon as you can or they might continue to get worse.
Cast Aluminium
Aluminium garden furniture won't rust, but that doesn't mean you can ignore its upkeep. Brush away any dirt or leaves with a nylon-bristled brush, then use hot water mixed with soap to scrub away any stains or residue that didn't come off initially. Use clean water to rinse the piece, then help polish and protect it by applying a coat of water and vinegar with a soft cloth. When cleaning or scrubbing, try to avoid materials that are overly abrasive since they can damage the surface of the aluminium. Even if you opt for the water and vinegar polish, you should also consider finishing the piece with a coat or two of car wax for maximum protection.
Resin & Plastic
Plastic furniture is one of the easiest styles to clean since it can stand up to even the toughest cleaners that will remove all other substances from a plastic piece. You can use hot water mixed with soap, detergent, or any standard cleaning solution. You can even use bleach if your furniture is supposed to be white but suffers from excessive mildew. If you use these stronger cleaning elements, you should wear the appropriate protective gear when cleaning, which includes rubber gloves, ventilation masks, and goggles. Don't use steel wool or anything particularly abrasive since it can damage the surface of the resin or plastic. Plastic furniture can also withstand the force of a pressure washer, so you can use a standard hose to rinse or add some cleaning potential with pressurised water. For the ultimate protection against the elements, finish with a coat of car wax.
Rattan & Wicker
Cleaning wicker or rattan garden furniture is a bit more complicated than other styles due to the woven nature of the furniture. Start by using a vacuum with a soft brush attachment to pull dust and dirt from the hard-to-reach areas between the weave. Wipe with a damp cloth after vacuuming, then assess if more work is needed. Beyond surface cleaning, you could sand the piece down and refinish or paint it, which will help protect it from the elements. If you have a piece of wicker or rattan furniture, it should be cleaned with regularity to prevent the built-up of mildew or other residues. Natural wicker reacts poorly with sunlight and should be covered if left outside for more than several weeks, regardless of the time of year.
Patio Furniture Covers
Even pieces of patio furniture that are properly stored in a garage or shed should be covered to prevent dust from accumulating on the surface. Regardless of where you'll be storing your furniture, a furniture cover made of canvas or some other material can certainly help protect your pieces. Here are a few tips for protecting your furniture optimally using protective covers.
Use waterproof furniture covers
By using waterproof covers, you'll guarantee the highest level of moisture protection for your furniture.
Find form-fitting covers
Individual massive covers that could work for all your furniture might sound tempting, but multiple smaller covers that fit to the form of each piece are a better option.
Keep covers secured
Make sure every cover you buy has some sort of fastening loop so the corners and edges can be tied down. If you are using covers that you already own that don't have loops, use heavy objects to hold down the edges or corners.
Shelter all furniture
A secure cover is only part of the protection you can afford for your garden furniture. By placing your furniture in a sheltered part of your garden, you can further protect it from wind and other elemental forces. This not only protects your furniture, but your garden as well.
Use solid, flat surfaces for storage
If you can move your furniture to a concrete or otherwise flat, secure surface, you won't have to worry about the threat of moisture as much. If you have wooden furniture that must remain on the lawn, you can protect the legs of the furniture with wood preservative to help reduce the effect of moisture.
Garden Furniture
Range of garden furniture home gardens as well as outdoor seating for cafes and restaurants:
Related Articles