A breakfast bar is a staple in many homes and restaurants. Whether you're trying to add a cozy spot for the family to gather in the morning or you want to add greater appeal to your restaurant, take into account several qualities when selecting new chairs for your breakfast bar.
When you typically think of a breakfast bar, you may envision a space where the kids gather to eat waffles and cereal shortly before they head to school in the mornings and where the whole family chats for extended periods of time on the weekends. While this space is common for breakfast bars, you may also set one up outside. As the weather becomes nice, taking the breakfasts outdoors is an invigorating way to start the day. If you are going to set up a breakfast bar outside, then you need to pick chairs that are going to be able to withstand the weather. You can cover them up or bring them inside at certain points, but you can't predict every rain storm.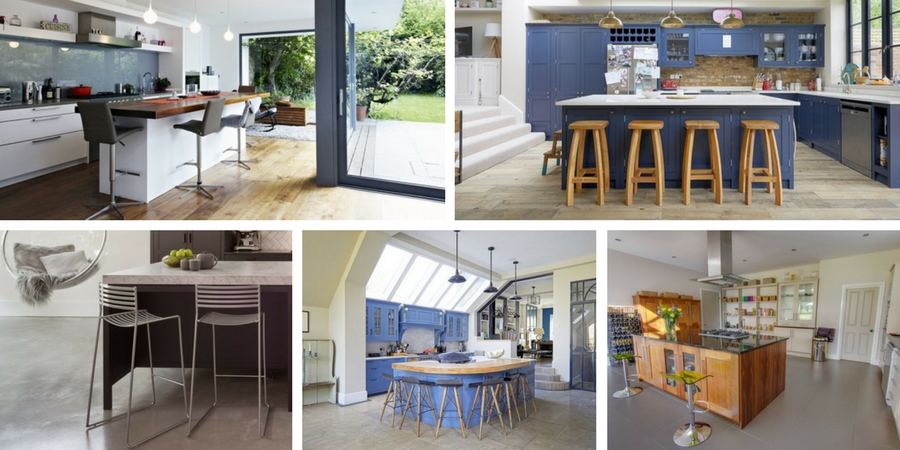 Breakfast Bar Stools
Choosing sturdy, heavy chairs is often a good idea, and it helps to provide your guests with a greater level of comfort. Some people are uncomfortable sitting on flimsy chairs that feel as though they are going to break. Perhaps all of your immediate family members are okay with lighter chairs, but that doesn't mean extended family, friends and other guests at your home will be. Opting for chairs that can support higher amounts of weight is also wise for restaurants. You don't know whom your guest will be, and you want to make sure they are comfortable. When people are uncomfortable as they are eating, they are likely to choose other restaurants in the future.
Material
Taking into account the material that the chairs are made from is important for both functional and aesthetic purposes. Wood, for example, might not hold up for a long period of time if you tend to have issues with humidity. You may want to select a material that is going to last you for a longer period of time. On the other hand, wood can create a beautiful and cozy feeling in the proper conditions. You should also take into account what the other furniture looks like. While you may fall in love with certain chairs and decide to base all of the colours in the kitchen around those chairs, not everyone has the luxury to manage that.
Budget
Money always arises when you're thinking about purchasing new furniture. A smart idea is to set a budget before you begin to browse different styles. If you don't, you may discover that you desperately want a set of chairs that is out of your price range. Setting a budget before allows you to immediately eliminate those options. If you are searching for chairs online, you can usually filter the selections by price and other features.
Fabric
Some breakfast bar stools have fabric coverings on them, so you need to decide if you want that. When you have little children who are constantly spilling food all over themselves and the chairs, you may want to wait awhile to get breakfast bar stools with fabric coverings. One option is to select stools that could be covered later on if you so choose. You may also want to avoid fabric if you have pets that like to jump on the furniture. For example, cats are often notorious for making beds for themselves out of chairs and other pieces of furniture.
Seat Size
When you purchase breakfast bar stools, you want to make sure that people can comfortably sit on them. Ever had the unpleasant experience of going to a bar to find that they are constantly sliding off of the seat. While breakfast bar stools are often great for saving space, you don't want them to be useless. If people don't want to sit on the bar stools, then you may as well not have them at all. Make sure that you purchase bar stools that are large enough for people to comfortably sit on them. Testing out some bar stools for yourself can give you an idea.
Height
Always check the height of the bar stool. There are two things commonly referred to as Knees that get caught between the chair and counter top if your measurements are not correct. The other popular option is bar stools with a gas lift action which provides flexibility.
Home or Commercial
BE Furniture provide a range of breakfast bar stools in a variety of styles at affordable prices.
Our furniture hire site also provide bar stools for hire for a range of uses from exhibitions, pop up cafes, bistros.