When faced with the wealth of choices for eating out, diners often choose to a place that is both memorable and delicious. Restaurant patrons and café-goers today look beyond the menu, opting to frequent locales with a fun and fresh ambience. A thoughtfully designed atmosphere can turn a decent meal into an excellent experience, encouraging repeat customers and word-of-mouth recommendations. The following restaurant and café design trends for 2018 will help inspire forward-thinking creative decisions and will elevate the brand identity of your business.
Restaurant & Cafe Design Trends
Bringing in the Outdoors
Indoor plants have been a long-standing trend over the past couple of years, for good reason. Numerous studies have touted the advantages of integrating greenery within interior spaces, with benefits including air purification and a heightened sense of wellness and relaxation. Many restaurants have already jumped on board with this trend by incorporating green elements such as living walls, espaliers, hanging planters, and potted plants into their dining spaces. This trend is also beginning to merge with the popular farm-to-table concept; growing produce on-site allows restaurants and cafés to bring discerning customers even closer to the source of their meals. Greenhouses and raised-bed gardens are ideal for outdoor or rooftop spaces, while potted aromatic herbs are a viable option for smaller interior spaces. Al fresco dining can always be enhanced by the addition of screening plants and espaliers, creating a sense of sanctuary and privacy in built-up urban areas. Botanical enthusiasts and health-conscious patrons alike are sure to embrace this trend more than ever in the coming year.
Focusing on Lighting
While dim lighting has often been associated with high-end cuisine and a romantic ambiance, many restaurants are making the switch towards more practical or statement-piece lighting. This trend emphasizes the user experience to create pleasurable and convenient dining environments for patrons. Soft lighting will remain popular but also will integrate more functional features, with designers opting for dimmable chandeliers and wall sconces. Advancing technology creates more opportunities for customisable lighting that can be altered during different times of the day. Bespoke lighting fixtures are also on the rise, with many designers seeking out artists and craftspeople to create one-of-a-kind fixtures that make a statement. Rather than illuminating other design features, lighting itself will strive beyond utility to become a key creative element in dining spaces.
Social Media Presence is Key
Creating a photogenic interior space is an ideal way for restaurants and cafés to market themselves amongst a social media savvy customer base. Apps like Instagram and VSCO are flooded with photos of well-crafted restaurant interiors, snapped by customers with an enthusiasm for pleasing aesthetics. Certain elements are particularly popular amongst the photo-friendly crowds. Colourful and handcrafted place settings create the perfect backdrop for foodie photos. Natural light lends to higher image quality for daytime photographs. Statement fixtures, such as vintage accessories, neon signs or edgy artwork are popular focal points that are often shared via social media. Camera-friendly design doesn't have to stop at the dining room either, with chic bathrooms and exterior façades frequently making appearances on Instagram as well.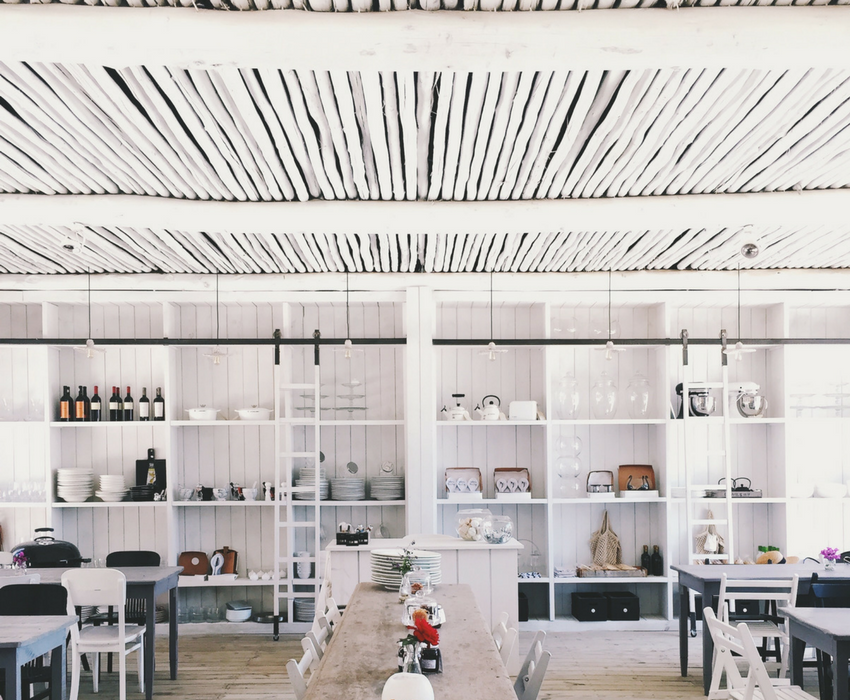 What's Old is New Again
The past few years saw a return to a nostalgic Mid-century Modern style, and this trend continues to grow for the coming year. Characterised by simple and organic geometries, open floor plans, and sleek textured materials, Mid-Century Modern is an ideal design theme for a restaurant or café seeking an open and airy vibe. This trend will continue to be reinterpreted in various ways in the coming year. Wood panelling is proving to be a popular design feature, giving a warm effect to many dining establishments. Love it or hate it, linoleum floors are also making a comeback. This flooring material is durable and easy to clean, making linoleum ideal for restaurants and cafés. An all-natural material, linoleum is readily available in a wide range of colours and patterns, and is a versatile choice for various colour and design schemes. With overdone copper fixtures and accents on their way out, chrome is an emerging trending metal for accents and fixtures. Originally popular in the 1950's and 1960's, chrome adds a bright and reflective metal surface reminiscent of the American diners of past decades.
Flexible Seating Options
In the coming year, expect to see more restaurants catering to customers using spaces in a variety of ways. Interior spaces and seating possibilities will be arranged for flexibility to accommodate small intimate parties, as well as large groups. Small and low seating areas in under-used corners will cater to customers wanting just drinks and light appetisers without having to sit at the bar. Cafés in particular will see a continued increase of customers seeking to move their workdays out of the office and into a more dynamic atmosphere. With a rising pool of freelance workers, cafés with well-designed semi-private spaces are becoming the ideal locale for small meetings. Comfortable upholstered chairs or upright bistro chairs with sufficient back support help create an efficient workspace for café-goers.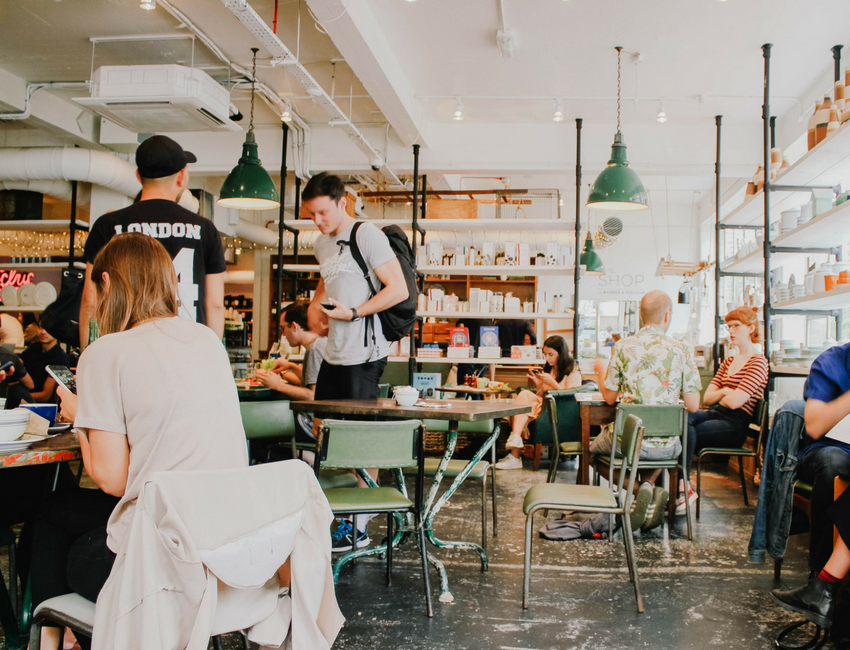 Colour Palettes with a Pop of Pigment
In 2018, colour palettes will drift away from cold greys and subdued ivories and towards richer neutral tones. Tan, caramel-tinted hues and earthy orange terracotta browns lend warmth to a space without an abundance of chromatic intensity. These tones can be used for accents and floors, but should be thoughtfully balanced if used in excess to avoid looking too dated. Muted pastels are also increasingly showing up in interior spaces, on everything from seating upholstery to dinnerware sets. Popular pastel colours that suit a dining space include mint green, blush, and sky blue. Again, these colours are ideal as subtle accents, but can be tastefully used to make a statement on walls and floors as well.
Designing for Comfort
Above all, 2018 restaurant and café design trends suggest that people are seeking comfort and warmth over stark minimalistic interiors. Designers are striking a balance between minimalist and maximalist styles for commercial dining space interiors, opting for lush tactile materials and unique colours while still maintaining a sleek and professional brand profile. To achieve a visually compelling mix of textures, consider pairing textured seating upholstery with sculptural indoor greenery, or a playful wallpaper accent beside a complementary faux-finish wall. Mixing lighting fixtures and bulbs is another way to achieve a cosy space, ideal for evening dining or drinks. A balanced combination of textures, lighting, colour and metallic finishes can create an eclectic vibe that will leave customers buzzing about the inspiring interior.
Maintaining a distinct brand identity is integral to setting your restaurant or café apart. Today's restaurants and cafés need to focus on visual social media tools, a tailored user experience and ever changing colour and design trends to stay current in the industry. Dining tendencies show that customers frequent places that provide an innovative experience, which is a result of food and design working simultaneously to create a stimulating atmosphere. When paired with excellent food and exceptional service, thoughtful design will keep customers returning to your restaurant or café.