There is no doubt the restaurant industry suffered due to the COVID-19 pandemic. According to the National Restaurant Association, 2020 presented greater challenges than any other year in history. Over 110,000 drinking and eating establishments closed last year in the United States alone and more than 2.5 million jobs were eliminated. The devastating impact of 2020 and 2021 is expected to be short-term.
By 2024, the expectation is a 3.7 percent increase in foodservice revenue per year reaching $4.4 trillion. Prior to the pandemic, the growth of food to go was outstanding. Due to restrictions forcing consumers to remain at home, this industry declined throughout the United Kingdom by an astounding 45.5 percent resulting in the loss of cafes and fine food retailers.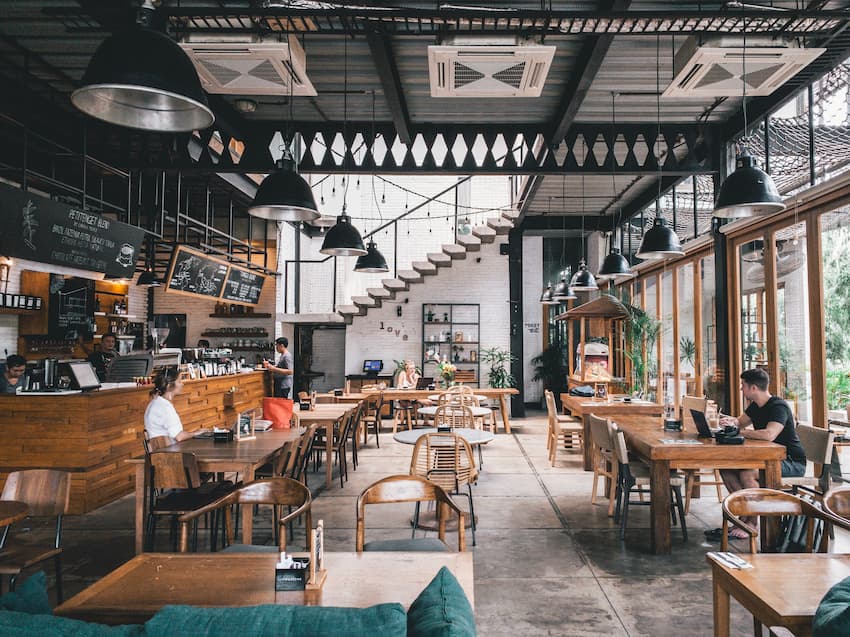 Global Foodservice Market
Foodservice growth in the future is expected due to the following factors.
Sustainable and healthy eating trends increasing higher sales in mature markets
Operations streamlined by advanced technologies to increase sales and improve customer experience
Global expansion expected for multinational chains due to strong investments
Increasing popularity and expansion of online food delivery and delivery networks
Sustainability and Ethical Considerations
In addition to increasing revenue with technology, ethically sourced ingredients and higher-quality menus are also important strategies. Consumers are interested in options minimising the impact on the environment while meeting healthy eating lifestyles. The expectation is millennial and generation Z consumers will reinforce sustainability and corporate social responsibility.
This means the focus of more brands is:
High-quality and healthier menu items
Certified and responsibly sourced ingredients
Diet-friendly options including vegetarian, vegan and keto
Ethical sourcing
Technical Innovation and Digital Adoption
The pandemic necessitated the fast transformation of restaurants. Many began offering contactless, online ordering, making digital technology essential to survive the challenges of both competition and COVID-19. Brands are encouraging repeat business and personalising incentives with proprietary mobile apps.
The expectation is foodservice brands will begin investing in robotic and automated technology to improve efficiency. A wide range of technologies is being used by McDonald's and Burger King including mobile apps, geofencing and data analytics to decrease labour costs, improve customer experiences and maximise sales.
COVID-Safe Socialising
The food-to-go industry is capitalising on the picnic in the park trend. Approximately 21 percent of all consumers are planning on purchasing food to go in the future to enjoy in the park. Food halls and delis can participate by creating new items for consumers interested in socialising outdoors with family and friends such as boxed offerings for outdoors. This trend can be targeted through in-store and on-site messaging.
Outdoor spaces offered opportunities before becoming mandatory due to the pandemic. These areas are ideal to enjoy food with family and friends in a relaxed and informal space. Vendors can be hand-selected to offer consumers new and exciting options. As the world emerges from their homes, outdoor spaces are the safest places for socialisation.
Communities can be reunited through a shared love of drinks and food. Friends and families can enjoy dining outdoors or celebrate special occasions including reunions, birthdays and anniversaries.
Home Workers vs Commuters
There are two basic categories for food to go, home workers and commuters. In the future, approximately 34 percent of all consumers plan to work from home. More than 50 percent plan to remain at home during the workday. Due to the emergence of food to go home, homeworkers can now be targeted. Restaurants have created boxes enabling consumers to enjoy restaurant dishes while at home.
During the workday, consumers have access to kitchens and appliances ensuring heat-at-home meals are ideal for lunches. This option was perfect during the pandemic and provided restaurants with a stream of revenue. By January of 2021, a kit had already been purchased by one out of every five consumers. Expansion and development are critical as the United Kingdom takes its first steps into a pandemic-free world.
Operators offering heat-at-home meals are using this trend to build new business models. Meals can be prepared without losing taste or consistency when reheated. Commuters returning to work can expect additional choices for convenience including meal kits, meal deals, and prepared snacks. According to recent research, 83 percent of consumers will continue purchasing meal deals.
Consumers are now interested in unique options for office lunches. Approximately 25 percent of all commuters miss food to go while at work. Fine food retailers can maximise this opportunity by offering customisable, healthy and fresh food-to-go options. Fine food retailers are placing provenance and quality first. Personal relationships can be established with farmers and producers to provide options better than what is available at convenience stores or supermarkets.
Coffee Emerges a Winner After COVID-19
Coffee to go is an excellent opportunity and accounts for 40 percent of all drinks consumed from January through April of 2021. The behaviour of younger customers has changed due to the pandemic resulting in the purchase of a hot drink during walks with friends since March of 2020. Since COVID-19 habits are expected to remain for the time being, serving strong coffee can help restaurants to succeed.
As indoor social restrictions ease, the expectation is certain pandemic behaviours will be retained by consumers including socialising outdoors. Operators can increase revenues by focusing on consumers interested in socialising outdoors for the short term. Habits and trends created during the pandemic must be leveraged to ensure they remain in the future.
There is already a strong coffee culture in the United Kingdom, but it can be improved by cafes. A subscription-based model can be used to emphasise the value. Monthly subscription coffee models were launched last year by chains including Leon and Pret A Manger. Independents should consider using this tactic for regulars.
Which Food Trends Will Survive After the Pandemic?
Due to the digital shift, many consumers are wondering if home cooking and healthy foods will survive after COVID-19. The way consumers shop and eat changed due to the pandemic. The question is which trends will become the new normal in a post-pandemic world? The industry of consumer-packaged goods has been affected by global lockdowns. Grocery markets across the globe have been reshaped by shifts driven by demand.
Initially, consumers were emptying shelves in a blind panic. An increase in cooking from scratch, snacking and active dieting came next. If the actions of consumers during the pandemic were described using just one word, it would be fear. Not only were consumers afraid of COVID-19 and infection, but they also feared economic security and access to an adequate supply of food.
This resulted in immediate effects including panic buying and new ways to shop. Consumers started to make fewer trips to the supermarket with larger purchases. Retailers and manufacturers within the industry began to question which business they were in. Many believed they were in the confidence business as opposed to logistics, retail or services.
The industry began to believe their job was to ensure shoppers felt smarter, more confident and better informed to enable them to make the best possible choices for their families. The United Kingdom is finally beginning to emerge from the fear created by the pandemic, with the return of consumer confidence taking place quickly. The next economic development phase is an opportunity to increase consumer spending.
Throughout the western world, economic interventions are being employed to help the world go back to its way of life before the COVID-19 pandemic struck. The impact on consumers was significant last year resulting in a decrease in discretionary spending. This resulted in the launch of the largest fiscal package to date to stimulate the economy through certain parts of Asia and the western world.
Funding from this package was received by consumers resulting in a 30 percent decrease in personal bankruptcies between 2019 and 2020. In the areas where COVID-19 vaccinations are almost complete, the recovery is the strongest. Unfortunately, many consumers have lost their zest for life despite the economy opening up again. At this point in time, it is impossible to determine exactly how the rebound will work.
The good news is the speed at which the recovery is taking place. When the worst moments in history are considered for the past 150 years, it is impressive the world is recovering in less than two quarters. Consumers should be thinking about the future when the world has fully recovered and about gains as opposed to losses. There is a possibility the world has lost less than what has been gained.
The disruption resulting from the pandemic accelerated specific trends. Certain trends were not expected to occur for 10 years, but they happened in a matter of days. There have been so many significant changes consumers are confused as to which ones will remain. The bottom line is when consumers are happy with something, it will most likely stick. If unhappy, the trend will probably cease to exist.
The Ecommerce Proposition
According to the experts, eCommerce and online groceries are expected to remain. This is one area capable of building on the success established during the pandemic. During this time, data has shown 30 percent of consumers buying groceries online did so for the very first time. There is no doubt the popularity of online grocery shopping has significantly increased due to the pandemic.
As restrictions continue to ease, this acceleration is expected to continue. This means the majority of the current growth will remain and increase as time continues to pass. Ecommerce platforms were unable to keep up with the demand during the pandemic due to an outstripped supply. Consumers were so interested in eCommerce products they made significant comprises including services they previously considered unacceptable and accepting poor pricing.
In the future, retailers offering consumers competitive prices and higher quality levels will most likely thrive. The demands of consumers throughout the world will increase after COVID-19 is no longer a threat. Consumers will demand better pricing, freshness, a wider range of products, availability and improved execution. Retailers must provide better service and options to survive after the pandemic.
The two most important challenges for businesses will be to increase efficiency and meet consumer demand. Automation technology can help ensure the development of online capabilities to meet higher consumer expectations in the future. Due to the shift in consumer behaviour, grocers must improve efficiency to compete. Software to improve grocery distribution, robotics and automation must be developed to ensure efficiency.
The estimation is 74 minutes of human labour is necessary for every 50 products to reach the consumers, but this number can be decreased through the use of new technology. Ecommerce and online solutions are developing extremely quickly. Due to the pandemic, eCommerce is changing because the way consumers engage online has changed.
In the past, consumers preferred desktops, but this has changed to mobile devices. More than half of all online transactions are now completed with a mobile device. The quick-commerce trend has resulted in much faster deliveries. Depending on the country, deliveries can often be completed within just one hour. Fast delivery has become increasingly important for the convenience and lifestyles of consumers.
The pandemic has led to a demand for sustainable and healthy products with fast delivery. Good health has transcended the COVID-19 pandemic.
Related Articles