As any Restaurateur will tell you, there are plenty of frustrating things about being in the hospitality industry. Being short-staffed on a busy night, having to handle complaints or dealing with unruly customers can really dampen your spirits. Sometimes you might even wallow in a moment of self-pity or regret for having chosen this industry. Don't get me wrong, there's a lot about working in the restaurant world that is extremely rewarding, and you wouldn't be a restaurateur if you weren't passionate about it. But nothing can be more annoying than starting your shift with a fully booked restaurant only to be left with unanticipated empty tables.
No shows have been around for years. It's not a new concept, nor is it an acceptable one, and it's even less appreciated in this post-Covid world. Over past months the restaurant industry has taken a huge knock in revenue due to lockdown, and restaurants can't afford to be denied business that was promised to them in the form of advance bookings. It's quite likely that restaurant-users don't understand the implications of not turning up for a booking. A vacant table means fewer diners, which means lower turnover, resulting in less profit. Restaurant owners and managers use forward bookings to plan, particularly with regards to staffing and ordering stock. If bookings are cancelled they at least have the chance to resell that space to other customers, or adjust their planning accordingly.
Why Are People No Shows?
What causes people to book a restaurant, only to not arrive? Is it just a case of bad manners, or are there other reasons for this lack of respect? And why have no shows become more prevalent recently?
Perhaps it's not the case that there are more no shows than before, but rather the fact that restaurants have had to greatly reduce the number of covers that they can accommodate due to social distancing. Applying the one metre social distancing rule, eateries on average have to reduce their capacity by around 30%. For a restaurant with a capacity of 60, a 10% no show rate previously meant that they could still accommodate just over 50 covers. With a reduced capacity of 40, a 10% no show rate means they could only have around half restaurant booked. This is a big reduction when you consider the very small profit margin that restaurants run on.
An anonymous survey threw up a few reasons why people are no shows at restaurants:
Cancellation information is difficult to find
They can't be bothered to cancel their reservation
The forgot that they made the booking, and hadn't received any reminders from the restaurant
They make bookings at several establishments and decide on the day which reservation they are going to keep
There are various measures that restaurateurs can put in place to reduce the number of no shows, but there is no single solution that will work successfully for all restaurants. You need to consider the type of eatery when deciding how best to alleviate the pressure caused by people not turning up for their bookings.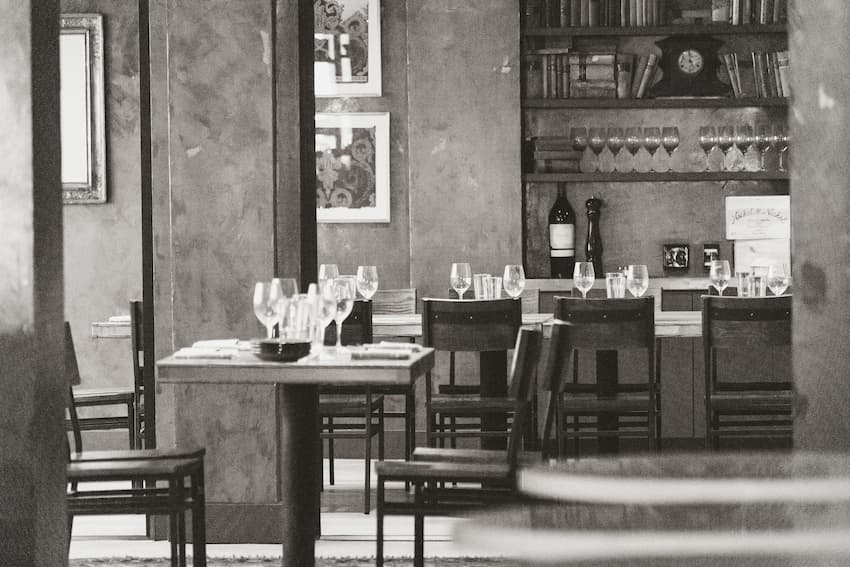 Measures to Prevent or Reduce No Shows
1. Don't Allow Advance Bookings
This is possibly the easiest way to ensure that you don't have any no shows, but it's not without its downfalls. If you don't allow customers to book, and thereby secure their table for a specific date and time, you are potentially missing out on larger group bookings that can be quite lucrative. You might also find that people prefer not to try their luck on getting a table at your restaurant as they don't want the hassle of being turned away and then having to find an alternate place to eat. You'll also need to consider if you have space within your facility where customers can wait for tables, while maintaining physical distancing. A bar area, or lounge area will work nicely for this, but many smaller restaurants don't have this space available.
There is some middle-ground to be reached though. While having a first-come, first-served policy on bookings can definitely work for your quieter days and times, allowing advance bookings for special days (public holidays, Mothers' Day etc) and peak times, will provide some peace of mind to you and your clientele.
You could also consider allowing advance bookings for groups of a set minimum size. This will encourage customers to continue to book your establishment for birthday parties or other special occasions.
2. Have a Set Booking and Cancellation Policy
If you have a booking policy in place, it is imperative that all your staff is aware of the details so that there are no discrepancies. Some eateries have just one person handling bookings, but at others there may be a few staff members who have this responsibility. It's important that everyone works within the same guidelines. If not, this can create confusion and may also anger return customers who may have had to pay a deposit one day, but not the next time they book. In times where everyone is fighting for business, it is vital that we do as much as possible to keep our customers happy within our policy framework.
A Booking and Cancellation Policy can include such things as:
Restricting the size of tables booking at peak times to a maximum number of people
Requesting a deposit from large bookings, for example bookings of 10 people or more
Limiting the length of time that you are prepared to hold a table for if the party is late
Obtaining certain information from the person making the booking. This would certainly include the full name and a contact phone number, but should also be an email address so that a reminder email can be sent.
No penalty if bookings are cancelled more than 24 hours before the time. Late cancellations may be subject to a fee. This could ultimately be difficult to claim from the customer, but could also act as a deterrent and ensure that they give the necessary notice of cancellation.
The specifics of your booking and cancellation policy are entirely at the discretion of each individual establishment, and will depend on what you think will assist in reducing the number of no shows at your restaurant.
3. Take Deposits for Bookings
If you opt to take a deposit from your customers on booking, make it clear to them that this will be deducted from their final bill. You'll probably find that those who are serious about keeping their booking won't have an issue with this. You can set time limits so that if clients cancel more than 24 hours in advance, their deposit will be returned or can be used as credit for a booking at a later stage. The deposit amount is up to you, but it should be calculated to cover most of what might be lost if a booking is a no show.
There are likely to be people who will take offence to having to pay a deposit, even if it will be deducted from their final bill, and they may well take their business elsewhere. This is a risk that you should be aware of if you go the deposit route.
You could decide to take the customer's credit card details and debit the card with a cancellation fee should they not honour their booking. In his scenario, be aware that there have been instances where customers have cancelled the credit card before the fee can be deducted. Sneaky, I know, but it happens more than you would think!
Taking deposits or credit card details can be a tricky option to navigate, but if approached with care and if you handle card details according to the Data Protection Act, it may be the best way forward for your eatery.
4. Use a Reservation System
Managing reservations for a restaurant can be a difficult and time-consuming job, and often requires more than one member of staff in order to do it effectively. In this amazing age of technology, there are tools available that can make this task less daunting.
Reservation systems like OpenTable, Resy and Lightspeed are designed to make the booking process easier for both the customer and the restaurant. Its worth checking that your reservation provider is integrated with Google My Business, so customers can also book direct from search results. Customers can check availability and make a booking from anywhere and at any time, and will have a record of the booking. Using a system that sends automated messages or reminder emails to the customer should have the effect of reducing no shows. They won't be able to use the excuse that they forgot about the booking! They will also have easier access to the restaurant's booking and cancellation policy. These details can be reiterated in further communication, either automated or from the eatery itself.
While we'll never completely get rid of no shows, it's in the best interests of each restaurant to do what they can to reduce them and alleviate the negative effect that they have on the business, and the industry as a whole. It may take experimenting with a few options before you find the one that works best for your business.
What's crystal clear is that there is no one-size-fits-all solution for dealing with no shows. Each restaurant has its own character with its own personality, and must implement the measures that are most effective for them, regardless of what the restaurant down the road is doing. Stay true to your uniqueness, build a relationship with your clientele through their bookings and they will reward you with their loyalty.
Related Articles