A bistro table is a small table that is traditionally a 24 inch round tabletop with a height of just under 30 inches. The basic bistro table version comes with two matching chairs and can be manufactured in a wide variety of materials, designs, and colours. One of the most popular materials for a bistro table and chair set is black or white painted wrought iron. Traditionally, bistro tables are round though some modern exceptions have attempted to make small square tables apply as well.
Larger bistro tables are made that are designed to accommodate up to four people comfortably. Some of the modern bistro table designs feature a hole for a table umbrella. Other bistro tables are not designed for umbrellas and are meant to be placed under pavement awnings. The four-seat bistro table is traditionally 34 inches round and has a height of 28 to 30 inches.
Today, there are a wide variety of different styles of furniture that are used for outdoor lounging and dining. Whilst some of the new designs offer great style and comfort, one of the most widely used and loved tables for small dining settings is the world-famous bistro tables.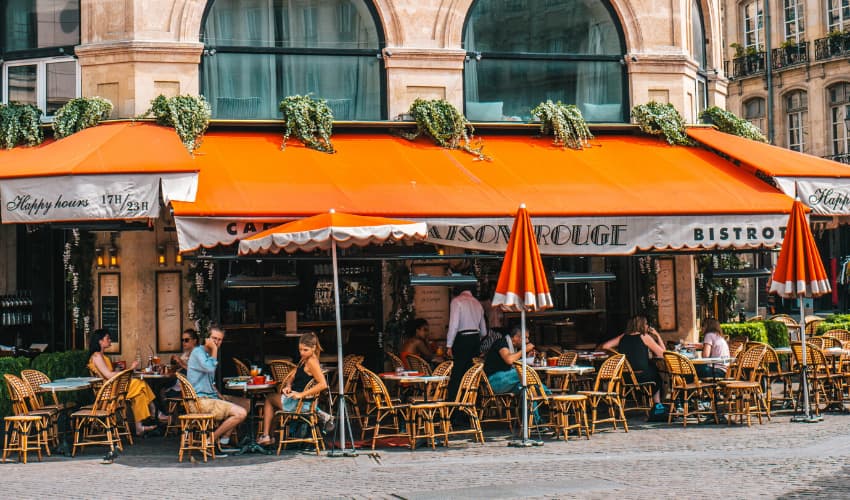 Early History of the Bistro Table
The bistro table has its roots in early Europe. Whilst offering a variety of uses, they were initially designed and handcrafted for sidewalk café dining. First discovered in the small cafe's of Paris in the early 1600s, these tables were the perfect size to offer outdoor sidewalk seating. Since Paris is widely known as the city of love, the two-seat tables were perfect for couples looking for a lovely time dining out for breakfast, a light lunch or dinner, or having a croissant and a glass of wine.
In addition to sidewalk cafe's, by the late 1600s, many regular restaurants in France and throughout Europe started to use bistro tables for courtyard dining, which allowed patrons a greater ability to enjoy the outdoor dining experience. Increasingly, throughout the 1800s, bistro tables became the seating of choice for restaurants in cities and busy villages. Because they were great for outdoor pavement dining, people often sought ought food and beverage establishments that had them because it gave them the potential of running into a friend or colleague walking by.
Previous to the use of the bistro table design, most dining was held inside a restaurant at traditional tables. After their creation, more people started to enjoy the benefits of the outside relaxation they provided. Diners increasingly enjoyed watching the world go by at a hectic or slower pace, depending on where the cafe was located.
Design and Material Changes
The original tabletops of the first bistro tables in the 1600s were made of marble. Over time this material became limited and burdensome. By the time the European wars of the 1800s had passed, bistro tables were manufactured from a variety of other materials. In the late 1800s, it was not uncommon to find these quaint tables crafted from wrought iron and wood since these materials were easier to find. Today more decorative bistro tables are made from wrought iron, which has maintained its popularity for nearly two centuries. For high-end restaurants that use bistro tables, the tabletops are often crafted from marble or glass, whilst aluminium bistro tables have become popular for their outdoor durability.
The emergence of the wood bistro table offered more flexibility for café and restaurant owners because they were less expensive and easier to move. Whilst most wood bistro tables are not crafted with etchings and designs like the wrought iron pieces; wood bistro tables have maintained ample enjoyment and usage for centuries. Wood bistro tables were rare in the 1600s and 1700s. However, the material for these tables gained notoriety and popularity in the mid-1800s when a furniture maker German-Austrian Michael Thonet began his own furniture-making business.
His high-quality work gained him entrance into the World Expositions, and in 1859, when he developed the Bistro Chair Number 14 design, his work won a top prize. This helped his wooden chairs to become world-renowned. He soon crafted a matching collapsible bistro table that caught on like wildfire across Europe and America. This new style allowed businesses to put them out on a sidewalk in front of their business during the day and take them down at the end of the day and store them indoors. This proved to be especially helpful in inclement weather and allowed for more diversity in their usage.
Uses for a Bistro Table Set
The bistro table set can be used in a wide variety of places, both residential and commercially. In residential uses, the bistro table is a common garden, poolside, balcony, or small patio furniture accent. They are also commonly used on the inside of homes in sunrooms and in window nooks of Victorian homes.
Commercial uses for these table sets are many. They are very popular for ice cream shops and a wide variety of cafe dining facilities that feature outside dining. They can be found at restaurants, pubs, cafes across the globe. Because of the compact size of the two-seat tables, they are the perfect furniture piece for establishments that have outside pavement space.
Wood bistro sets are trendy in beach side dining spots and pubs. This is true both for lakeside as well as ocean side food and drink establishments. The collapsible design of some bistro table sets is perfect for storage during inclement weather events or for adding extra seating during special events.
Related Articles