There are different types of furniture manufactured for various uses. Garden furniture is manufactured for both home and commercial use and should compliment the business or the home, and they include tables and chairs.
While choosing new garden furniture, there are different things that one needs to consider.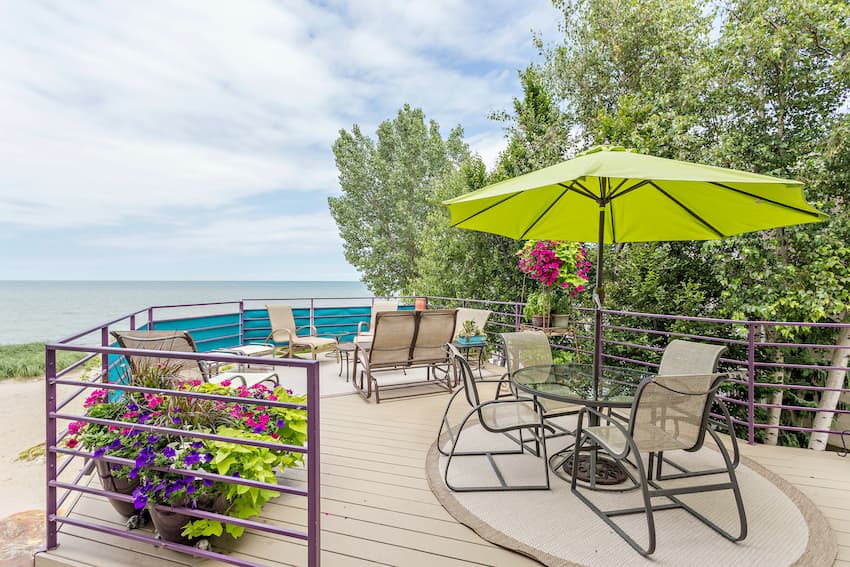 What to consider before buying garden furniture
Take into consideration the outdoor or garden space the furniture will be placed. Knowing the area's primary purpose will help in the decision-making process, making it an important aspect.
The budget for garden furniture is the next thing a person should consider before buying furniture. It will provide the owner with the right furniture frame based on the amount of money they intend to spend.
Comfortability and easy storage of furniture must also be considered to ensure the deal is worth it. Outdoor furniture should be flexible enough for storage during the winter season to avoid damping and rotting the furniture.
The style of the garden helps in providing a guide on what kind of furniture will be suitable. The garden-style will provide a guideline in which the furniture will be bought and help choose the right kind of material fry use. The material is essential as it will depend on the locale and the weather temperaments.
The furniture should be able to fit in the garden. If one owns a small garden, the furniture picked should depict the garden to help it work. The size of the garden is an important aspect that must be considered.
Apart from the fit, the maintenance and the nature of the material used are needed to ensure the furniture bought is convenient. Garden furniture should stand up to the various weather elements and not just one of the elements. This feature will help in the durability of the furniture.
The maintenance is mainly about the amount of care the garden furniture will need in the coming days and if it is manageable. Thorough knowledge of the care needed for different materials helps in making the best decisions.
Furniture materials for garden furniture
Aluminium outdoor garden furniture
Today different furniture manufacturers are using aluminium to make garden furniture. The use of aluminium is crucial and it comes in different colours and finishes. It does not rust like steel making it more critical.
The material is not as heavy as steel, but it is not as light either, preventing it from blowing over quickly from the wind. The design details of the furniture have improved immensely as time goes by. Aluminium has helped improve the level of craftsmanship hence the interesting designs.
Advantages
The furniture's material is lightweight, but it is durable, meaning it can last for several years.
They are low maintenance hence the reason why the material is exemplary and reliable.
Aluminium materials come with a protective coat, which is essential in ensuring the furniture's durability despite them being kept outside.
They can be left out all year long without carrying them in during the winter or rainy season.
Disadvantages
Paint chips cake off after a while; therefore, maintenance of the protective coat is necessary.
High winds are capable of blowing over these types of furniture due to their moderate sturdiness.
The quality of the material is quite tricky to choose; therefore, buyers need to be well aware of the different attributes to pick the best quality.
Is wood patio weatherproof?
In the creation of outdoor furniture, a variety of woods are used. Different types of woods have other characteristics hence making them viable for various forms of furniture. Softwoods are reliable, and they make unique pieces of furniture. However, they are not very durable.
These woods are liable tor rotting and usually only last one season when left outside, making them a poor choice to buy durable furniture. Hardwoods are recommended though they also need to be treated if they are kept outside for long periods.
If hardwoods are left outside untreated, they might crack, rot, or snap, making them less durable. Wood furniture, when placed in direct exposure to all kinds of weather and sunlight, is likely losing their colour hence destroying the outlook of the wood.
Different treatments are used to treat woods to prevent them from rotting.
These wood treatments help in the maintaining of wood furniture by applying them to avoid damping and rusting. Wood that is well treated and stored during winter weather can last up to 40 years. Additionally, the treatment of help brings out a classical look that appeals to most people, so many people are willing to treat their wood furniture.
Advantages
Furniture made from timber is easy to repair and repaint, making much more durable and reliable pieces.
They are also relatively cheap, making them affordable for most people
The heaviness of the timber material helps them from toppling over during strong winds. The durability of these pieces of furniture is dependent on the level of maintenance applied to them to help them last longer.
Disadvantages of using wood furniture
The material needs high maintenance, which will affect the buyer
The durability of wood furniture varies from one wood type to the next. Therefore, it is suitable for a buyer to be well aware of the type of wood they need and their durability. These pieces of furniture need cushions to be comfortable, as they are quite hard.
Steel furniture for outdoor furniture
The use of steel to create metal furniture helps provide durable and sturdy furniture pieces shaped into different shapes according to the owner's desire. It is a cheap option for outdoor furniture, yet it is not very durable.
The metal furniture is affordable but less durable; hence they only provide the guarantee of use for approximately one year before they need to be replaced. Due to their low prices replacing these pieces of furniture is quickly done.
Advantages
Steel furniture is durable and extremely strong. The strength of the material is essential as it helps furniture remain grounded without toppling over.
The material is fireproof and waterproof, making it a critical aspect to consider when buying furniture.
The furniture has easy maintenance, which is made possible with the high shine providing it with a beautiful metal finish that is quite attractive.
Disadvantages
Steel furniture is heavy; therefore, it can cause massive damage to the timber deck. Without a good protective finish, the metal is likely to rust and a constant cause of concern.
The material is a heat absorbent, therefore, will make it challenging to use in the summer. It is therefore recommended that outdoor steel furniture should be paired with cushions for ease of use. The other option is buying stainless steel, which is quite expensive.
Plastic furniture for outdoor use
Plastic furniture is more durable than steel furniture, and it can be left outside even during the winter season. The furniture will not rust, but they are also light and easily carried off by the wind.
Therefore, it is essential for people who want to use plastic furniture to ensure the furniture is secured down to prevent them from being blown away. It is required for the furniture to be covered to avoid discoloration and bleaching.
Advantages
Plastic garden furniture is lightweight, making them perfect for moving around
The furniture is easy to reorganize and gives the owner permission to move them around
They are also waterproof, meaning that they are not susceptible to rain
The low cost of the furniture makes them ideal for people who don't have a big budget to work with
Plastic garden furniture comes in different styles in which some are modern, making them have a variety
Disadvantages
There is a specific perception of plastic furniture being low-quality furniture. This is based on a cheap nature when compared to other types of furniture.
It is relatively easy for plastic furniture to be discoloured if directly exposed to sunlight, giving them an old look that is not appealing to the eye.
When buying outdoor garden furniture, most people look for a material they like or what they saw somewhere and was appealing to the eye. Before picking that material, buyers are advised to do some homework, find out more about the type of material you intend to buy.
Take into consideration the maintenance needed for the material and how durable it is before buying. The climate or weather of the place you are in should play canter stage in the decision-making process. Buying comfortable seats is an essential aspect when looking for garden furniture. Still, one is required to choose furniture that is reliable as well.
Choosing garden furniture is quite tedious, but it needs to be done carefully to avoid errors that may cost the buyer in the future.
Related Articles