Balconies encourage you to spend more time outside and can make small apartments or homes feel less cramped indoors. Unfortunately, it can be challenging to know how to decorate balconies to make them look cosy and inviting. If you want a few balcony living ideas, there are ways to enhance the quality of the setting with the right furnishings and decor pieces added.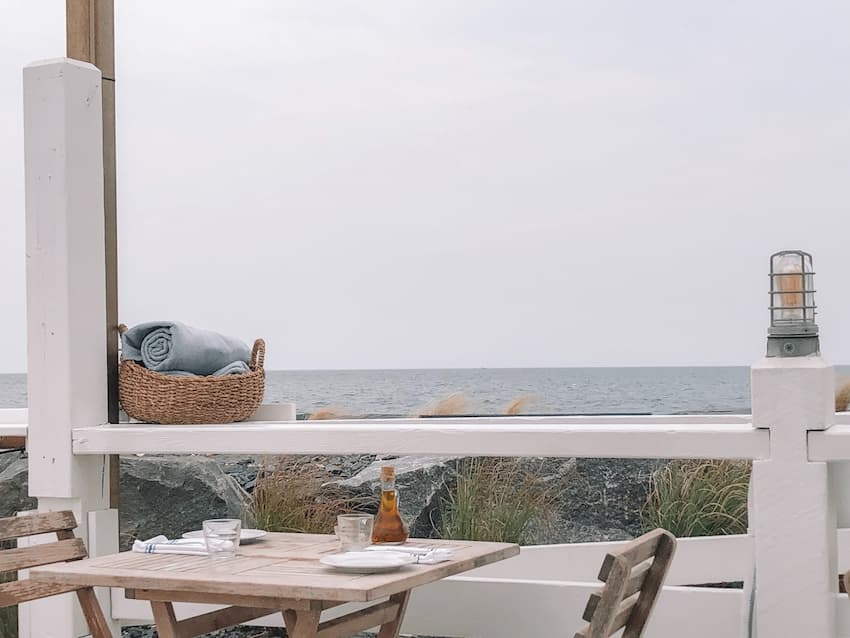 Balcony Living
Add an Area Rug
Area rugs enhance the quality of your balcony and make the setting feel more liveable. They can soften the feel of the wood planks under your bare feet. Area rugs can even allow you to add a pop of colour to the space and make it have more appeal.
Choose an area rug that covers most of the balcony, which can make it feel like an extension of the interior setting. The front legs of all the patio furniture should be placed on the rug to ensure it ties everything together and makes the space look complete. This will prevent the furniture from looking like it's floating.
Choose decorative rugs that add warmth and texture. It should have quality materials to ensure it holds up well each season as it's exposed to the elements. Layering rugs is also more stylish and trendy when decorating the balcony.
Add Lighting
Lighting may be a minor part of the balcony but can transform the space by making it cosy and highlighting different types of features, including the architecture of your exterior setting. Consider adding solar lights if you want to avoid spending more on your energy bill each month.
Lighting can also be used to highlight a pathway for an added visual effect. This offers increased safety and can help avoid tripping and falling.
You can even control the direction of the lights to ensure they face a specific direction. Some people point them at the walls to create more dimension. This will create a gentle glow and will add more visual interest.
String lights are also a popular addition because they can create a whimsical setting at night. The soft glow will add just enough illumination without making the space feel overly illuminated.
Make the Balcony Comfortable
You'll want to make the space as comfortable as possible by adding a chaise or sectional that is designed for outdoor use.
Add plenty of pillows, which will offer extra support and will allow you to feel at ease while reading a book or talking with your guests. You can even add a few extra poufs to the balcony, which will allow you to have extra seats available when you entertain and invite more people over. Beanbags and floor cushions will also work well. Look for materials that hold up well outside without fading or wearing down to ensure they can be used for many years to come.
A hammock is also an excellent feature to install if you want something less traditional. Most balconies are large enough to fit a hammock, which is affordable and easy to install without any special tools. This works well on covered balconies and can create a more versatile setting.
Create Privacy
Without enough privacy, you may feel exposed and less at ease on your balcony at different times of the day. There are many options available to prevent it from feeling like a public setting, whether you're near a busy street or highway.
Separators are available to install to block any views from outside. This can allow you to have temporary walls and barriers. Bamboo dividers are also a great choice and can create a tropical and contemporary setting. The lightweight material makes them easy to hang or remove at any time. Solid fabric is also an option if you want to create a specific look.
An umbrella that is used over the balcony furniture or a pair of accent chairs can also add extra privacy, specifically if you live in a unit that is downstairs. Some people even choose to install awnings, which allow the sunlight to still come through and don't block the view to the outside to prevent the space from feeling too enclosed. This can also add extra shade to ensure you stay cool during the warmer months of the year.
Add Greenery
Every type of balcony needs at least one plant to ensure it has some colour and a touch of greenery. This will work well as a mini garden alternative and make the space feel relaxing. Many people benefit from greenery when they live in busy downtown areas or cities and don't see a lot of trees or landscapes nearby.
Consider putting a few potted plants on pedestals to elevate them and make them easier to view. You can also hang plants from the awning overhead if you have a covered balcony. Other types of planters are available that are designed to hang on a wall. These types of planters are ideal to use for climbing plants to ensure the greenery spreads and grows across the wall or a fence that is present. This will create a natural and beautiful element to the outdoor space to ensure it continues to look more attractive the more the vines grow.
Incorporate a Fire Pit
Fire pits are a great feature to add because they're small and compact, which makes them fit on tiny balconies that don't have a lot of square feet. Fire pits can allow you to continue to use the space during the colder seasons and stay warm while spending time with your significant other or guests that you're entertaining.
** Check your Apartment Policies
There are a variety of sizes of firepits available to ensure it works well with the space you have available to ensure it looks appropriate for the outdoor space you have to enjoy. Some of firepits can even be used as barbecues for added versatility if you want to host lunch or dinner at your home and grille different types of meats and vegetables. You can even use the firepit for roasting marshmallows for a tasty treat that both kids and adults can enjoy. Many people also rely on firepits for added illumination in the outdoor environment instead of turning on exterior lights.
Once you get a few inspiration ideas, it can be easier to know how to decorate and furnishing your balcony to ensure it's somewhere you can spend more time. This will enhance the quality of your property and allow you to get more use out of it each season.
Related Articles