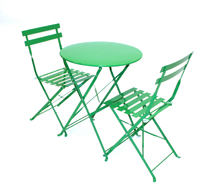 These durable French café style sets will add a touch of charm to your patio or balcony.
With both table and chairs folding for virtually flat storage they make ideal space saving balcony sets and can be easily brought out and placed to catch the evening rays whilst you enjoy a glass of red wine on your balcony, patio or garden.
We carry large amounts of these stylish tables and chairs in stock and can supply restaurants, cafes, coffee shops, bars etc.
Placed outside a café these traditional French style sets will add that rustic French look to your establishment encouraging customers to pause and watch the world go by while enjoying an espresso.
Each set includes one table and two chairs with the table measuring 60cm in diameter and standing 72cm high
These tables and chairs are exceptional value for money and can be delivered economically throughout the UK by our couriers on our two to three day service.
We also carry these items in our hire stock with rental  of £12.25 covering one full week. They will make a wonderful addition to any event in either one or two colours, ideal for wedding receptions, parties or themed exhibitions.
Balcony Bistro Sets
Individual Balcony Tables and Chairs
We have a range of bistro tables with different styles and finishes. Pair these with a selection of bistro chairs or a selection of outdoor garden chairs.
Some individual tables and chairs:
Balcony Chairs
Balcony Tables
You are only limited by your imagination and the size of your balcony.
Based in the Midlands, BE Furniture Sales supply and sell bistro furniture for cafes, restaurants, hotels and event venues nationwide. Our furniture covers a wide range of styles and designs which enables you to choose the best product for you.
Related Articles