Whether you like to spend time on your balcony sipping your morning coffee, looking out over the city, or just reading a good book or gazing at the stars, you of course want this space to be comfortable and beautiful. Yet for many people who have a small balcony, they tend to think this is an impossible mission. Once you put your imagination to work and start to realise the many things available that work great on small balconies.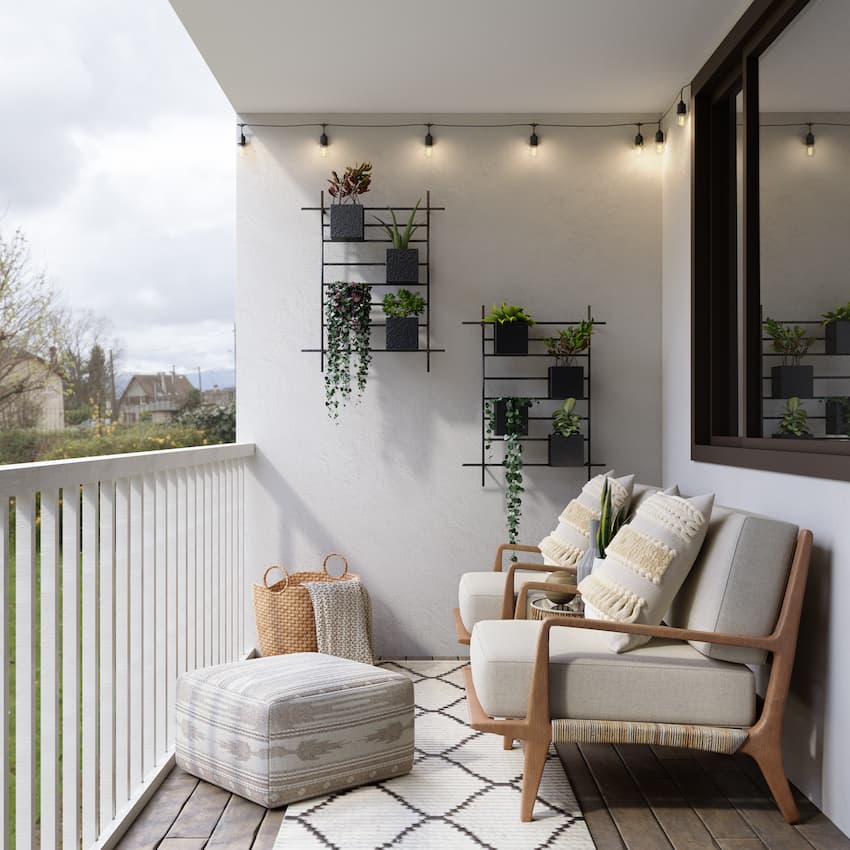 Want To Spruce Up Your Small Balcony? Try These Design Ideas
Decide on a Theme
To start with, always decide on a theme for your small balcony. This can be anything, such as a favourite colour, type of material such as wood or wicker, or perhaps a favourite piece of art you want to serve as the showcase for your balcony. Once you know the theme you want to focus on, it will become easier to decide what furniture and other items you think will work best for your small space.
Clean It Up
While this seems obvious, always take a look around your balcony and get rid of clutter, dust bunnies, and other stuff you obviously don't want messing up what will soon be the best-looking balcony anywhere. While you're cleaning, you may want to put up a few nails or hooks to hang pictures, plants, or other items. Also, should your balcony have some light sockets or outlets here and there, make sure they are in good working order, since they can come in handy for some of your ideas.
Take Some Measurements
Once you start getting one idea after another running through your mind, you may be tempted to start ordering rugs, balcony furniture, and other items for your small balcony. But before you do, always take very careful measurements before you start clicking away online. By doing so, you'll not only get items that will be the perfect fit for your small space, but you'll also save yourself the hassle of returning stuff.
Think Vertical
In any small space, especially balconies, thinking vertically will always yield wonderful results. Whether it's an old bookshelf, stepladder, or even small tables or stools, using items such as these always works well if you want to have potted plants, trinkets, books, or other things nearby on your balcony.
Make Seating a Priority
On a small balcony, not just any type of seating will do. For example, unless you only want chairs on your balcony, it's best if you shy away from chairs with deep seats or ones where the legs angle out well past the seat itself. With either of these examples, you'll be wasting valuable space on your balcony and setting the stage for you or others to trip and get injured. As for seating that will work on your small balcony, look to stylish folding chairs, compact loveseats, or a small bench that has that vintage or rustic look.
Flooring Will be the "Wow" Factor
On practically all balconies, most people seem to think a plain cement floor is the only option. But since you know better, picking out some flooring options that look great will definitely give your balcony the "wow" factor you and your balcony deserve. If you want something that can be easy to put down and changed out now and then depending on your mood or the season, consider beautiful outdoor area rugs. However, if you know exactly the look you want your small balcony to have day in and day out, you can try some easy-lay tiles. But should you want to be part of the hottest trend in small balconies, buy some different carpets and layer them on your balcony floor. Along with looking great, it will also feel very comfortable under your feet.
Lighting Creates the Perfect Mood
Since you earlier checked out your light sockets and outlets, you're now ready to start giving some serious thought to the type of lighting you'll want to create the perfect mood on your balcony. While you may want one or two permanent light fixtures, don't rule out also using fairy lights that can be draped along walls or your balcony's railing. In addition, you can also use paper lanterns hanging from your ceiling, since these are very cost-effective and easy to remove if needed. Yet whatever choices you make, always look to have lighting that is warm and cozy, since this will be perfect for entertaining or spending some quiet time alone.
Small Balcony Becomes a Dreamy Oasis
Along the way while you are picking out the furniture, flooring, lighting, and other aspects of what will transform your balcony into the vision you have in your mind, don't forget the little things that will truly make it a customized dreamy oasis. For example, if you have a canine or feline friend who also loves to spend time on the balcony, consider adding a pet bed so they too can relax in comfort. Also, you might want to add a mini-BBQ that can be used for a family dinner or weekend get-together with friends. Finally, for those cool evenings when you'll want to curl up with a good book or glass of wine, add some candles, pillows, and a soft faux sheepskin blanket to the mix.
Add a Little Green Space
In today's world, it's all about being kind to the environment. If you feel the same way, you can add a little green space to your small balcony. As an example, since you focused on thinking vertical earlier with bookcases or tables, you can take the same approach and have yourself a vertical garden, where you can grow vegetables and maybe some herbs. Other ideas for balcony green space can include adding outdoor climbing plants such as English Ivy, finding a small tree that will fit into your space, or opting for potted plants that can set around on your balcony floor or hang down from various spots.
Water Features
If you decide to go all-in on green space and an environmental theme, you'll definitely want to add some water features to your small balcony. As for what you can use, a small fountain or even an aquarium filled with colourful and exotic fish will give your balcony a unique touch. Also, you can consider a bird bath that is sure to attract some feathered friends to stop by, get a drink, and serenade you with a beautiful song.
Keep It Simple
Last but not least, always remember to keep it simple when making plans for your small balcony. While some people may construe this to mean dull, it means anything but that. Since even the smallest of balconies offer so many design possibilities, doing things such as taking your measurements, developing your theme, and figuring out how much money you want to spend on your balcony will make the whole process be fun and stress-free.
Once you take these design ideas and run with them, you'll soon have a small balcony that will be huge on style.
Related Articles