Banqueting chairs, also called conference chairs, event chairs, wedding chairs, or stack chairs. Just as the names of these chairs vary, so are the venues that use them. These can include hotels, restaurants, exhibition venues, clubs, associations, village halls and conference centres.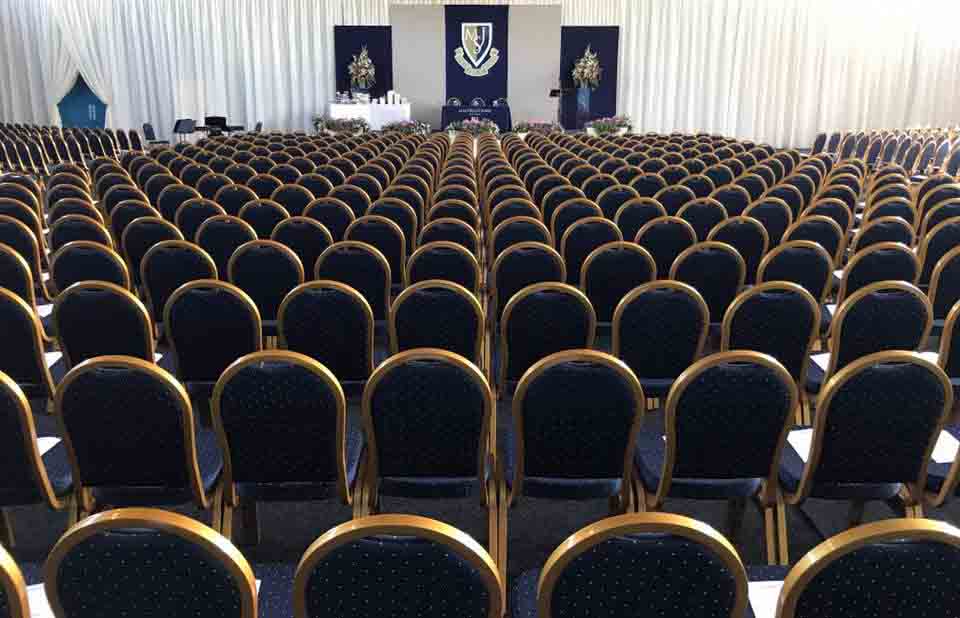 Banqueting Chair Buying Guide
Chair Frames
Banquet chairs are either made using steel frames or aluminium frames. Each one has its merits.
Steel Framed
These are the most cost effective stacking chairs which has made them the most popular of the banqueting chairs. They are robust, and they can last for many years. However, they are also quite heavy and would recommend a chair trolley to make them easier to transport around the venue.
Aluminium Framed
Aluminium stack chairs are great when weight is an important factor. Steel framed stack chairs can be quite heavy, especially when you need to move them around a large venue. Benefit of using aluminium chairs is their weight and ease of use around the venue.
Banqueting Chairs
| | | | |
| --- | --- | --- | --- |
| | Blue Budget Banquet Chair, from £12.95 excl. VAT/ £15.54 inc. VAT | | Premium Blue Banqueting Chair, from £16.50 excl. VAT/ £19.80 inc. VAT |
| | | | |
| --- | --- | --- | --- |
| | Ex Hire Red Budget Banquet Chair, from £12.50 excl. VAT/ £15.00 inc. VAT | | Ex Hire Black Budget Banquet Chair, from £12.50 excl. VAT/ £15.00 inc. VAT |
| | | | |
| --- | --- | --- | --- |
| | Black Budget Banquet Chair, from £14.95 excl. VAT/ £17.94 inc. VAT | | Black & Gold Budget Banquet Chair, from £14.95 excl. VAT/ £17.94 inc. VAT |
| | | | |
| --- | --- | --- | --- |
| | Red Budget Banquet Chair, from £14.10 excl. VAT/ £16.92 inc. VAT | | Red Aluminium Banquet Chair, from £26.90 excl. VAT/ £32.28 inc. VAT |
| | | | |
| --- | --- | --- | --- |
| | Premium Blue & Silver Banquet Chair, from £17.45 excl. VAT/ £20.94 inc. VAT | | Premium Red Banquet Chair, from £17.45 excl. VAT/ £20.94 inc. VAT |
We also offer bulk buy discounts on banqueting chairs, click through to view the chair and discount prices on product.
Tips for Picking your Banquet Chairs
Besides the framing material, there are many factors, which you need to consider. These are mostly aesthetic but there are also practical factors.
Bumper or Leg Guards
Good stack chairs should have bumper guards at the bottom of the chairs. These are little plastic caps fitted to the bottom of the chairs' legs. They are very useful in preventing scratching of the floor and catching on carpets. Replacing these little plastic caps at the end of the season will help maintain your venue interiors for the next year.
Frame Strength
Event chairs can be in daily use and it is important that these chairs be designed to withstand a punishing regime of regular use. You should thus always check for durability and strength when choosing event chairs.
Use chairs that have undergone FIRA testing. This is a global leader in furniture technology. The centre tests furniture to ensure that it complies with British standards of strength and durability. Always check that the event chairs have a robust metal frame. It is the simplest assurance that the chairs will last in a busy environment.
The Design
Event chairs come in a vast array of designs. They have unique shapes, sizes, and colours. Ensure that you choose chairs, which are in harmony with the event venue scheme where they will be used.
Most banqueting chairs vary between a 44cm and 46cm seat width and between 48cm and 49cm in height. Two centimetres does not sound a lot, but you should check your table sizes to ensure a comfortable seating arrangement for your guests.
Ease of Storage
Event chairs have to be light, especially at events where movement of chairs are continuous. The chairs also need to be stored away when they are not in use. They are thus constructed in a manner that allows them to be stacked on top of each other.
The chairs are fitted with a stacking bar that helps to protect them from friction when they are in storage. Although the chairs will eventually wear out over time, those without the stacking bar will wear out much faster.
Ensure that the chairs you choose can be comfortably stacked up to 10 chairs high. Besides that, look for manufacturers that offer trolleys for carting the chairs. This will help to make transporting them from one area to the next quite easy.
The Comfort of the Chairs
When choosing event chairs, keep in mind that guests will probably have to be seated for long periods. Ideal seat pad thickness should be between 45cm and 50cm. Check the fabrics and foams used in the chairs. Ensure that they are 'Crib 5' which ensure that the chairs meet the fire safety standards of the UK.
When purchasing event chairs, think of them as a long-term investment. They are durable assets, which if handled well can last for a decade or more. They can be used in a wide array of events and occasions, and the stacking feature makes them easy to store.
Related Articles