So you've always wanted to open your own business. You have decided to incorporate your love of coffee and customer service with your vision. Great idea! However, what does it take to open a cafe, where do you begin? The influx of information on the internet can be extremely overwhelming, so I've done all the grunt work for you! Here are the essential steps to opening a successful cafe or coffee shop.
Several possibilities open to potential cafe owners:
If you are not interested in reinventing the wheel, then a franchise might be the answer. Franchises are a "ready-made" option, that already has a name and a customer base. However, autonomy, for the most part, will not be yours as this option takes away most of your decision-making abilities.
Buying an existing business can reduce a lot of the initial work needed to get a business up and running. However, there are pros and cons. The business would ideally be in a prime location and have a customer base. Business rates and buildings use would have already been established and can be easily transferred. The location would also have passed any local health, safety and regulatory requirements necessary to operate a coffee shop. However, an inherited customer base can also be a disadvantage. If customer presence is not consistent this will negatively impact profitability. Additionally, an established business might incur significant expenses in property and equipment repairs.
The final alternative is, of course, starting from scratch. The appeal is obvious, you are the boss! You will have ultimate control of your business. You decide when and how long you work, and there is unlimited earning potential. The downside is doing all the work and funding your dream venture will also be your burden to bear.
It is safe to say each option has its advantages and disadvantages. It is up to you to decide which suits your vision. Not all steps will be relevant to the three alternatives. They can, however, provide beneficial information.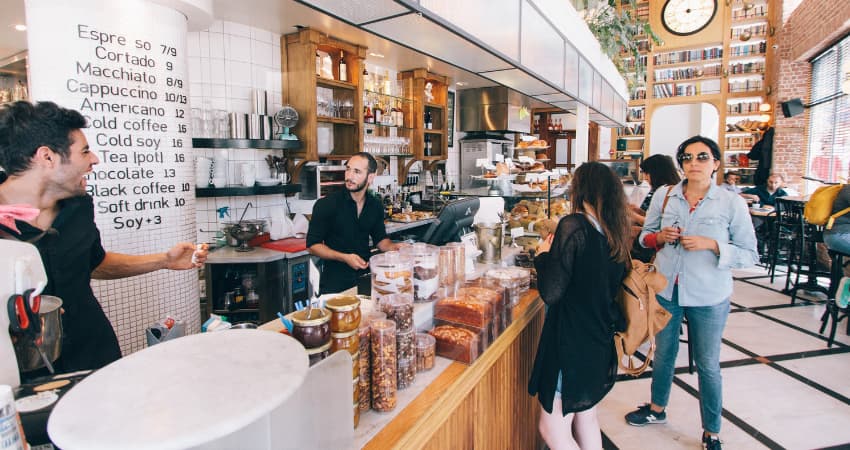 Research
First things first, what kind of cafe do you want? Will it be a full-service cafe serving meals or just counter service with tasty snacks to go? Which supplier provides quality products at a reasonable price? Should you lease or buy the space? It is important to do your due diligence before taking the leap. A great resource for insider information is existing cafe owners.
Consulting veteran cafe owners for advice and recommendations can help to reduce mistakes and losses. Visit other cafes for creative inspiration, also take the opportunity to look at the equipment and the seating layout. The internet is always a good idea, information is literally at your fingertips. It is one of the best research tools, due to the ever-expanding volume of information that can be sourced. Self-evaluation is also important in identifying your strengths and weaknesses beforehand. Ascertain if you will need additional training to improve any shortcomings. Starting your own business can be challenging, find a mentor to help you navigate and offer guidance.
Plan
Ever got lost or had no idea where you were headed? It can be a very frustrating and time-consuming experience. A map or a guide helps you to figure out where you are and how to get to the next destination. When opening a business, it is prudent to have a written plan outlining your business objectives and the strategies to achieve them; this is called a business plan. A business plan is also essential when seeking finance. This is the first step, to reassuring potential investors that you have done your homework. It also provides a focused approach to achieving the objectives of your business and helps to set realistic goals.
A business plan will typically contain the following sections:
Executive Summary is a brief synopsis of what your business is all about. It should summarise the main points of your business plan.
Industry Analysis is a snapshot examination of the trends and current status of your industry.
Market Analysis defines your customer base, identifies your competition and the current economic climate.
Financial Plan details the financial projections for your business including income and expenditure. It is the most important section of your business plan when seeking funding.
Marketing Plan describes your target customers, pricing strategy and unique selling point.
Operating Plan summaries the physical requirements of the business. This includes the location, equipment, inventory and the number of employees needed.
Finance
The most important step in starting your business is finding capital. The first and easiest option would be to self-finance the business. Not many people possess the reserves to finance their business. Personal savings are usually not enough or have been allocated as retirement or emergency funds. If you are unable to provide capital for your business there are a number of options. Check local banks to see if you qualify for a business loan. Be prepared to provide a solid business plan and collateral. A business line of credit or a credit card can also be used to fund startup costs. Be mindful of the interest rates and try to pay off balances as quickly as possible. A government-backed, small business loan is a long-term, low-interest alternative to finance your business. Some programs also provide small business owners with subsidies and free business support.
Set Up
Location! Location! Location! If there is one element that will almost guarantee the success of a business, it's the location. Ensure that your targeted customer base frequents your proposed location. Your ideal location should be easily accessible and provide sufficient parking facilities. It is crucial to assess the rent, utilities, and rates within the area to determine affordability.
Equipment
Regardless of the size of your operation and the concept, you will need equipment. Here are a few essential items that you might need:
Commercial blender
Credit card machine
Cash register
Dish Washer
Refrigerator
Coffee brewer
Coffee grinder
Microwave
Fridges
This list, of course, is not exhaustive and equipment will differ based on the chosen concept of your cafe. It is imperative to shop around to get the best prices.
Furniture
Keep in mind the type of establishment that you are opening when choosing how you will decorate. Are you creating a more relaxed or trendier ambience? You want every feature of your new business to flow together, from the food to the atmosphere, as if telling a story. Proper furniture design can invite your guests into your world and create an environment that stirs up the emotion you want them to feel.
Once you have an overview of your target customer it is much easier to begin planning the layout of your cafe & bistro chairs.
Staffing
A good team is the backbone of any company. Whether front line or back office, your employees are an important factor in your success. It is advisable to start slowly and gauge your customer base before hiring too many workers. Customer service is an integral part of the cafe business. Therefore, your employees should receive proper training to deal with the different personalities that they might encounter. One very important behind-the-scenes hire is an accountant. Find a reputable, qualified accountant to manage the company's finances. An accountant can also assist with writing your business plan and defining the legal structure of your company.
Marketing/Networking
In the age of social media, getting the word out should not be difficult. Facebook, Twitter, and Instagram are the top social media platforms for marketing. Facebook's Ad Manager is a great tool that allows users to run, manage and see how well an ad is performing. A Google My Business Listing is important for people to find you in search and maps, bonus being its free. Word of mouth, especially in local circles, is an easy and cost-effective way to advertise your new business. Join a community-based business group to network with other business owners. Sharing ideas and resources can lead to alliances and fosters learning and growth.
The Opening
So, the big day is here! Your dream is finally about to be realised. You would have sent out flyers, made calls, sent out emails advising everyone about the opening. Create a buzz on social media, invite people passing by and showcase what you have to offer.
So, there you have it. Be thorough, be consistent, and most importantly – enjoy what you do! Good luck!
Related Articles