Getting new customers to your café or coffee shop can be challenging. How do you pull people in, aside from the traditional way of people walking by?
How do you make sure the customers you currently have keep coming back? A great location with a unique atmosphere and great products undoubtedly helps. But considering the level of competition out there, is it really enough?
What kind of incentives can you give to your customers to keep coming back to you, whether it's for lunch or a caramel latte?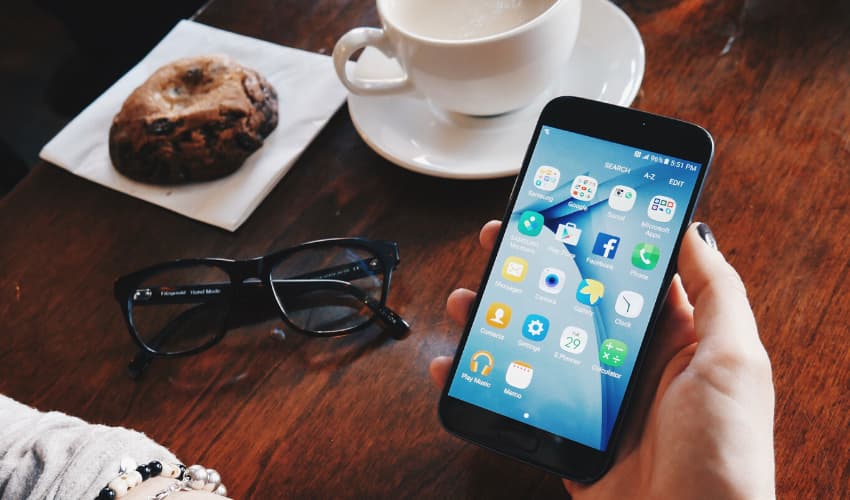 Leveraging Social Media
Being a small restaurant or bistro that has a niche market, the use of social media, beyond the basics, may not seem worth the time and effort. Your customers come to you because you're local, convenient, and presumably, have good quality products. Why would you worry about integrating social media into your business?
Well, one reason is that well-established food brands and chain restaurants tend to eat into independently-owned cafés and coffee shops. And they're able to do this by drawing in customers by familiarity. Of course, these companies brand familiarity comes from their numerous locations and massive advertising campaigns.
Now, maybe you think you've saturated your potential market. But the fact of the matter is that consumers need some incentive to come specifically to your shop. The competition is around every corner. This means you need to find other ways of reaching potential customers and incentivise them to come to your business.
Social media can help you with this by giving you a platform to spread your brand and products to countless other consumers. But this can be challenging for a small restaurant or coffee shop: There really isn't much of a reason for someone to connect with you online. Unless you give them an incentive to.
If you implement the right strategies and practice engagement with your customers and audience. There is no better platform for this apart from social media. With social media, you can interact with consumers, spread your ideas, run marketing campaigns and promotions, and tell your audience what they can get from being in your network.
This guide will go over some of the ways you can leverage your social media networks to maximise your reach and bring in potential customers. With this, you'll be able to receive feedback on your products and your brand and, most importantly, develop and nurture relationships with your audience.
Social Engagement
When you're first getting started, the first thing you want to do is ask your customers questions. This is a critical part of social media for any business — finding out what your customers think about your products, your brand, and your business. The best part about getting this kind of feedback online is that certain barriers aren't present when customers are telling you how they feel. Instead of getting sugar-coated opinions in your cafe or coffee shop, engage your customers on social media and have a conversation with them there.
Another great thing about engaging on social media is that you can ask your customers questions directly and get much more feedback than you would if you simply asked a few customers while they're enjoying their meal. For example, say you're considering getting rid of a particular product and lieu of another. Before you change your menu, ping your audience on Facebook or Instagram and ask them what they think. This also makes your customers feel appreciated and that their opinions are taken into account. This will make them identify more with your business.
Of course, don't simply fire questions off into the void, get what you need, and then move on. To create real value with social media, you need to truly engage with your audience. Respond to their requests, ask them to clarify their thoughts or opinions. Really try to understand what they're saying and thinking. You'll be surprised at how many unique ideas and suggestions will come your way when you really start listening to your customers.
User-generated Content
Something that businesses can leverage and take advantage of that gives substantial rewards for very little cost, is user-generated content. These days, social media is everywhere, and consumers have evolved to research something online before they commit to trying it. In doing this, users will check their social media feeds. They'll notice if one of their connections has gone to your restaurant and snapped a picture. This is a massive endorsement for your brand.
A good way to leverage this is to have photo contests. You could try offering a gift card for the best user-submitted image on your Instagram. Giving your customers this kind of incentive will keep them engaged with your brand, and every person that shares an image of one of your products will produce dozens of other eyes seeing it. That's is well worth the cost of an Instagram post and a gift card.
Traditional Marketing and Social Media
As you start building your online social media presence, running promotions, and managing marketing campaigns, expanding your reach beyond who's currently following you is your new challenge.
As an independent shop, you might be okay running just a single social media channel. For example, you'd do better with only an Instagram feed that gets all of your resources rather than an Instagram account and a Twitter account that you have to split your efforts in between.
And looking at this a little further, you won't want to just pick your favourite social media platform and launch your campaigns. You'll want to think carefully about the demographics of your audience and find out which platforms are going to offer you the best chance at reaching these. You might want to look at competition's social media to see which channels they're seeing engagement on.
Beyond putting your efforts into social media, you also need to be looking at other digital marketing strategies, such as content marketing on your own website, advertising campaigns on Google and social networks, and things like Local SEO and a Google My Business listing. But keep in mind, digital marketing won't ever replace good, old-fashioned face-to-face efforts. So, just as you tell your customers online all about your shop, and you encourage them to come in and try it out, you need to encourage the people that already come into your business to engage with your social media. This keeps the whole chain moving.
Visual Content
People are much more likely to remember something they see over something they hear. Having said this, it's almost always a good idea to have some eye-catching visual attached to your social media posts. If you're going for images, use high-quality ones. And of course, video is great too.
Just as a user will form opinions on your business when he walks into it for the first time, someone visiting your social media pages will also form opinions. And so it's important to curate your social media with the same level of professionalism you would your shop. The graphics you have should match the brand of your store. Things should be consistent and pleasant to look at. The images you use should all be of high quality.
If your shop uses seasonal decorations, your social media should reflect this as well. Holiday specials and appropriate banners and graphics should represent your online presence for the holidays just as your shop does.
Engage Personable
Social media can be gimmicky and annoying. But it can also communicate a sense of humility to your audience. You can engage and develop true, lasting relationships with customers. It's all in how you use it.
For example, you might share video stories from behind the counter. Show your customers how you make some of their favourite food. Have a profile of the barista that loves their job. Get intimate with your audience.
This sort of transparency is important to people, and it builds trust with your business. People want to buy products from actual people, not faceless corporations.
Organisation and Consistency
When working with social media, one of the most critical things to keep in mind is consistency and organisation. You will need to schedule daily time for you or whoever is working with your social media to engage and interact with your customers. Yes, you can schedule posts, but you need to be able to respond to comments and engage with your followers.
Be honest with yourself about how much you can manage. An unresponsive social media can be detrimental to your brand. If you aren't able to commit to sharing content on a regular basis, you may want to look at new strategies. Maybe you can pare down the number of networks you're using, or perhaps outsource an agent to do your social media marketing. Maybe it's even time to hire a dedicated employee to handle things. Keep in mind that a consumer is almost 50 percent more likely to purchase from a business if it's responsive on social media. That's a huge number.
Analytics
When you're managing all of your social media marketing, promotional campaigns, and customer engagement, it's important that you keep your feed on the ground and be realistic. Keep an eye on your results and analyse them, you need to know what works and what doesn't.
As much as allows, get technical with this aspect. Most social platforms have some form of analytics out there but don't hesitate to check out some of the third-party tools out there. Some of these offer much more in-depth data about your marketing efforts, and some can even look into what your competitors are doing, stealing pages from their playbooks.
Use UTM Tracking codes to monitor your efforts, what works and whats not. Try this easy to use UTM Tracking Tool.
Conclusion
Being social is a conversation. It goes back and forth and around and around. Many businesses don't understand this. Don't be one of the businesses that simply creates a social channel, uploads a bunch of content, and then lets it sit. Engage with your customers and your audience. Talk to them about your business and your products. Figure out what they like and don't like. After all, the whole goal here is to form connections and relationships and then nurture them. Keeping this and mind, along with everything you've read in this post, you'll undoubtedly do well in your social media endeavours.
BE Furniture Sales offers a Instagram worth range of cafe chairs and cafe tables with nationwide delivery at great prices.
Related Articles