Summer is fast approaching, and it is time to get your garden in order. One of your main seasonal tasks is to pull out all of your garden furniture and ensure that each piece is ready to be used. The seating and dining aspects of your garden are very important parts of enjoying your garden this summer.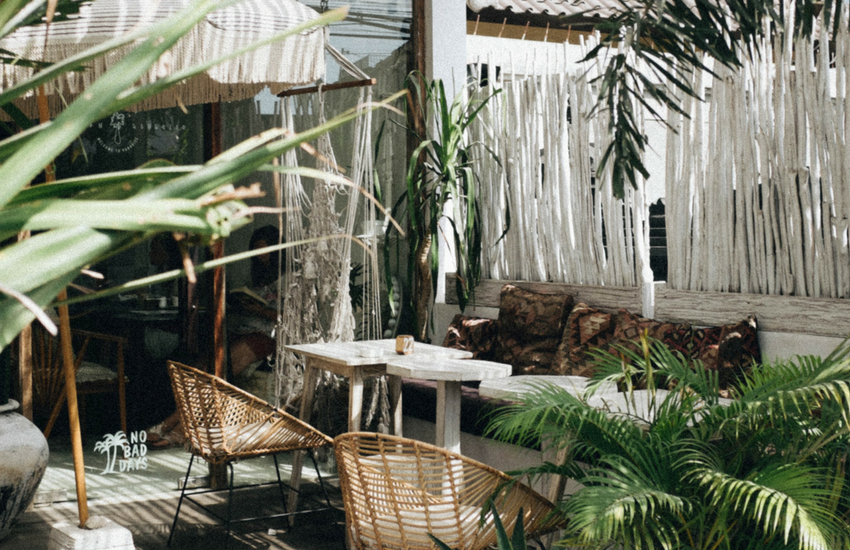 Inspect
Take your garden furniture out of storage or uncover it and inspect it. Is it clean? Are there missing pieces? Do you have enough furniture for your regular usage? Turn each piece over and inspect the undersides for spiders, bugs, and other pests. Make sure all garden chairs and tables, and sofas are sturdy and solid and ready for another summers use.
Clean
Get yourself a sturdy bucket, a bristle brush, and a heavy duty soap or multi-purpose cleaner, and scrub down your garden furniture. Get into all the nooks and crevices and clean your dining chairs and sofas, if fabric check the washing instructions. Rinse thoroughly to get rid of any soap scum. Pull out any cushions or throw pillows, and machine wash the covers if they are removable and washable.
Refresh
Maybe your wooden garden tables just need a little touch-up with a fresh coat of paint or stain. Metal furniture can also be painted, but you do need to purchase paint that is made specifically for metal surfaces. Sand down any rusty surfaces if necessary. Pressure wash any solid floor surfaces of pavers, cement, bricks, or stone to provide a clean and safe base for your furniture to rest on.
Repair
Examine each piece for missing hardware, straps, webbing, and tears in upholstery. Tighten loose bolts and screws and pound down any protruding nails. It may be necessary to purchase parts for your furniture. Always keep a listing of the brand names of all of your garden items, so that when you need to repair it or replace any of the parts, you know who to contact and where to buy exactly what is needed. If your furniture is damaged, and you are unable to make the repairs yourself, consider calling in a professional who specialises in this type of work to handle the repairs for you, or take the plunge with a new garden furniture set.
Replace
Some of your furniture may just be no longer usable. It may be necessary to go on a shopping trip to find new, matching pieces. You can either shop at nearby, local garden furniture outlets or shop online. Look for replacement furniture that is of very good quality so you will not need to replace it again in a few years. Match the new pieces with what you already have. Choose styles that complement the style of your home and other elements in your garden.
Instead of buying a few pieces, you may even wish to start completely over and order completely new sets of tables, chairs, and sofas. If you want a real bargain, be proactive and purchase what you need at the end of the summer when almost all outlets are trying to unload their summer inventories. If you want to expand on your furnishings, think about adding a summer kitchen and a bar when you go shopping.
It may just be cushions that need to be replaced. Take advantage of this and purchase new patterns and solids that will make your garden area pop. You will be so surprised at the impact this one small change can have on your seating and dining areas. Don't forget to treat these fabrics with a fabric protectant immediately after purchasing to eliminate fading and moisture damage.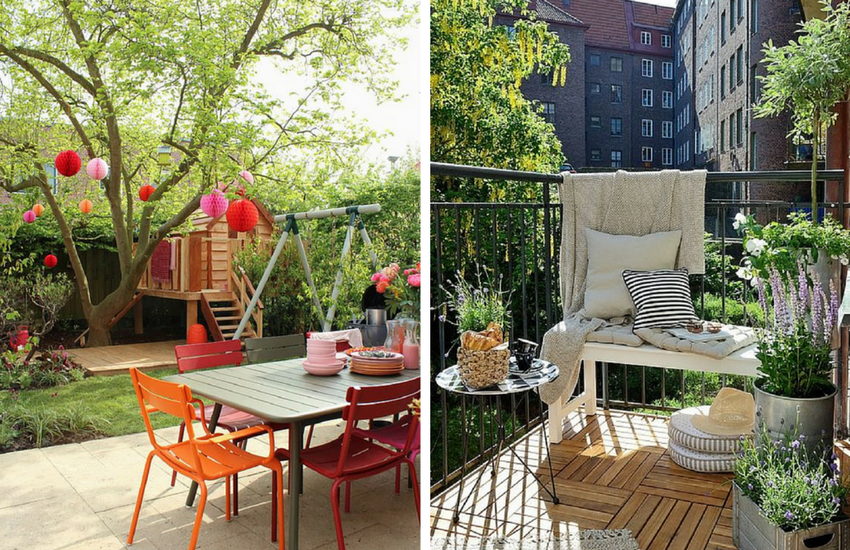 Arrange
Place your freshened furniture around your garden and on your patio. Tuck a few benches under the trees and in the corners to provide shaded seating.
And don't forget about the children. Arrange child-sized furniture in a shady spot a where they can enjoy their own area and not disrupt adult conversation. Keep it close to their playground area for easy access.
Accessorise
Your furniture may look great, but it can look even better with the addition of a few accessories. Some of these may include pots and plants, umbrellas, throw pillows, candles, outdoor lighting, and torches. Accessorising is another fantastic and creative way of changing the look of your outdoor areas. Use new, bold colours and distinctive decorative pieces to make these areas inviting and relaxing.
Protect
Invest in furniture covers to make sure your outdoor furniture are protected from the elements during bad weather. All of your outdoor belongings will last so much longer and maintaining these pieces will be so much easier.
Following these suggestions will assure that your garden and the furniture in it will remain attractive and usable. You will be so proud of the outdoor living spaces you have created for your family and friends' enjoyment.
Garden Furniture
Range of garden furniture home gardens as well as outdoor seating for cafes and restaurants:
Related Articles