There are a few things that go better together than a cold pint, great company and a warm summer evening. As the days get longer and people aim to spend more time outside, pub owners are seeing the great benefit of having a beer garden. Beer gardens, or biergartens, are fun, outdoor areas where patrons can gather round a picnic-style table and enjoy food and drink. Originating in Germany in the 1800s, beer gardens were often attached to local taverns, and old friends could converse freely with the increased space. Now, beer gardens exist all over the world and are further booming in popularity. Though adding more outdoor seating will surely attract customers, there are several small ways you can really maximise your outdoor space to make your pub the best spot in town.
Check out our round-up of the top 10 tips to really take your beer garden to the next level this summer.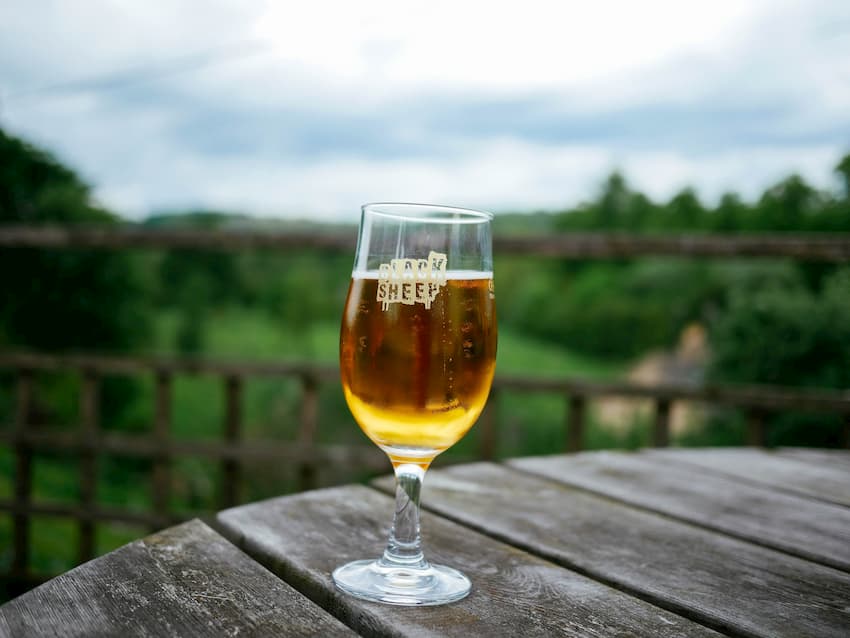 Beer Garden Tips
1. Outline a plan
First, take a look at your pub and the space you have available to you. If you have a garden or plot of grass outside with adequate space, this can be easily transformed into a beer garden with little effort. If you're building a beer garden from scratch, it's important to decide what look you're going for before starting construction. Do you want your beer garden to look like a traditional Bavarian tavern? Or, do you want to create a cosy atmosphere with modern amenities? It can be helpful to search online for inspiration, and then consult with a professional to design a space both you and your customers will love.
2. Manage your table service
Pub beer gardens can get busy, fast. You should first develop a plan with your staff on how you'll manage the new space and an influx of customers. If you're serving food, a smaller pub kitchen may not be able to handle the extra covers. A solution could be only serving smaller plates or nibbles to the outdoor area, or setting up a mobile-style kitchen a few nights a week to exclusively serve the beer garden. A pre-set menu could give your staff adequate time to prepare and make ordering even easier. For serving drinks, assess if you want customers coming in to order at the bar, or if you'd prefer a separate drink service outside. The key is to eliminate traffic coming in and out of the pub for a smooth customer experience.
3. Add picnic tables
The best beer gardens have ample seating for groups both small and large. Your tables should be fairly long so patrons can spread out as they drink, capturing the traditional family style community that beer gardens are famous for. You can buy some four-seater wood benches and call it a day, but colourful chairs and cushions can give your seating some added flare. You can also add personal pub branding through umbrellas and tablecloths, giving your space a cohesive look.
4. Add more drink options
Though many customers come to a beer garden for a great pint, you should always offer options for everyone to enjoy. With the warm weather comes a good opportunity for seasonal promotions, like a citrus cocktail or sparkling cider. Test out new beers every week or so and see how your customers respond. If you're looking to create a family-friendly atmosphere, you may want to offer drink options for kids as well.
5. Offer food
Snacking is an essential component to any beer garden experience. If your pub doesn't currently offer food, even adding a few nibbles to your menu will still entice hungrier customers to stay and order a drink. A way to further set your space apart is offering special menu options, like a secret ingredient fish and chips or summer vegetable salad that can't be found anywhere else.
6. Keep it clean
As patronage increases, so does the potential for a bigger mess at the end of every day. To keep customers coming back, maintain your beer garden at the same level of cleanliness as your pub. If you want to minimise how much your staff has to clean, consider having patrons return their glassware inside after use. If you permit smoking, designate a spot for customers to put out their cigarette butts when they're finished. Keep your grass and garden well-cut and the surrounding area in good shape for a clean look.
Provide hand sanitiser stations during current COVID situation.
7. More decor
A little decor can go a long way in completing your beer garden's aesthetic. Hanging string lights or adding candles to each table can create a cosy ambience at night, and barrels or chalkboards will promote a more rustic look. Depending on your surrounding environment, you can add a cool fence or wall for added privacy and a pop of colour.
8. Host private parties and events
A fun beer garden is the perfect spot for a private party, corporate get-together or birthday celebration. Your pub could bring in a lot of extra revenue by booking events, but make sure you properly set expectations first. It may be helpful to work with an outside coordinator to manage all your events and handle set-up and break-down. To ensure you're making a profit, you could either charge a fee for booking or set a minimum spending limit per party tab.
9. Maintain your beer garden through the colder months
Though your beer garden may not get as much use during the summer, it can still function as a sociable extension of your pub all year round. You can add flood lights to keep the space well-lit or portable heaters and blankets to keep your patrons warm. Overall, keep the space well-maintained by preparing for the winter weather and storing nicer furniture inside.
10. Add live music or other entertainment
Hosting a live band for a night or two can draw customers in, liven up the space and keep the mood light all night long. For added incentives, try hosting themed game nights or special festivals with food, prizes and fun. A popular option are quiz nights, which can be played outdoors under the stars. You can charge admission for these nights, or even donate your proceeds to a local charity and give back to the community.
Beer Garden Furniture Ideas
Our range of garden furniture and bistro sets are commercial quality and come in a range of materials to withstand the rigours of commercial use, making them perfectly suited to home and garden use.
Nationwide delivery via couriers, pallets and our fleet of vehicles.
Related Articles