Popular Trends in Pub Furniture for 2019
Gone are the days where a quiet pint was the order of the day in pubs. Today, customers want to go to a place that looks good, has a fun vibe and which offers a completely new experience.
The decor that one uses in a pub plays an incredibly large role in the overall aesthetic and mood that one sets for this kind of place. The furniture that one uses sends a message of the kind of establishment the customer is in, the style of the entire place and even the music that one can expect in this kind of place.
Over the years, pubs have had an incredible amount of development when it comes to the setting that they present to the customers. Every year, newer trends are emerging that pubs have to incorporate if they want to keep up with the ever growing audience and stay relevant in this market space. The interior designs should always be regularly updated for a pub that wants to stay trendy, and which wants to keep attracting more people.
In 2019, several trends have emerged which have caused pubs to change their interior design as well as the image that they present to their customers. Here are some of the biggest interior design trends which pubs have been incorporating over the past few months.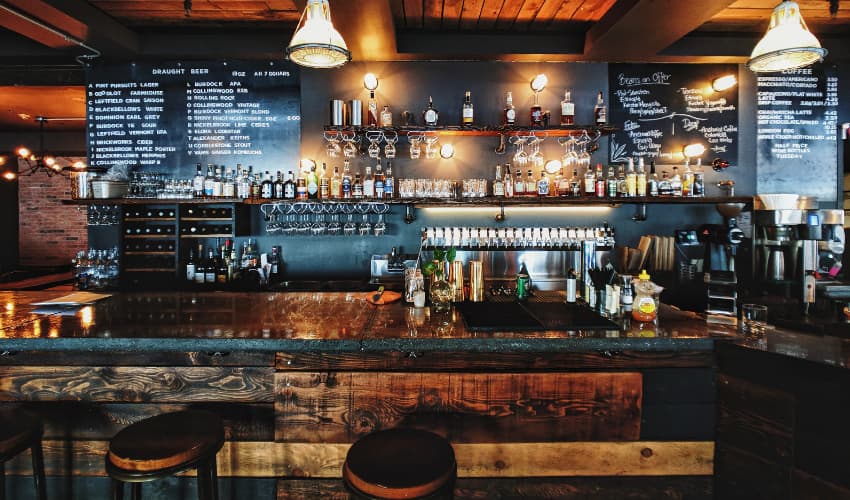 Pub Trends
1. Dining Tables
Traditionally, pubs would skip out on large tables and instead have a smaller place for people to come and have a drink in. In the past, people would simply come over to a pub and have a few drinks along with a small snack or crisps. Today, the entire experience that customers like to engage in has significantly changed. Individuals visiting pubs don't only want to have a drink. They want to have a pub meal along with a few drinks. They want a good choice of meals to choose from and want to have a good amount of space to eat it on. For this purpose, more and more pubs are starting to incorporate dining tables into their premises to take care of this need. This also works well for the business since it allows pubs to function as a place where individuals can also look to have breakfast or lunch, thereby enabling a better use of the space that one has.
2. Instagram Spaces
Instagram has become one of the biggest social media platforms, and is a brilliant marketing tool for pubs and bars who want to spread the word about their establishment and the experience that they offer. Trendy ciry pubs are now starting to have their own instagram page where they share pictures of their space and also the happy patrons who come there. While this can be great for publicity, many pubs are taking this trend one step further and are incorporating special spaces within the pub that people can use to take Instagram worthy pictures in. Incorporating these spaces into pubs has never been easier with the wide range of options that pubs can go in for. These can be something as simple as a wall that has a unique pattern or background, or a unique looking bar table that people would want to take pictures with. The possibilities in this regard are endless, and is brilliant for those who want to spread the word about their establishment without actually having to put in additional money for social media advertising.
3. Minimalism
Minimalism is something that many pubs are trying to incorporate. People respond well to things that are neat and spacious. The trend of minimalism has been growing extensively within the interior design industry and is something that seems to attract an incredible amount of positive attention. Many interior design and hospitality experts believe that minimalism is one of the most popular trends to emerge this year. Incorporating sleek and minimalistic furniture coupled with simple and chic decor can transform a pub into an incredibly appealing minimalist space. The minimalism trend is something that is incredibly easy to incorporate and doesn't require intricate individual pieces to work well. This particular trend also means that you can easily work within a particular colour scheme and don't have to worry too much about mixing and matching pieces for the decor of a pub.
4. Compact Furniture
The furniture design that one opts to go in for can make or break the entire mood of a pub. Pubs need to always try to incorporate furniture that works well with their theme and which does not overpower the entire space. For pubs that are on the lookout for furniture that looks good and is functional, going in for compact furniture seems to be the best solution. Pubs are starting to incorporate compact furniture to make the best use of the space that they have. Bulky furniture can make a pub look smaller and cramped, and also fits in less patrons. Pubs that incorporate compact furniture can fit significantly more people into the premises and can make the entire space look roomy and more spacious.
5. Urban Jungles
The trend of incorporating an 'urban jungle' into a pub is something that has been growing rapidly, and more so in bigger cities that are void of most kinds of greenery. Green is an incredibly soothing colour and makes a pub look like a relaxing and calm place for one to be in. This helps set the mood for the customers coming there and makes them feel more welcomed. Incorporating plants with the decor and furniture is something that has become incredibly popular and is something that people all over are responding well to. Incorporating the urban jungle theme is incredibly easy to do and something that can be pulled off with minimal investment. Finding the right kind of furniture that fits well with the green colour scheme is one of the only things that can be challenging with this kind of decor. With the wide range of options that exist however, designers can always find something that looks good with the theme that a pub is looking to try out.
6. Warmer Colour Palettes
2019 has been a big year for warm colours within the interior design industry and is one of the more preferred colour palettes for pubs and bars all over the world. Incorporating a warmer colour palette is not hard in any manner owing to the wide range of combinations that exist and because of the ample amount of furniture options that one has. It is important to choose a number of different colours within the palette and formulate an interior design plan using those colours to find the best combination that works well for you and your pub. Furniture in warmer tones is also incredibly easy to find and something that is incredibly popular. Wooden furniture is the easiest thing that pubs can use when trying to find something that fits within this colour scheme.
7. Natural Textures
During 2018, one of the biggest trends that emerged was the Industrial trend, with monotones and rigid textures taking centre stage. This year however, the texture that has taken centre stage exudes a more natural feel and is something that can fit incredibly well with the entire urban jungle trend. Natural textures just as wood, plant like textures and flowers are all in trend at the moment and can be brilliantly used to give pubs a unique feel. Natural textures also work well with a wide range of furniture types and themes and is something that pubs can incorporate easily without having to give it much thought. Things that are too 'modern' are out of style at the moment, and things with rustic tones and natural hues are more in season.
8. Curated Personalities
Pubs are constantly put into a position wherein they have to compete with the newer establishment that are arising and have to constantly look for ways in which they can be unique. One of the emerging trends for pubs is to create a personality for the space. Based on this personality, the decor of the pub can be created and the same applies for the furniture that is used. The personality that is curated always needs to be something that is unique and which hasn't been tried before. This is definitely one of the hardest things for pubs to incorporate considering how hard it is to properly curate a pub personality that is appealing to all. Finding furniture and decor that fits with the personality is also something that is rather challenging in spite of the wide variety of options that people usually have access to.
Pub Furniture
While creating a theme and finding decor is the harder part of interior designing a pub, finding the right kind of furniture is also something that is incredibly important. People want to be able to go to a place that looks and feels good and getting the interiors right is one of the best ways to do that. Here are some tips to incorporate when looking for good pub furniture:
1. Match Your Furniture To Your Menu
Try to ensure that your furniture matches the menu that you have and the kind of drinks that you serve. You never want there to be dissonance with your theme and what you are offering.
2. Focus On Comfort
Comfort is always important when getting furniture for your restaurant, and making sure that your furniture is comfortable and functional is incredibly important.
3. Look At It Long Term
When buying commercial furniture, always try to get something that will last you long term, and not something that is likely to wear out easily.
4. Offer Variety
Try incorporating a wide range of furniture and seating options in your pub to ensure that people get ample options to choose from when coming to your pub. Offering things like sofas, chairs, lounges and others is always great, and lets customers choose what they find the most comfortable.
5. Choose Durability
When trying to get the right kind of furniture for your restaurant, you always want to go in for something that is durable and which won't break or fade away easily. Always choose durability over anything else.
6. Pay Attention To The Smaller Details
Customers walking into your establishment are likely to notice every small aspect of your pub, which is why it becomes incredibly important to pay attention to the smaller details when designing your pub.
| | | | |
| --- | --- | --- | --- |
| | Standard Aluminium chair, from £10.95 excl. VAT | | Silver Metal Tolix Chairs, from £16.15 excl. VAT |
| | | | |
| --- | --- | --- | --- |
| | Bronze Metal Tolix Chairs, from £13.00 excl. VAT | | White Pyramid Dining Chairs, from £11.10 excl. VAT |
Our brand-new black steel cafe and bistro chairs are suitable for indoor or outdoor venues.
| | | | |
| --- | --- | --- | --- |
| | Black Steel Chairs, from £7.50 excl. VAT | | Black Tuscany Chairs, from £12.75 excl. VAT |
| | | | |
| --- | --- | --- | --- |
| | Round Aluminium Table 70cms, from £74.00 excl. VAT | | Bronze Metal Tolix Tables, from £16.00 excl. VAT |
| | | | |
| --- | --- | --- | --- |
| | Red Tuscany Chairs, from £12.75 excl. VAT | | Red Lisbon Chairs, from £12.75 excl. VAT |
| | | | |
| --- | --- | --- | --- |
| | Madrid Contemporary Stacking Chair, from £14.25 excl. VAT | | Black Tuscany Chairs, from £12.75 excl. VAT |
| | | | |
| --- | --- | --- | --- |
| | White Wooden Folding Chair, from £14.95 excl. VAT | | White Pyramid Dining Chairs, from £11.10 excl. VAT |
Related Articles: