New Tolix tables and chairs available to buy at BE Furniture Sales. Tolix furniture has become very popular with cafes, bistros and restaurant, not only for its retro design but its durability and versatility both indoors and outdoors.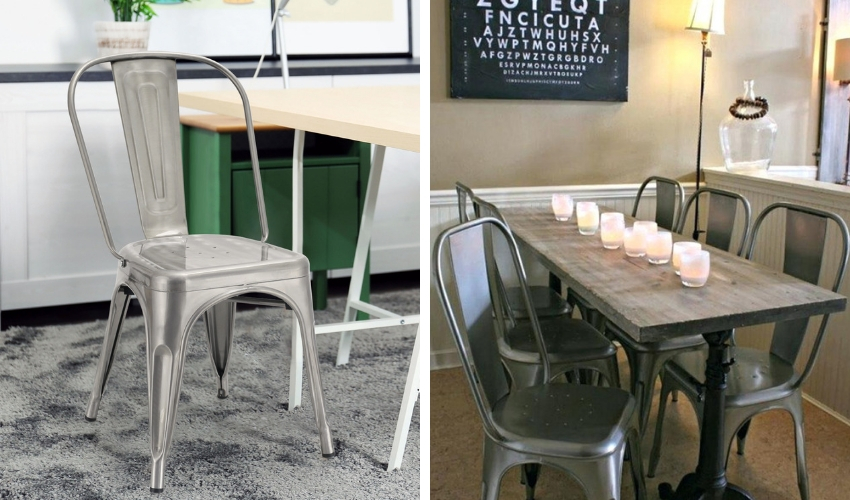 Tolix furniture is certainly not a new to the market. Tolix was created by Xavier Pauchard in 1907 when he discovered that if he could protect sheet metal from the elements by dipping the sheet metal in molten zinc or by galvanising the sheet metal. The design we see in today's Tolix chair was in fact designed in 1934, with the design created specifically for outdoor seating which allowed rain to drain quickly without pooling on the seat.
Tolix Table & Chairs
Currently BE stocks Silver and Gun Metal varients, but please do contact us if you require various colours which can be sourced.
Gun Metal industrial metal Tolix Chairs suitable for use in the garden or for cafe's and restaurants and have plastic feet to prevent scratching the floor.

The seat height is 45 cm and they stack for storage.
| | |
| --- | --- |
| | Silver Metal Tolix table with four metal legs with rubber feet. These tables can be used in the garden to brighten up a patio, or in cafe's, restaurants and bars. They are 75 cm high and 70 cm x 70 cm. |
| | |
| --- | --- |
| | Gun Metal industrial metal Tolix Stools, suitable for use breakfast bars around the home, pubs, cafe's and restaurants etc. The seat height is 76 cm |