There is much to be said for the industrial style café furniture universally found in restaurants, bistros, pubs, hotels and seaside or pavement seating that are the signature venues for such hardworking materials and craftsmanship. The world of hospitality is an ongoing adventure with ever-changing trends, yet the industrial style décor continues to hold its own withstanding the test of time.
It is easy to understand when the appearance of the bistro style immediately conveys a sense of comfort, of ambience, of atmosphere and hospitality. The very style of furniture draws the traffic in to your business.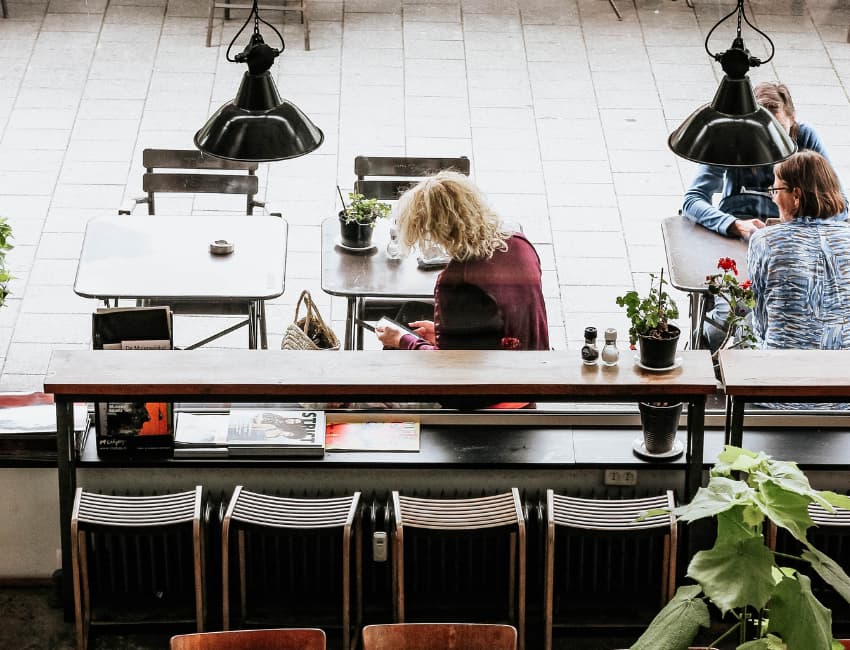 An Easy Style that Endures
To say the industrial style is popular is an understatement. Adored by patrons and proprietors alike, the simple design is versatile whilst contributing to the durability that is necessary whether your customers are relaxed and easy-going or energetic and lively. A combination of wood, metal and plastic, their design is one that takes the punishment of a ding here or a bang there without detracting or ruining the look.
Their durability is a built-in feature with exposed nuts, bolts and rivets only adding to the charm. At the same time, this furniture is lightweight and easily stacked for storing making set up and tear down just as easy.
Born of Necessity Establishing Opportunity
The classic bistro style was born of the casual restaurant operating out of basement kitchens in the apartments of Paris. Renting rooms to patrons gave owners an advantage when they soon began to offer moderately priced food from simple menus. This added attraction provided additional revenue whilst creating a friendly, casual atmosphere that was complemented by traditional and contemporary furnishings.
One of the best ways to anchor return customers is to make a memory. One of the classic qualities of the industrial style café furnishings is the nostalgia that helps evoke this sense of calling one back to enjoy the nature of the welcoming atmosphere.
Choose the Bistro Sets to Boost Your Business, Enhance Your Intimate Space
You can keep the tradition alive and working in your favour with a range of café and bistro tables, chairs and bar stools. They are ideal for the home garden, the office, cafés, tearooms, pubs, restaurants, brasseries, bistros, food courts, coffee houses, catered events, indoor exhibitions, hotels and any other busy commercial environment where furniture gets a lot of use. Usage of the right materials will help you create the proper industrial look and feel in any space.
Choose the Look that Suits Your Desires
A trademark element of the industrial design style is the use of metal. Metal lends to the rugged nature of industrial furniture, and the more, the better. Whether it is the surface of a table, the industrial framework or more subtle touches of steel accents used in a bar stool or a chair, BE Furniture offers a range of designs from which to choose. Aluminium bistro tables and chairs are available in a variety of finishes from polished aluminium to rattan, durawood or ash.
Café and Bistro Chairs
BE Furniture Sales offers a selection of industrial style cafe and bistro chairs to fulfil any environment in which you would like to create a casual bistro atmosphere.
Bar Stools
Ideal for the home whether grabbing a quick bite at the counter or bar or in the bistro or café environment or for companies as they travel to exhibition venues with a stand that displays the corporate colours, we have the bar stools to fit your needs. Available in various styles and built with different materials, choose from aluminium, acrylic, or leather and powder-coated steel.


High Tables
To complement your bar stools, we also offer high-top tables in a variety of styles. These high tables or poseur tables are among the favourites in bars, clubs, cafés and bistros to make the most of available floor space to maximise the number of guests you can accommodate. Our high tables come in a range of finishes and materials from polished chrome to powder-coated steel, aluminium and wood.


Café and Bistro Tables
When you want to provide ample seating space, our lightweight café and bistro tables provide you the options to setup any room to take advantage of the floor space. These tables are easily arranged or stored depending on your needs. Our tables are comfortable enough to sit upon and small enough to fold flat away conveniently out of use until you are ready for them again. We offer aluminium tables in a range of finishes including acrylic, trolix or ash wood tops, and they come in round and square versions.
Teak Garden Furniture
This elegant set is made up of one table and four chairs in beautiful teak wood. Prized for its durability and resistance to water damage, teak is one of the best choices of wood for outdoor furniture. Teak has a famous reputation as the resource for shipbuilding. It makes for excellent ship wood due to its natural ability to ward off dry rot. This set is an example of the fine construction achieved with teak wood. Offering relaxed comfort and style, this set is ideal for gardens where you want to spend the time outdoors enjoying the atmosphere.
Industrial style café furniture continues to delight patrons with distinctive designs. Mix and match for universal appeal and winning favour wherever they are set out. The very appearance of this timeless style signals relaxation and anticipation for a truly enjoyable time. Synonymous with a welcoming, friendly atmosphere, it is the perfect style to complement the traditional with the contemporary.
Related Resources: