Larger special and public events are more difficult to organise and plan. Basic preparations, security and public safety are important to ensure the safety of the staff and attendees. Risks can be decreased by ensuring safety precautions align with the number of attendees. Additional security is necessary for larger events. Event organisers are subjected to liability and risk due to previous deaths and injuries at numerous events.
Crowd control is essential whether the event is large or small. Attendees can be controlled and managed through effective planning to decrease the risk of safety issues. An analysis must be completed for successful queue management including the following factors.
Location or facility attributes
Exit and entry points
Type of event
Effective queue control tools and practices
Communications
Makeup and size of the crowd
Effective queue management for pre and post-event
Advanced training and planning are necessary before the event. Organisers need to focus on external and internal queue management and security. Responsible parties need to regroup after the event to document what was learned to help plan future events. The idea is to provide event organisers and planners with information to create an effective plan for queue management.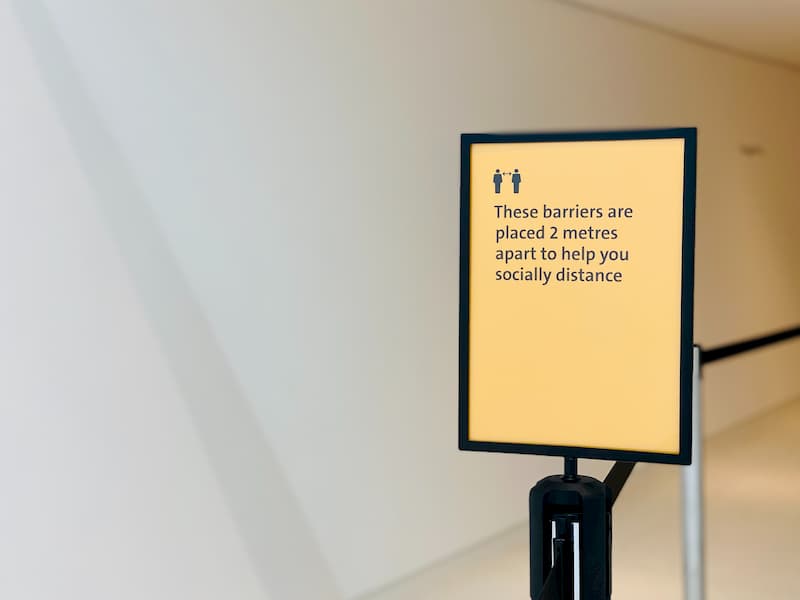 Planning Process
Event planners must use a variety of tactics and strategies to address all of the following.
Crowd demographics and size
Exit and entrance points
Restroom facilities
Environmental and architectural concerns including barricades, fencing and seating
Parking and vehicle entrances
Event location such as outdoor, indoor, rural or urban
Concession needs
Security concerns
Ticketing processes
The queue management required is dependent on the type of event. Indoor, outdoor, charity and political events all need different queue control. The crowd is the most complex factor. The goal of the organiser is minimising and identifying potential risks for the attendees. This is a serious concern due to the potential for economic and human loss. Directing the attendees is critical for minimising property loss and personal harm.
Queue management begins before anyone enters the location or facility. The staff should be trained for queue management and security. The staff should receive manuals and protocols for guidance. Guidelines are necessary for the layout of the building, exit and entrance procedures, safety instructions, venue rules and plans for evacuation. The chain of command should include staff and public safety both outside and inside the event. Communication must be open throughout the event.
Identifying Queue Safety Hazards
Identification of queue safety hazards must include:
Dangerous behaviour
Temporary structure collapse
Inadequate ground conditions
Audiences close to the activities
Lack of appropriate exits and entrances
Trampling and falling
Poor site design
Moving vehicles and pedestrians sharing a space
Crowd dynamic hazards
Crowd movement obstructed by concessions and stalls resulting in congestion
Pedestrian routes with inadequate or poor maintenance
Hazards from event or venue activities
Potential fire sources
Swaying and surging resulting in individuals crushed against fixed structures
Equipment failure
Audience Profile
Crowd behaviour is influenced by numerous factors. You can predict behaviour by the type of performance and age range of the crowd. Many visitors are unfamiliar with the layout of the facilities and restrooms resulting in disorientation when arriving during daylight and leaving in the dark. You can help them by providing enough light. Queues must be correctly managed to prevent attendees from climbing over barriers or surging to the exits when open.
Attendees risk falling when climbing on structures for a better view resulting in others following. This must be addressed and managed. Certain types of behaviour can be used to your advantage. Once a queue is established, attendees are attracted and order must be introduced to the patterns of the crowd. Acts performing simultaneously can cause major crowd movements resulting in unexpected forward surges and crushing.
Attendees will not act as quickly to smoke from a fire when dry ice or smoke are part of the effects. Attendees dissatisfied with a sporting outcome or performance can become uncooperative and offensive. This behaviour worsens with recreational drugs and intoxication.
The Entrance
The process of entry should be defined before the attendees enter to ensure smoothness. Developing a plan to keep attendees outside before the start of the event is important. This can be accomplished with roped off or blocked entrances and locked doors for indoor events. Outdoor events require perimeter security including gates and fencing. Posting entry times in advance tells attendees what to expect during the event.
Queuing the attendees waiting to enter is important for large crowds. A stanchion and belt queueing system makes the entry process easier. Turnstiles can be used to monitor and count the number of attendees. Opening additional entrances minimises wait times and the size of the crowd. Measures should be taken to ensure comfort including additional refreshment and water stations and restroom facilities.
Exit Procedures
Whether the facility is outdoors or indoors, it should be clean and well maintained. The aisles should be easy to identify and well lit. Maintained safety zones will keep attendees from entering restricted areas. The event layout should provide smooth movements for the entire venue. After the event, fencing and gating systems ensure the crowd exits the event. When possible, entrances can also be used as exit points. In an emergency, the crowd should be evacuated using all exits and entrances.
The flow of traffic in the parking lot should be directed to the street with the same barrier system. Well planned and executed queue management helps protect the public and is an effective protection for security risks.
Queue Control Safety Systems
Plastic Jersey barriers are a good solution for the flow of vehicle and pedestrian traffic at events. Several companies manufacture these barriers for condoning off specific areas to help attendees move and also offer extra perimeters. The barriers are manufactured with materials including heavy-duty plastic you can fill with water for more stability. Plastic barriers come in a variety of shapes and sizes. They are light enough to move and strong enough to direct the attendees.
Queue barrier systems are cost-effective since less labour is required for installation. You can transport them to and from all of your events. You can also direct vehicular traffic into exit and entry points and parking areas. Temporary fencing can be used to securely and clearly block off specific areas. Fencing can be obtained in welded wire panels, chain link or rolled out. Mesh and wire fencing is generally used for security around the event perimeter.
Fencing is durable, hard to penetrate or climb and simple to install and remove. Interlocking steel barriers are effective tools for queue management. The barriers offer a psychological and physical line to prevent crowd movement and keep attendees out of certain areas. Interlocking steel barriers can be used for sporting events, concerts, large crowds, marathon and parade routes, political rallies and outdoor festivals.
Standard sizes for interlocking steel barriers are one, two and 2.5 metres. You can interlock them in various lengths for a unified line. Once interlocked, the barriers are sturdy. Attendees are queued without the risk of the barriers falling over. Barriers are used at rallies and political events as safety zones for both attendees and demonstrators. Crowds can be contained or moved back in the event of a riot or surge.
Portable or belt barrier stanchions are connected using retractable rope or belts for the creation of orderly and visible lines. Attendees are made aware of where the line starts and navigation is efficient from where the line begins until it ends. These posts are also effective to provide attendees with a clear image of restricted areas of the facility. The system can be adjusted for your specific needs and is light enough to move easily from location to location if necessary.
Turnstiles are often used as the main entry point or exit for numerous areas including merchandise and souvenir stores. Turnstiles offer access control for overall safety, determine how many people are attending the event and prevent entry for high crowd levels or unsafe conditions. Reasonable steps should be taken to protect attendees on stairs and traffic routes. There must be a safe way to exit the queue without entering the path of moving vehicles.
Emergency access routes should never be blocked by the queue. If the number of attendees arriving exceeds the venue's safety capacity, you will need to estimate and monitor the number of attendees arriving and remain in close contact with the police, other agencies and transport operators. You can help eliminate this possibility by:
Planning an advertising campaign emphasising tickets are required.
Coming to an agreement with police regarding the redirection of excess attendees before the venue is reached.
Establishing communication on the day of your event by making announcements on social media, local radio and at bus and train stations.
Offering additional routes and overflow space for excess attendees to stop crushing.
Queue Control Checklist
Knowing Your Audience:
Trade shows and academic conferences do not have as much action as heavy metal festivals and soccer matches. Know your attendees and their actions in crowds and queues.
Informing Relevant Parties:
Once the when, where and who has been established, contact everyone impacted by the event and requiring specifics regarding the expected crowd. Make certain all of the following are contacted.
Event contractors
Neighbouring businesses
Emergency services
Venue management
Local authorities
Planning in Advance:
Plan in advance how you intend to handle queue management. Once you have chosen your venture, figure out the best way for attendees to move around.
Limiting Alcohol Access:
When excess alcohol is consumed, excited crowds can cause serious issues. Determine limits depending on the crowd.
The Emergency Plan:
No matter how well the event is planned, there is always something that can go wrong. Make certain you have a contingency plan for all potential issues. Make plans in advance for the worst possible scenarios including:
Unexpected changes in the weather
Fights between the attendees breaking out
A panic resulting in people being trampled
Flammable objects catching on fire
An attendant caught stealing
Determining how you will handle the above situations in advance will prevent you from losing control if something goes wrong.
Risk Assessment:
Safety and risk assessments are critical for planning your queue management strategy. You need to identify all potential dangers and how you will keep the attendees away from them.
Screening Attendees:
If there is even the slightest chance the attendees will attempt to smuggle something illegal into the event, think about having a security team pat them down upon arrival.
Use Plenty of Signage:
Using proper signage eliminates the need to answer numerous questions during the day of your event. Make certain the attendees can navigate your event and are aware of the restricted areas. Use large signs attendees can read from a distance including:
Restrooms
Potential hazards
Smoking areas
Registration queues
Staff-only rooms
Streamlining Check-In to decrease Queues:
The best way to anger a crowd is to make them wait. Civilised attendees can become the exact opposite when forced to wait in a long queue. You can streamline your check-in process in all of the following ways.
Have several different check-in points for attendees
Assign staff experienced with customer service to the registrants
Use one of the ticketing apps
Use RFID chips, barcode scanners or turnstiles
Mark Off the Different Areas:
Use Cones, stanchions, barricades or ropes to show the attendees where they need to queue up for registration and tickets. Make certain the attendees know where the main event is located and the areas that are restricted.
Hiring Security:
A third-party security firm is usually necessary for large events, This type of firm is trained to handle dangerous situations, rowdy behaviour and large crowds. A well-trained and experienced security team is recommended for your event. Hire security personnel capable of handling all of the following.
Screening all of the attendees for contraband
Making contact with emergency services when necessary
Handling any physical confrontations
Asking Your Staff and Attendees to Report Any Suspicious Behaviour:
It is not possible for your security personnel to be everywhere at the same time. This means more people need to be recruited. Ask your attendees and staff to report any suspicious or shady behaviour directly to security.
Reviewing Your Strategy:
Review your queue management strategy after your event has concluded. Talk to your security firm and staff to determine what worked and which areas need to be improved for future events.
The Correct Number of Staff:
You will need help with your event. Make certain you have enough staff for the expected crowd. You need to have ushers to show the attendees around. Your entire team needs to be familiar with the venue layout. Figure out the most convenient way for your staff to communicate with each other like a group chat or walkie-talkies. Your staff needs to be strategically placed throughout the venue with all important points of interest covered including:
Ticket purchase windows
Guest service desks
Entrances
Seating areas
Presentation rooms
Check-in lines
Clear Alert System:
A roaring crowd can easily drown out your voice. This means you need to establish other communication methods for important alerts. You can amplify your message with a PA system or use an event app for alerting the attendees. You must have an alert system in the event of an emergency.
Queue Management Systems
Related Articles