You need to start with knowing the space you're working with.
What are the dimensions, not just length and width, but height as well; in smaller spaces it helps to go up instead of out.
Do you own the space or are you renting?
Do you share the space with other tenants?
Once these questions are answered you can move on to what you want out of the space. Are you looking for a relaxing retreat, entertaining space, a cosy corner for two, or just you? It's easy to get carried away with all the beautiful options, so plan it out and do some research before you buy anything to keep from cluttering the space with so much stuff you can't enjoy it.
Get an idea of what style you like and what colours you want to use before you start. Getting these questions answered up front will make dressing out the space much easier and less stressful.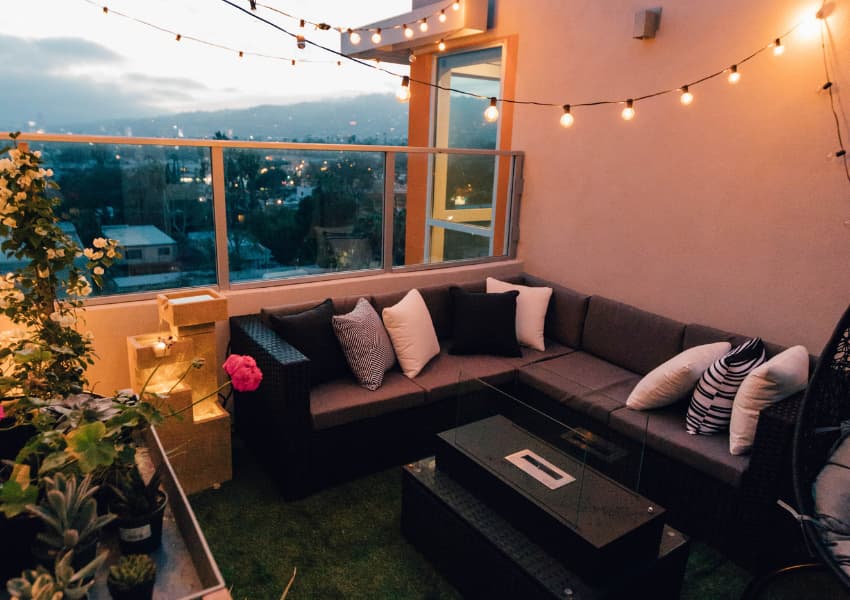 Foundations
By foundations I mean flooring. Is this going to be your permanent space or a temporary space? Temporary flooring such as wood or composite deck tiles or even decorative tile and paving bricks can be laid down and taken up when the time comes to upgrade. These can add warmth, colour, and character to your space. Other options to consider are rugs, outdoor carpeting, faux grass mats, jute or sisal mats, these will all help tie your look together and make it complete. You can also use borders around a focal point by using large gravel or grass mats, the combinations are endless and help to make the space your own. If it's your own space there is also the option of paint and stencils to add a tiled or patterned look without the expense tile. If you like to do-it-yourself pebble tiles like the deck tiles could be created to make your own pebble path or yellow brick road, painted brick pavers could be used to accent the flooring or define spaces for plants. Now that the floor is out from under foot let's think about what surrounds it.
Air Space
More specifically your air space, and who has access to it. Do you need more privacy or do you need more space is the main question to ask here. Do you have overhanging structure to protect from the elements or is that something you need to add? Are there nosy neighbours or unsightly views you would rather not look at? This is where you have to think vertically. A slatted wall that you can hang planters on for a living wall is a sight, sound, and element blocking option. It could also be used to hang lighting or art, maybe some inspirational words written in lights or colourful paint. A patterned curtain would be good to add a softer, airy feel to the space. Reed fencing panels can add texture and privacy if needed, or faux greenery panels can be added to soften the steel and concrete. Large plants such as banana trees or bamboo and grasses in planters can also help create a much needed buffer between neighbours. Compact climbers and trellises are another but longer term option. Now that the surrounding is set let's put something in it.
Furniture
The main thing to remember here is your dimensions, but form and function are two things to also consider when picking the furniture for your space. Smaller spaces need smaller furniture, there are some exceptions though depending on your design and style, sometimes big statement pieces can make a difference in the space. Bistro balcony tables are always a good option for small balconies and come in a variety of styles to match your design. If the space needs to do double duty you might want to consider furniture with more than one purpose, like storage bench seating that can hide blankets, extra chairs or cushions, or tools and materials for the plants. Another multifunction option would be seating that can be transformed or expanded into a nap couch or lounge for an afternoon siesta or sunbathing. Fold away seating and tables are another option to maximize space on smaller balconies. Large pouf cushions and low tables can create a relaxed and cosy setting, while a long bench and small tables can become a gathering place for friends and family. Furniture doesn't have to be expensive to be comfortable and beautiful. Folding chairs can be dressed up with extra cushions and slip covers to match your style and taste. There are so many beautiful fabrics to choose from and pillows and slip covers are easy to make and a great introduction to learning a new skill. Now that you have a place to sit let's add some finishing touches to complete the design.
Lighting
Lighting of course will be needed for the evening enjoyment of your space. There are a lot of options now with the invention of LED lighting that make things not only easier but safer and more economic as well. Colour changing puck lights that are water proof can add ambience and mood to your space, while string lights and lanterns can create a more festive atmosphere. Rope lighting and string lights are easy to install and adjustable to your space, and won't break the bank or require an electrician. They can also be shaped into words or pictures that can add quirk and character to the design. Candle lanterns can add light and fragrance to your space without too much worry about fire codes, but LED candle replacements can be substituted for safety if needed. Light it up and enjoy the evening.
Accents
Other options to make the space more comfortable and inviting are accent features like pillows and blankets, plants, art and conversation pieces, water features, and even bird feeders can add interest. Plants add fragrance, texture, colour, and depth to your space. They can also be food too; blueberries, strawberries, tomatoes, herbs and greens all lend themselves well to container gardening and provide a nice refreshing summer snack to go with your tea and cocktails. Adding a water feature doesn't have to be a big thing either. A small table top or container fountain or even a fish bowl or terrarium could be just the thing to help soothe the nerves. Architectural and statement pieces like outdoor sculptures will give the space a more sophisticated and refined look, while pillows and blankets will create a more casual and comforting space. But remember, less is more in small spaces, don't overcrowd the space.
Whatever your style, be it Boho Chic, Mid Century Modern, Scandinavian, Country French, or Minimalism there are plenty of economical options to take your balcony to the next level and make it the perfect space for sharing with that special someone, or just relaxing after a hard day at work. So don't settle for a chair and table, when you can have a sanctuary space to enjoy, relax, and entertain in that reflects who you are and what you like.
Related Articles