Takeaway and fast food restaurant trends to keep an eye on during 2020.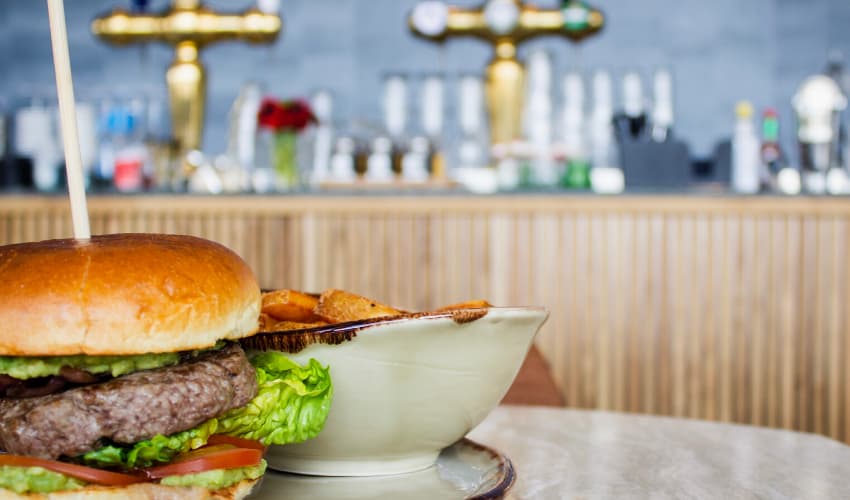 1. Plant-Based Protein
The taste and texture of burger patties made from plants are similar to ground beef. The result is an increase in vegan customers. The trend is predicted to grow in 2020. Numerous fast-food restaurants added this type of burger to menus during 2019. The Impossible Whopper created by Burger King increase foot traffic by 18.5 percent for all participating locations. The Impossible Whopper became a permanent vegan-friendly addition to the menu. Meatless items are also available at Carl's Junior and Del Taco.
KFC is also considering plant-based options. Mediterranean food is supplied to fast-food restaurants. One of the top suppliers is Kronos. The supplier is offering vegan cuisine for 2020 including a meatless loaf consisting of pea-based protein. During the annual show for the National Restaurant Association, Kronos introduced the new option with tiny sliders. Impossible Foods is also considering an expansion for meatless options.
Impossible Foods is developing a fish-less fish. The manufacturer is working on substitutions for all animal-based foods. The options are expected to hit the market by 2035. The new trend towards more vegan options is based on the demand for plant-based protein from the vegan community.
2. Healthier Options
Although fast-food restaurants have been attempting to provide more nutritious meals for years, 2020 is the first time the focus was placed on diets including vegan, vegetarian, Whole30, keto and paleo. Fast-food restaurant franchises are creating menus for health-conscious individuals in addition to those with specific dietary restrictions. The new dietary options are both healthier and a good move for the fast-food industry.
No matter which type of diet the individual is following, convenience is always a good option. Valuable customers are often lost because the menu does not cater to dietary restrictions. Restaurants can increase customers by adding a couple of diet-friendly options such as gluten-free.
3. Increases in Delivery Participation
Food delivery is predicted to continue expanding in 2020. Third-party delivery options have been expanding for the last ten years. People can enjoy their favourite take out foods through numerous providers including Just Eat and Uber Eats. Delivery is available for both home and office locations. During the last few years, fast-food restaurants have created partnerships with food delivery options..
Many of the fast-food restaurants not currently offering delivery are expected to jump on the bandwagon in 2020. According to a recent study, the digital order growth rate of fast-food restaurants has increased by 23 percent since 2013. The prediction is the numbers will triple by the close of 2020. The trend may also include casual dining restaurants. During the next decade, delivery is expected to be available for the majority of fast-food restaurants.
4. Ordering by Voice-Command
Ordering kiosks may be replaced by voice-command options in 2020. An artificial intelligence or AI drive-in prototype has already been revealed at the 2019 show for the National Restaurant Association. The prototype uses voice commands for taking customer's orders. The customer starts an order through a prompt such as I'd like to place an order or simply hello. AI listens to and tracks the order.
The programming enables AI to offer customisation and recommendations. The machine is capable of recognising voices to draw on previous orders. Once the customer has engaged the machine, the last order will be displayed. The customer has the option of placing the same order or making any changes desired.
5. Quicker Service
Drive-throughs were created as the quickest option for picking up food. Unfortunately, drive-throughs are often slow. One of the trends for 2020 is improving the efficiency of the service. The only option remaining for fast-food restaurants is decreasing wait time or losing customers. The current decrease in waiting time for drive-throughs has resulted in a wait of between two and four minutes.
Not only is drive-through service expected to be even faster in 2020, but curbside service will also be offered by numerous fast-food restaurants. This type of service is potentially much faster than a drive-through. Customers will use the mobile app for the restaurant to place an order. The customer than parks in a carry-out spot. The food will be delivered quickly right to the car window.
6. Simpler Ordering and Pick Up
The process of placing an order and picking up the food has become much simpler during the last five years. A lot of fast-food restaurants are now using self-ordering kiosks and digital menu boards. The idea is the reduction or ordering times and lines. Customers can take their time looking at the menu. During the last year, self-service pickup cabinets or PUCs have become more popular. Some of the newer PUCs have integrated a POS system with mobile ordering.
When an order is placed from either the restaurant's website or app, the fast-food location instantly receives the order for immediate preparation of the food. Once the food is ready, a warming cabinet is used to ensure the meal remains hot. The customer receives a text as soon as the food is placed in the cabinet including a QR code or pin. Upon arrival, the customer can either scan their code or enter the pin to pick up the order from the cabinet.
The main advantage is the customer can place an order and pay prior to entering the restaurant. The number of staff the restaurant requires for cashiers is significantly reduced. Not only will this type of equipment decrease down-time, but it will also ensure the food remains fresh until the customer arrives for pick-up.
7. Centralised Delivery
Fast-food delivery is fast, efficient and convenient. During 2019, the options for home and office delivery significantly increased. The number of fast-food restaurants offering delivery is expected to significantly increase in 2020. Americans across the country have shown they often prefer delivery or take-out as opposed to spending time sitting in a restaurant to enjoy a meal.
Apparently, Americans prefer enjoying a meal on a sofa while watching television. No matter what the reason is, 2020 will provide a tremendous number of central delivery services offering delivery for an astonishing number of restaurants. The most popular services currently include Just Eat and UberEATS.
8. Smarter Kitchen Equipment
One of the most recent trends is technologically advanced and smarter equipment for commercial kitchens. The advancements help increase energy efficiency while decreasing downtime. This trend is expected to explode in 2020. A good example is the FlexFryer recently released by Henny Penny. The fryer combines the benefits of pressure and open frying through the use of just one device. The fryer offers a simple touchscreen interface, automatic top-off capabilities and an express filtration system.
Both new cooks and seasoned veterans can operate the fryer easily. The new innovations also encompass the popularity of fast-food breakfasts. A machine has been developed by Antunes to meet the requirements for the numerous orders of scrambled eggs. The JS-1000 was originally introduced in 2018. The machine was created to cook food efficiently and quickly. Only 10 seconds are required for cooking two scrambled eggs. Just 15 seconds are necessary for individual servings of oatmeal soup and chilli.
During the last year, major fast-food restaurants have realised faster cooking times offer exceptional benefits. This includes the majority of McDonald's across the nation. The technology is expected to continue improving for years. During 2020, more fast-food restaurants are expected to exceed or at least match the quicker cooking times. The key to running a commercial kitchen efficiently is time management. The issue is finding the right data.
More equipment is now enabled by Bluetooth or connected to Wi-Fi. The result is fast-food kitchen managers remain informed by receiving updates much quicker. More recent solutions enable tracking for energy consumption, equipment, water usage and cooking times. Everything can be initiated right from a smartphone. Managers can use one simple platform for viewing recipe suggestions, consumption reports and equipment status.
This type of technology is only beginning. During 2020, more refined equipment and programs should become available to maximise operations while improving overall efficiency.
9. Additional Breakfast Options
Almost all fast-food restaurants are offering breakfast. Some provide breakfast all day, while others have limited morning hours. During the past, extremely few fast-food restaurants offered any breakfast options at all. The demand for breakfast burritos, muffins and egg sandwiches is continuing to increase. Fast-food restaurants are forced to either offer a breakfast menu for all different tastes or lose customers. A good example is the breakfast menu for Chick-Fil-A.
A few years ago, the fast-food chain only had three items on the breakfast menu. Due to the numerous options recently added to the menu, Chick-Fil-A has become one of the busiest restaurant destinations. The breakfast menu now includes burritos, biscuits and multi-grain bagels. The chain has become the leader of the industry for fast-food breakfasts. During 2020, a lot of the other fast-food restaurants are expected to increase the size of their breakfast menus to remain competitive.
10. Packaging and Recycling
Not only is the fast-food industry changing menu options, but they are also focusing on environmentally sound recycling and packaging. Fast-food restaurants have started using materials friendlier to the environment such as paper as opposed to Styrofoam and plastic packaging. The recycling of waste is also becoming a much greater priority. One of the biggest changes in the fast-food industry is replacing plastic straws. Approximately 500 million plastic straws end up in the trash every single day.
The straws are then sent to a landfill. To improve the industry's environmental standards, some of the largest corporations including McDonald's and Starbucks have decided to eliminate all plastic straws during the course of the next few years. Straws will be replaced with an option friendlier to the environment. Styrofoam packaging will also be eliminated because it is bad for the environment. Using foam packaging is now illegal for fast-food restaurants in numerous areas.
Synthetic materials have a bad reputation for the pollution of waterways. The ability for recycling is slim to nonexistent. This is the reason so many fast-food restaurants have switched to paper products as opposed to foam cups. Transitioning to a sustainable material requires a lot of effort and expense. Despite this, numerous fast-food restaurants will do exactly that in 2020.
During 2020, even more fast-food materials and packaging will be recycled. The elimination of pollution causing products is an excellent start. The next major step for the fast-food industry will be recycling more sustainable and newer materials. Fast-food chains have locations all over the world. Investments will need to be made for consumer education, training and proper facilities.
Recycling will need to be initiated and performed correctly. Some of the fast-food chains have taken a step beyond recycling materials used for packaging. Chipotle is giving away numerous items to help nonprofits and schools including tables, chairs, used equipment and food processors. The trend is expected to continue in 2020.
Takeaway & Fast-Food Restaurant Furniture Options
Getting your tables, chairs and furnishings right will help your business grow.
| | | | |
| --- | --- | --- | --- |
| | Standard Aluminium Chair, from £10.95 excl. VAT | | Wood Effect Aluminium Chairs, from £12.70 excl. VAT |
| | | | |
| --- | --- | --- | --- |
| | Silver Metal Tolix Chairs, from £16.15 excl. VAT | | Bronze Metal Tolix Chairs, from £13.00 excl. VAT |
| | | | |
| --- | --- | --- | --- |
| | Black Steel Chairs, from £7.50 excl. VAT | | Madrid Contemporary Stacking Chairs, from £14.25 excl. VAT |
| | | | |
| --- | --- | --- | --- |
| | Black Tuscany Chairs, from £12.75 excl. VAT | | Red Tuscany Chairs, from £12.75 excl. VAT |
| | | | |
| --- | --- | --- | --- |
| | Round Aluminium Table, from £26.80 excl. VAT | | Round Aluminium Table – Factory 2nds, from £23.40 excl. VAT |
| | | | |
| --- | --- | --- | --- |
| | Square Aluminium Table, from £24.90 excl. VAT | | Bronze Metal Tolix Tables, from £39.50 excl. VAT |
| | | | |
| --- | --- | --- | --- |
| | Aluminium Cafe Set, from £71.00 excl. VAT/ £85.20 inc. VAT | | Black Rattan Garden Sets, from £80.00 excl. VAT/ £96.00 inc. VAT |
| | | | |
| --- | --- | --- | --- |
| | Aluminium Cafe Bistro Set, from £82.00 excl. VAT/ £98.40 inc. VAT | | Blue Aluminium Furniture Set, from £76.00 excl. VAT/ £91.20 inc. VAT |
Black Steel Garden Sets with Glass Table
from £43.00 excl. VAT/ £51.60 inc. VAT

Black Steel Garden Sets with Aluminium Bistro Table
from £54.50 excl. VAT/ £65.40 inc. VAT
BE Furniture Sales offer nationwide delivery. Please contact us if you cant find the chairs and tables you are looking for.
Related Articles