If you run a business with some outdoor dining or drinking space, then you need a café barrier. Including a café barrier in your outdoor space will not just enclose it, but also promote your company's brand to a mass audience. Café barriers are usually removable and can be stored when not in use. Most people who mark their outdoor spaces using these products limit their use to only specific seasons. This is commonly done to prevent damage to the cafe barriers in periods of harsh weather.
If you intend to buy a café barrier set, there are a few things you need to take into consideration to get value for your money. This guide will inform you of everything you need to know when purchasing a café barrier.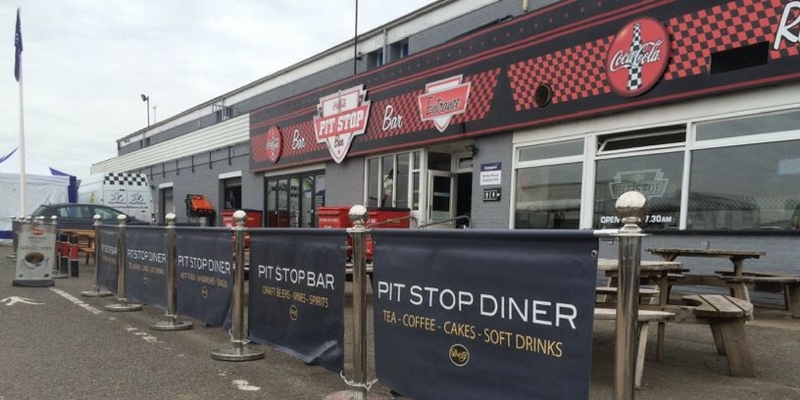 Where are Café Barriers Applicable?
Café barriers are usually used to define outdoor dining, drinking, or smoking spaces. Clubs and cafeterias are best known to make use of them. However, those are not the only ways you can use café barrier sets.
They can also be used to separate indoor sitting areas. Health clubs, restaurants, and gyms can also benefit from café barriers in this way. The systems work efficiently in making your customers get familiar with your brand. When used in outdoor spaces, café barriers even improve the image of your company when passers-by view them.
Café barriers gained their name from the frequent utilisation in cafeterias. However, they can be used even in places where queuing frequently occurs such as libraries and museums as a crowd control system. The barriers will help to define the space for your visitors to line up, and in this way, contribute to reducing chaos. Again, the barrier will help to promote your business by making the brand familiar to your buyers.
Outdoor markets and stalls could also benefit greatly from the use of café barriers. They separate the stalls and also advertise them to potential customers. Events and shows also benefit a lot from the use of café barriers. Companies that sponsor such events usually put them up to advertise their products and services. In addition, restaurants and bars usually have spaces in outdoor settings to sell their foods and drinks to interested buyers.
In other words, the options for using café barriers are limitless. You only need to be creative. Here are the things you need to consider when purchasing a café barrier.
Wind Permeability of Barriers
One of the most important aspects you need to consider is the wind permeability of the café barrier. This should be among the first considerations if you are operating in a windy region. That said, a good café barrier is always capable of withstanding strong winds, since the currents can approach without warning. To prevent the potential loss and inconvenience, it is best to go for a quality product that is heavy enough to withstand such weather.
For outdoor shelters, it is recommended that you use a café barrier that is at least 10 kgs. Wind-permeable barriers are recommended for windy regions.
Cost of Cafe Barriers
How much are you planning to spend on a café barrier? Just like everything other product, café barriers are available in a wide range of prices. At the extremes of the price ranges are café barriers made of PVC material and those made of canvas. PVC banners are very light in weight and are the cheapest options available. Canvas, on the other hand, is a heavier and better quality material that warrants a higher price.
If you are working on a budget, you would be better off going with the PVC café barrier.
Traffic that the Barrier has to Withstand
The level of traffic in the intended area of use is also a factor that determines which café barrier you should purchase. Places with high traffic will require the use of heavier café barriers while areas with fewer persons can do with the lighter products. A café barrier weighing at least 18 kg is ideal for an outdoor location with very high traffic. Light PVC café barriers can work perfectly in places with fewer people.
Quality of Cafe Barriers
Café barriers are meant to promote your brand, and doing this with a visually attractive banner will do a lot to improve the image of your company. That is why it is important to use a high-quality product. A cheap-looking product will simply reduce the credibility of your business.
High-quality café barriers are also more durable, and this can potentially save you a lot of money. Once your café barriers grow old and start looking less visually attractive, you have to replace them.
Depending on the industry, you should get a full-colour café barrier and have both sides printed.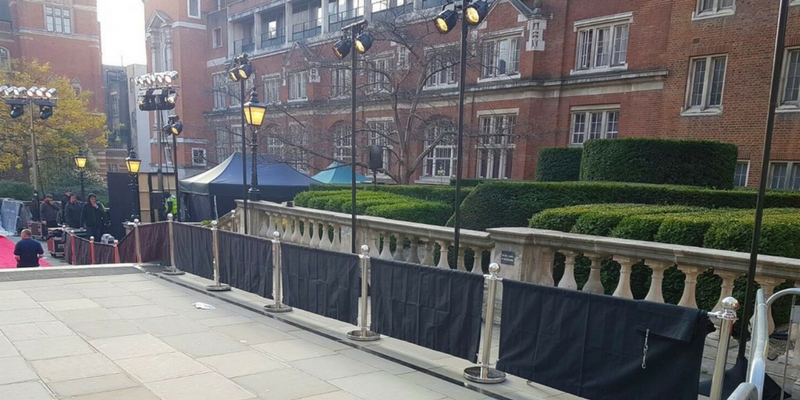 Types of Café Barriers
• PVC Café Barriers
PVC banners are the cheapest options, and this is part of the reason why they are best preferred in café barriers. They can easily be printed on with enough clarity, and are flexible. With banners, the polyester material used in construction can be laminated or coated with PVC to make it more visually attractive. PVC will also reinforce the material underneath it.
PVC café barriers can be printed on one or both sides. If you are operating in a windy area, you can go for mesh PVC banners since they have high wind permeability. Of course, the PVC banners with a single side printed cost much less.
One advantage of PVC banners is that they are waterproof, and this means they are much easier to clean. The material makes banners appear glossy and professional, therefore, promoting the image of your company. They are also durable.
PVC café barriers may not retain colour under very harsh environmental conditions. If it is to be used in a windy location, you should go for mesh PVC café barriers. This type of café barrier features tiny holes for the wind to go through. The result is that the café barrier becomes less resistant to the air currents; and therefore, less prone to damage by harsh weather.
• Canvas Café Barriers
Canvas café barriers are higher in quality. They are made of canvas polyester material that is sturdy and durable. Canvas café barriers are higher in quality compared to PVC, and this feature gets better with weight.
Canvas is waterproof and is capable of withstanding strong winds. This is the reason why sails are made of the material. In addition, these café barriers are good at retaining colour, even under extreme weather conditions.
Canvas also accepts treatment much readily, and this improves the durability of the material. The treatment can increase flame retardation, and water and mildew resistance. Because of this treatment, canvas café barriers are usually capable of lasting for decades without showing visible signs of wear and tear, or even any loss of colour.
Canvas café barriers are strong enough to resist tearing at the eyelets, which is important if you intend to use the café barrier in outdoor locations. Rain and the wind can lead to the damage of the café barrier, and canvas is very good at resisting damage.
Why should you buy a Café Barrier?
If you have outdoor space or need to direct traffic to your store, then café barriers are a necessary investment. There are lots of advantages of café barriers, and the subsequent section will cover all their notable benefits.
• Café barriers are the cheapest ways of promoting your brand. Any other form of advertising will cost you a lot more.
• It is easy to make banners, meaning you can always change the signs with time. Ordering a café barrier takes a short period. In case you rebrand or upgrade your products and services, changing the banners can be done quickly.
• They are durable, and this can end up saving you a lot of money. The banners are usually made of strong PVC material or canvas, both of which are very strong and resistant to weather conditions. The stands are also usually made of strong steel materials.
• Café barriers are highly versatile. They can be made in different sizes and shapes, and are customised to suit your specific brand. That makes them even more effective as a way of promoting your company's goods and services.
• Installation of café barriers is also very simple. It only involves a frame and the banner, all of which are light in weight. This makes it easy to transport them, and the installation should only take a few minutes.
• It is a mass medium and usually has a quick impact. When used in outdoor locations, café barriers even have an unforgettable impact on passers-by. Because of the versatility and flexibility of café barriers, they can be customised to grab the attention of potential customers and clients.
Café barriers are a great way of controlling traffic in your store or restaurant. They also help to promote your brand among present and potential customers. Café barriers come with lots of other benefits and should, therefore, be considered by all companies. Buying a café barrier is not an impossible task. You just need to follow the tips highlighted in the above guide.
Cafe Barriers
Our Cafe Barrier systems are very competitively priced and one of our most popular crowd control items – this range of barrier systems are bought by all sectors.
| | |
| --- | --- |
| | High quality stainless steel cafe barrier sets. Each post has a mirrored silver finish and stands 980 mm high. Each cross bar is 170 cm long. Banners need to be 78 cm x 160 cm. |
| | |
| --- | --- |
| | High quality stainless steel cafe sets. Each post has a mirrored silver finish and stands 980 mm high. Each cross bar is 170 cm long. Banners need to be 78 cm x 160 cm, please see our banners section for the banners we stock to go with these sets. Each set includes 2 x Upright posts, 2 x bases, 2 x cross poles |