Coffee is a staple in many people's day. The coffee industry is always growing and changing to fit the needs of customers. Coffee shops were hit hard during the coronavirus pandemic, but it seemed like most people needed it more than ever. We've got a look into the latest and greatest coffee shop trends and developments.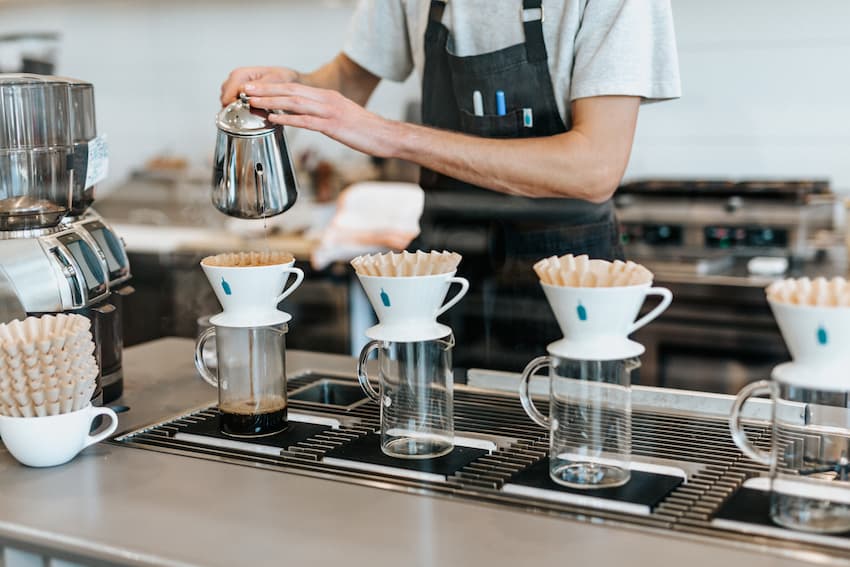 Adapting To The Times
The COVID-19 pandemic put a stop to friends hanging out in coffee shops and even put a damper on the people that love to work from the shop while sipping their espresso. A bustling coffee shop isn't the normal scene these days. Most businesses had to change to survive this type of hit. Many coffee shops enlisted the help of innovation and new technology to meet the needs of customers.
This involved innovations like customers using the phones to order. The staff was able to still serve them without being right in their face ordering at the counter. For many coffee shops, the help of a drive-thru was a saving grace.
As people get vaccinated, more customers seem to flood into the coffee shops again. They still look a little different, but some of the changes will stick around for the future.
COVID-19 Safety Procedures Continue
COVID-19 hasn't disappeared, so this year you will still see many strict safety protocols. Hand sanitizing stations and some dine-in restrictions will remain in most places in order to keep everyone that enters the building safe. Some places will still ask that you wear a mask, while others will leave it as an option to the guests.
Support Your Local Coffee Shops
One thing that the pandemic brought to light is the interest that many people have in small businesses and local shops. It's critical to support your local coffee shop. These places might be struggling the most after the pandemic. A positive trend in many places is the continued support of your local shops.
This is a good thing as you should expect to see people back in your local coffee shops. Many miss meeting friends for a cup of coffee or having a business meeting in a quiet location.
We should see people booking desks and renting tables at the shops. Many offices are still closed or have decided to work from home. The customer gets a place to work and sip their drink while the coffee shop reaps the rewards. Working from home can be tough for many people, so a coffee shop gives them the opportunity to break up this routine.
Subscription Boxes Of Coffee
Subscription coffee boxes have helped many people during the pandemic still get their coffee fix when they couldn't go to their favorite store. One trend that has come from this is finding different types of coffee that fit your tastes. Coffee shops are taking note and starting to personalize some coffee deliveries and subscription boxes and coffee deliveries.
The coffee subscription box trend caters to customers' increased interest in quality at-home coffee experiences and will continue to take off in 2021.
Boost of International Speciality Coffees
As people browsed the internet for coffee selections, they found some that were perfect for them. Coffee shops will cash in on this trend by offering a wider variety of international selections of coffee flavours and types. People fell in love with coffee types from around the world. They watched videos on how to make these brews. Coffee shops can follow this trend and make everyone's newest and greatest drink.
Healthy Coffee
Coffee shops are seeing a rise in the healthy options of coffee drinks. New additions to coffee and supplements are now seeing a boost. There is a rise in the market for turmeric coffee and others like it.
Some people are switching to cold brews as a healthy alternative instead of the drinks at coffee shops filled with sugar and calories. The quarantine gave people time to stop and check out the nutritional labels of their coffee. This lead to making different decision in their choices for some coffee drinkers that love to pile on the cream and sugar.
Non-Dairy Options
Most coffee shops are up-to-date with coffee drinkers that ask for soy or almond, but they are taking it a step further. Many coffee shops are now offering coconut or oat milk selections for coffee. They also offer match as another alternative to a dairy drink. People that are vegan or dairy-free now have many other options other than just a few selections.
Cold Brews
People either usually love or hate cold coffee brews. They have risen in popularity at most local coffee shops. They are strong and usually have a less acidic taste. Many people say they don't have to add as much to cold brews in order to get it to taste less bitter. It's easy for the coffee shop to brew. It also usually lasts longer than hot coffee that loses its heat so quickly. One reason it's trending is that you can mix all kinds of ingredients with it to give it a naturally sweet flavor. Some people love a cold brew lemonade. Others love mixing fruit flavors with the cold brew. It's a different, fun taste with the same pop as brewed coffee.
Nitro Coffee
Nitro coffee has continued to rise on the coffee charts. Nitro coffee is made by mixing nitrogen gas with a cold brew. Many people argue over how it's brewed. Some consumers now swear pour-overs are better, while others swear by machine batch brews. Either way, Nitro coffee is soaring in sales at many local coffee shops.
Environmentally Conscious Coffee Customers
Each year, it seems customers become more environmentally conscious. Many customers now want to know about the origin of their products. They want to know who handles their coffee beans and about all of the products that go into the coffee.
Many consumers are more interested in ethical businesses. They are extremely conscious of the environmental impact their coffee may have on the world. Coffee shops can follow this trend by buying ethically produced coffee products.
Many people are also more socially conscious. They want to know about the farmers that grew their coffee beans and the industry's supply chains. They may start switching to different brands of coffee for this reason. Trusting their local coffee shop is important in this new trend. The coffee shop employees should be well-versed about the origins of their products.
Coffee Delivery
Coffee delivery is one of the newest trends hopping on the bandwagon of so many people ordering food from all kinds of restaurants. This is the perfect way to get their caffeine boost and enjoy their brews from home. Decades ago, it was only about pizza delivery. Nowadays, you can get everything from one donut to five coffees delivered to your home. Many coffee shops are joining delivery services to boost their business and get you a cup of joe.
Even local coffee shops can join meal delivery services. It's quick, easy, and makes you extra money. Some services even offer to send beans or ground coffee to your home. It might sound strange as they can make coffee themselves at home, but the quality of local coffee shops is usually just better. The flavour is often unable to match on a home brewing system. People love the ease of ordering on an app and receiving their coffee at home.
In Conclusion
The pandemic may have changed the way people drank coffee, but it never changed the fact that many people love their brew. Coffee shops will grow and change with the times following the newest trends to meet their customers' needs. The coffee shop may look a little different, but the options are even better when you crave that sip of coffee each day.
Related Articles