An outdoor café is a sidewalk, patio, rooftop, or terrace-based café, which either operates entirely in the open or is associated with an indoor café as an extension of the same café. Outdoor cafés are becoming more and more popular as the trend of eating at aesthetically pleasing places has grown. People prefer eating at places that provide both quality food and a serene and artistic environment. And outdoor cafés are deemed as a significant attraction for that matter. Enjoying quality food in the open air is more relaxing than dining in confined cafés with limited spaces. However, designing both attractive and comfortable outdoor cafés requires a lot of work and consideration. Even the smallest details, such as cafe furniture, resources, seating arrangement, etc., play a vital role in making your outdoor café a success or a failure.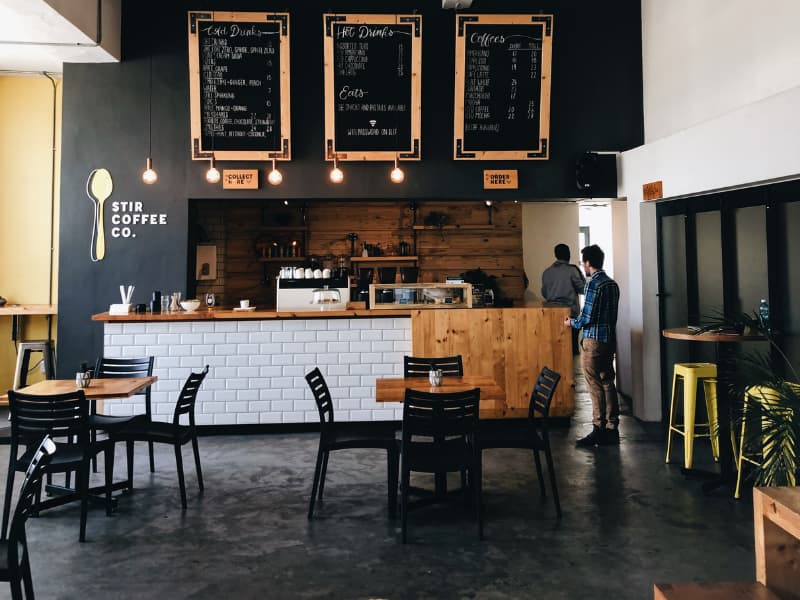 Benefits of an Outdoor Café
Here are some of the benefits of outdoor café discussed in detail.
Increased Revenue
Outdoor cafés attract more customers as most people prefer to sit in the open air, enjoy their food, and chill. Outdoor cafés seldom require advertisement. The aesthetics of the café attract all the customers, eliminating the need for advertising. In the case of a café subjected to a view, the terrace or patio view is preferred more by people, and they would consider your restaurant rather than an indoor café. Moreover, good weather also appeals to people based on which they prioritize outdoor seating. So, it can be seen that an outdoor café is bound to succeed if operated efficiently.
Appealing for Families
Outdoor cafés attract families more than indoor ones because they provide safe space for children to play while keeping an eye on them. Indoor cafés rarely have play areas for children, which can be frustrating for them.
More Refreshed Environment
There is a more functional and refreshing space in an outdoor café and is more comfortable in pleasant weather. Most people spend time indoors: at offices, schools, work, etc. and crave an outdoor experience, and if offered a refreshing environment with a quality meal, they opt for outdoor cafés more, as compared to indoor dining, which is only a limited space with a somewhat suffocating climate due to the cooking and heating from the kitchen.
A Guide to Choosing Furniture for Your Outdoor Café
The furniture of your café determines its atmospheric energy and comfort level and unconsciously either attract or repel customers. Therefore, listed below is a guide on choosing all the best furniture and resources for your outdoor café.
Choosing outdoor tables
When choosing outdoor tables, the material of the tables should be considered. Some materials are more suitable for the outdoors than others. For example, steel or metal-based tables can heat up quickly in summers and often feel frozen in winters, which can cause discomfort for the customers. Therefore, materials such as wood, resin, plastic, wrought iron, etc. The height of the dining table should also be considered according to your preferences. However, bar tables are a little higher than dining ones, and the preferred height of dining tables is 28" – 30" and for bar tables, 42"- 43".


Choosing outdoor chairs/seats
Comfortable outdoor chairs are a necessity for creating a relaxing environment. Therefore, the choice of seating for your outdoor café has to be both trendy and comfortable. Most people prefer patio furniture for their outdoor cafés. While this is a creative idea, it should be considered that patio furniture is not as comfortable as you might require for your café. But then, there are multiple versions of furniture to choose from today. There is an option for seats and stools with arms and without arms too, sofas, wooden chairs. The choice is dependent on your preferences.
Barstools
Some people prefer bar stools or heightened stools in general for their cafés. Barstools come with arms and without arms as well, and opting for either one is a matter of preference. Though barstools without arms are trendier and more modern, the bar stools with arms are more comfortable. Most outdoor cafés opt for barstools due to their lightweight, which allows them to be moved around freely.
Metal chairs
Many modern classic cafés opt for metal chairs due to their multiple benefits for outdoor spaces. The most significant advantage of metal chairs is that they dry quickly and are comfortable whilst creating a modern "European" aesthetic. However, the problem remains in extreme weather. In both summers and winters, metal chairs either heat up or becoming cold. Moreover, for most people, metal chairs are uneasy to sit in for a more extended period.
Wooden chairs
Wooden chairs also have multiple benefits, such as ease of inserting cushions to make a better seating experience. They give a more retro vibe and give off "refreshing" energy as well.
Sofas
Sofas and chaises are also an option while opting for outdoor seating. Sofas and chaises are far more comfortable than chairs and create a more relaxed atmosphere. However, if you run a small street-side café, it would be advised to not opt for sofas due to their cost and weight. Sofas and chaises are best for terraces and rooftops.
Café Accessories
Accessories, decorations, etc., are just as essential as the furniture in an outdoor café. Without the accessories, the café is nothing but a seating place. It is the accessories that provide a unique aesthetic to your café. Therefore, it is essential to choose the most unique and creative additions to make your café stand out from the rest. The accessories also decide the atmosphere, the energy, and the comfort level of your café. Most successful cafés invest more in the accessories to create an unorthodox environment rather than opting for the essential accessories that most outdoor cafés use.
Patio Umbrellas
Umbrellas are the most important accessory for an outdoor café. Due to direct contact with the weather conditions, the space of your café needs a backup in case of extreme weather, such as rain, thunderstorms, intense heat, or strong winds. This is necessary to ensure that the weather conditions do not affect your business: lowering the revenue in extreme conditions. Moreover, umbrellas serve as a shade for both the customers and the furniture and make it comfortable to eat outside. Most cafés choose to use plastic sheets for shade only in case of extreme weather conditions. The major disadvantage of this idea is that the sheets are not reliable and sturdy enough to withstand intense weather conditions and make the job quite hectic. Umbrellas are both artsy and appealing and have multiple benefits for your café.
Heaters
During the colder months, outdoor dining is impossible without portable heaters. Since the primary purpose of a café is to provide a comfortable environment in which people can enjoy food, heaters are a necessity for winters or cold nights. During the winter days, the sun keeps the atmosphere warm, but it is impossible to enjoy sitting outside without a proper heating system during the night. Portable heaters have multiple benefits: They can be moved easily and heat a larger area as compared to bonfires. Moreover, they are efficient and provide a cosier environment even in the open.
Portable coolers or Fans
During the summer, sitting outside in the sun is quite unbearable without a portable cooler or fan. Therefore, this is another necessity for an outdoor café. The portable coolers are the equivalent of air conditioning and provide a calmer atmosphere to relax in, even in the summers. On the other hand, fans are more portable but cannot help in beating the heat if compared to portable coolers. However, both are opt-able considering the circumstances and location of your café. For example, rooftops and terraces generally require fans, while street-side or patio café may need more cooling.
Lighting
Lighting is also an important element for outdoor cafés, mainly during the night. A well-lit place attracts more people towards it, but the lighting should be intelligent enough to match the aesthetic of your café. Just like other accessories, there are several options to choose from when selecting the lighting for your café. Most cafés opt for lamp posts as they are trendy and cosy and create unique energy altogether. Fairy lights have also become very popular in outdoor café décor as they provide a creative vibe to the café and provide enough lighting for the café to be well-lit. Nowadays, decorative light bulbs are also new favourites. Very few people are familiar with the concept of decorative light bulbs and therefore have no idea of their benefits. The decorative light bulbs hang over the tables, and since their style is unique and artistic, they appeal to people more and give the whole café a comfortable and creative atmosphere that is both well-lit and pleasant. The lighting determines the ambiance of the café, so it is necessary to invest in the right lighting that is neither too bright nor too dull.
Decorative Plants
Most outdoor cafés invest in decorative outdoor plants to make the environment seem calmer. The aura of plants creates a more comfortable environment. This is a popular trend for rooftop, terrace, or patio cafés. However, StreetSide cafés are also starting to adopt this trend. The significant advantage of incorporating plants in your outdoor café is that they promote a relaxing atmosphere, which is, in conclusion, comfortable to dine in. Outdoor cafés not subjected to a view or are operating in the middle of a marketplace can opt for this trend to match the energy of a café with a view.
Fences
Fences are essential for street-side cafés to distinguish the café's space from the street and traffic. Fences provide privacy to the customers and mark the territory of the café while still providing a good view of the road. While choosing fences, the material is the necessary element of consideration. Fences are also available in multiple materials, but the sturdiest ones are metal fences that cannot be easily moved by the people on the street and give a "European" touch to your outdoor café.
Bins
Refuse bins are a necessity not only for outdoor cafés but for indoor cafés too. Bins encourage customers to clean the tables and put the rubbish inside the bins rather than leaving it lying around on the tables or the floor. In street-side cafés, people may throw rubbish on the street, which is one of the significant reasons why bins should be incorporated where they are easily visible to the customers. Recycling bins can also be introduced along with refuse bins in outdoor Cafés so that some material can be recycled, such as unused tissues, unused plastic cutlery, ketchup sachets, etc.
Conclusion
Designing and operating a successful outdoor café is not as easy as it seems. There are far more challenges for outdoor café owners as compared to those of indoor café owners. But a well-designed outdoor café is far more appealing to the customers than an indoor one due to all the given reasons. Each element of your café decides the success or failure of your café. This is why extensive research and consideration are required while designing the café. It is up to date with the trends, is different from the rest, has quality food, and a comfortable environment for both children and adults.
Due to the multiple benefits of outdoor dining, most indoor cafés have now extended their area and consist of indoor and outdoor dining to have an option. However, it is seen that outdoor dining is preferred more. And an entirely outdoor café is the idea of a century. Most people do not put much thought into creating the atmosphere of the cafés but focus more on the food, due to which most cafés cannot last long. The location, atmosphere, and environment of the café instantly strike the customers and persuade them to try your café. This is the reason why a café with quality food along with a sophisticated and comfortable climate, operated efficiently is bound to succeed.
Related Articles