Be Furniture Sales offer bulk buy discounts on wedding and event venue chairs of all types and sizes to meet your guests requirements. Our range of chairs include, conference chairs, event chairs, wedding chairs, stacking chairs and folding chairs in a range of materials.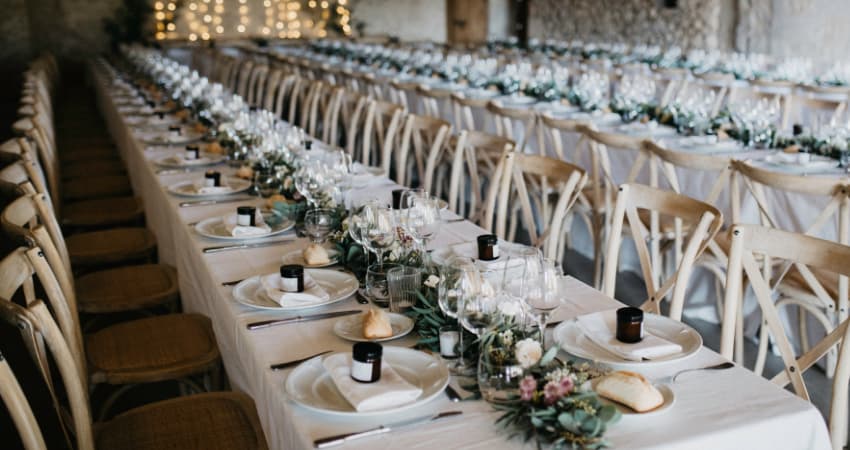 Bulk Buy Discount on Wedding & Event Venue Chairs
Please click through to the product to view the discount quantities, or call our sales team for more information.
| | | | |
| --- | --- | --- | --- |
| | Blue Budget Banquet Chair, from £12.95 excl. VAT/ £15.54 inc. VAT | | Premium Blue Banqueting Chair, from £16.50 excl. VAT/ £19.80 inc. VAT |
| | | | |
| --- | --- | --- | --- |
| | Red Budget Banquet Chair, from £14.10 excl. VAT/ £16.92 inc. VAT | | Premium Blue & Silver Banquet Chair, from £17.45 excl. VAT/ £20.94 inc. VAT |
| | | | |
| --- | --- | --- | --- |
| | Premium Red Banquet Chair, from £17.45 excl. VAT/ £20.94 inc. VAT | | Limewash Chiavari Chairs, from £22.00 excl. VAT/ £26.40 inc. VAT |
| | | | |
| --- | --- | --- | --- |
| | Brown Wooden Folding Chair, from £18.00 excl. VAT/ £21.60 inc. VAT | | White Wooden Folding Chair, from £14.95 excl. VAT/ £17.94 inc. VAT |
| | | | |
| --- | --- | --- | --- |
| | Traditional Limewash Crossback Chairs, from £26.50 excl. VAT/ £31.80 inc. VAT | | Traditional Wooden Chairs, from £26.50 excl. VAT/ £31.80 inc. VAT |